Most Brits think it's fine to buy non-essential goods online during the coronavirus outbreak, despite concerns among key workers that it could unnecessarily spread the virus
Three quarters of Brits believe it's either fairly (50%) or very (25%) acceptable to buy non-essential items online while in lockdown, new YouGov data reveals.
The figure stands in contrast to anger from couriers and factory workers over having to risk their health to deliver 'tat' and pleas to limit non-essential orders.
Only 17% of Brits agree that non-essential shopping is not very (14%) or not at all (3%) acceptable.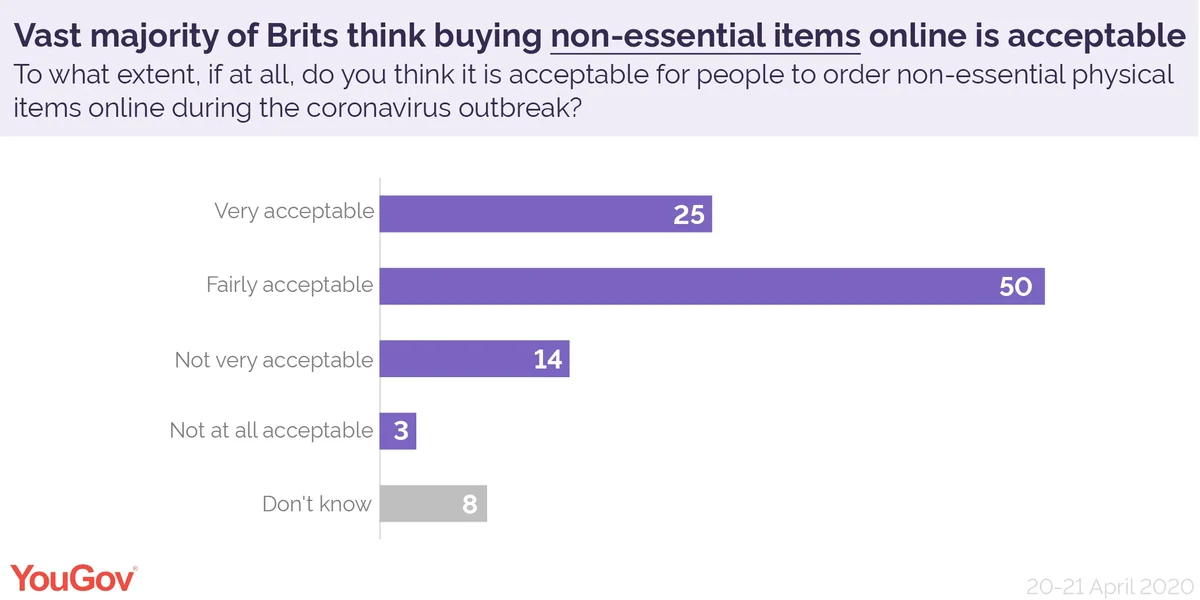 Clothes are the most popular online purchase after groceries
Unsurprisingly, groceries are the most common online lockdown purchase among British households (40%). This figure coincides with data from the ONS showing that March was the strongest month on record for food stores.
But despite a month of the nation staying in, clothes and beauty products come second at 29% - ahead of medicine and health products (27%). This figure is especially high among younger people, with nearly two in five 18- to 34-year-olds having bought fashion or beauty products while in lockdown.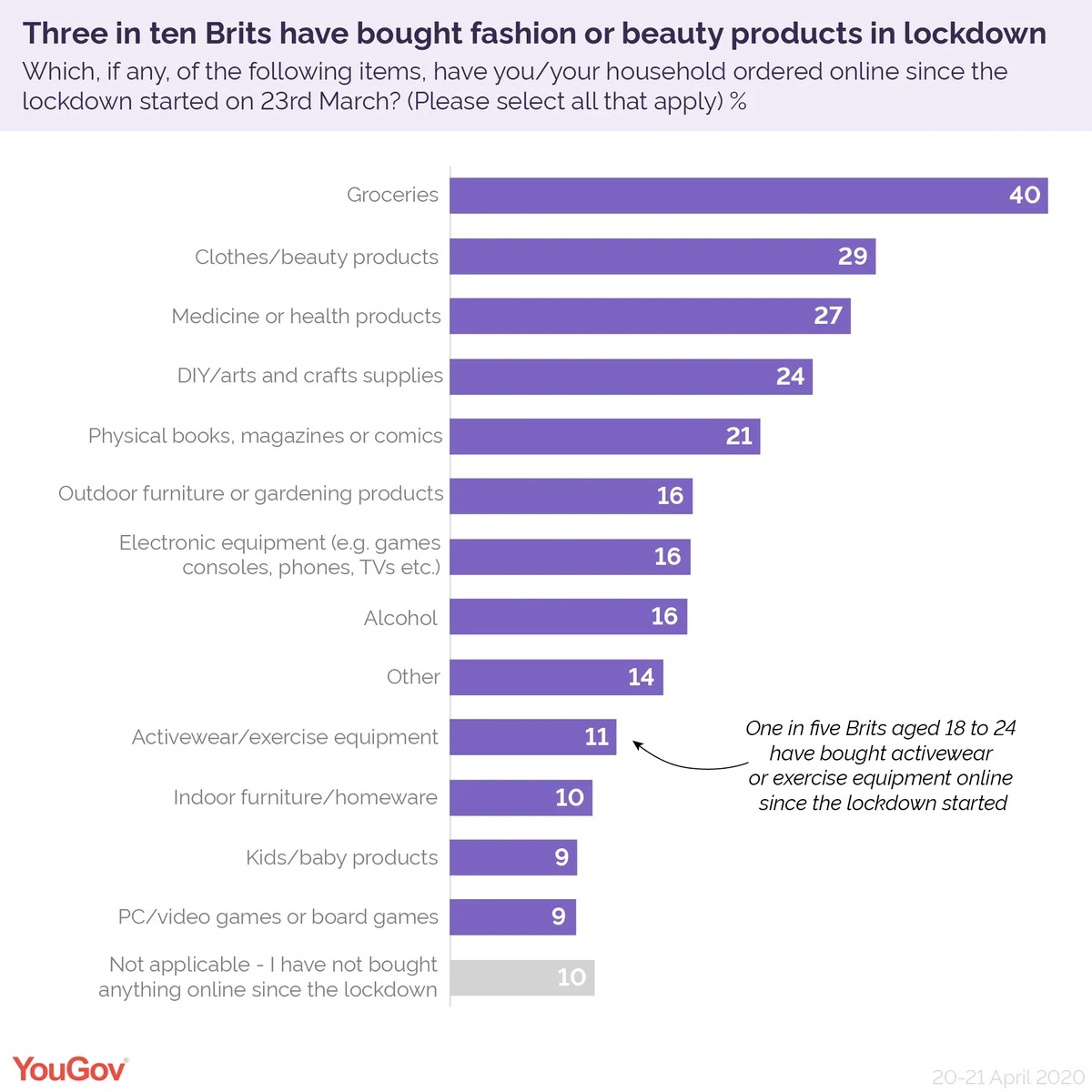 DIY and art and crafts supplies (24%), physical books, magazines and comics (21%) and outdoor furniture and gardening products (16%) are also popular quarantine purchases.
Activewear and exercise equipment are especially popular with younger people. A fifth of Brits aged 18 to 24 have forked out on items like running shoes, kettlebells and yoga mats. This compares to 11% of all Brits.
PC, video and board games are also most popular with the 18- to 24-year-olds at 15% compared with a national average of 9%.
People aged 25 to 34 are the keenest online shoppers while in lockdown, with only 5% saying they have not bought anything – the lowest of any age group.
They buy more DIY and arts and crafts supplies than the average Brit, at 31% compared to 24%. And while one in ten Brits (10%) have had furniture or homeware delivered during in lockdown, among the 25- to 34-year-olds this figure is 17%.
How much are Brits buying online?
As one would expect, many Brits are buying more on the internet (35%) than before the lockdown, as people are limiting their social contact and non-essential shops are closed. The figure is highest among people aged 25 to 34, with 42% saying they have bought more online during this time than they otherwise would.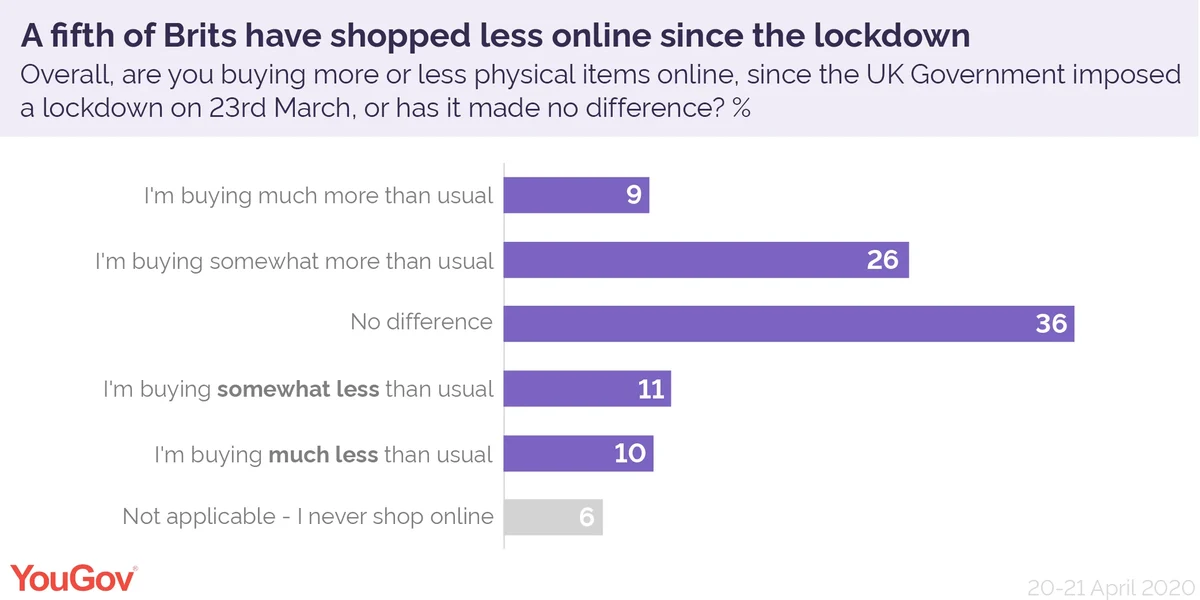 But a fifth of Britons are limiting how much they shop online, with one in ten saying they are buying much less than usual. This figure is slightly higher among 18- to 24-year-olds at 13%.