The Government has ordered the closure of many non-essential businesses to slow the spread of COVID-19. This has met with some resistance, and arguments about what does and doesn't count as a key service.
Which businesses do the public consider essential? A new YouGov poll reveals that while 98% say that supermarkets and pharmacies are key services, they're less sure that other businesses – including some the Government have allowed to remain open and trading – count as 'essential'.
For example, while Alan Titchmarsh recently argued that garden centres qualified as an essential service (and that shutting them could damage the nation's mental and physical health) only 17% of Brits agree. More than three quarters (77%) consider them non-essential.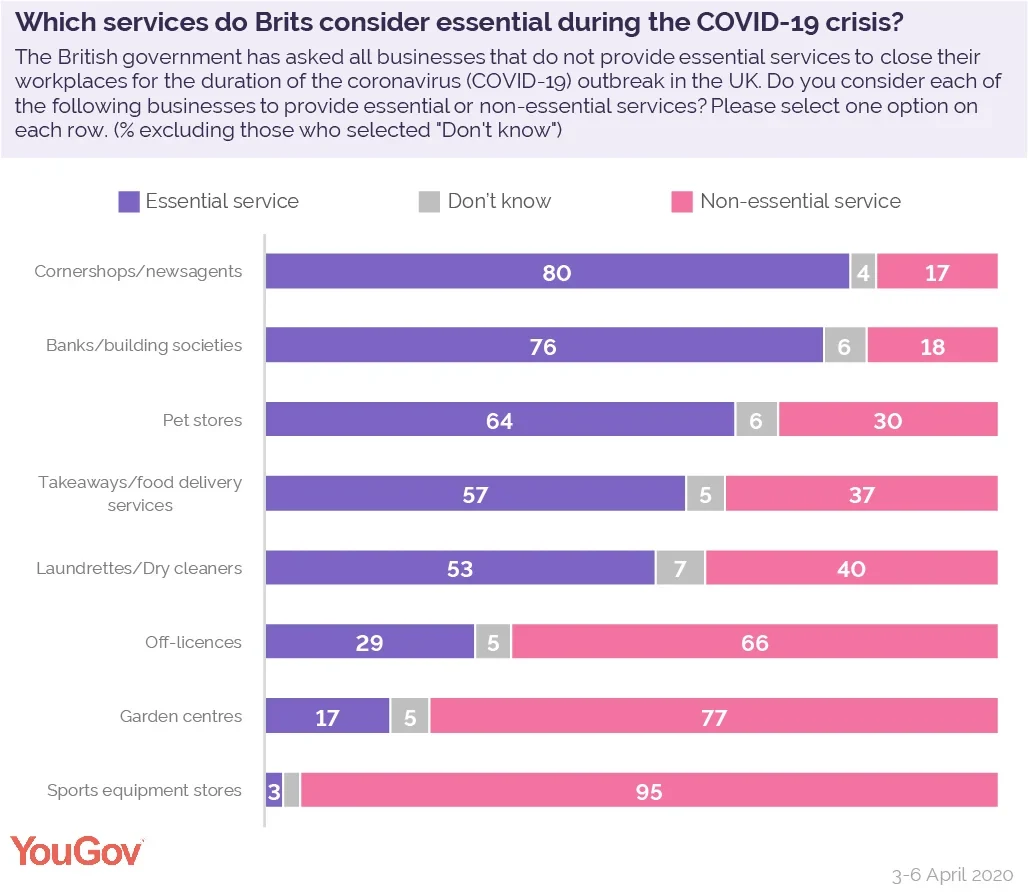 And while the Fraser Group attempted to keep Sports Direct and Evans Cycles open on the grounds that they offered key services in a time where people were exercising at home (before backtracking, closing the stores, and publicly apologising), just 3% of the public consider them essential.
Nearly four in ten think takeaways and food deliveries are non-essential
There's also some scepticism towards some businesses that the government has allowed to trade during the pandemic. Almost four in ten (37%) consider takeaways and food deliveries unnecessary at this time, and while off-licences were a late addition to the government's list of key services, a majority consider them non-essential (66%). That said, three in ten (29%) do regard them as essential, rising to over a third of men (35% versus 22% of women).
Laundrettes and dry cleaners have been allowed to stay open, but four in ten (40%) don't believe they're a key service, while almost a fifth (18%) don't believe banks are strictly necessary. This may have something to do with the prevalence of mobile banking: YouGov tracker data suggests that almost half (48%) of Brits log into their accounts via their smartphone at least once a week or more.
Three in ten (30%) regard pet stores as non-essential – perhaps reflecting the fact that, according to YouGov Profiles data, 46% of the public don't keep animal companions in the home. This increases to almost two thirds (63%) of Londoners, who are correspondingly less likely to think pet stores are essential: just 53% think they should stay open during the pandemic versus 64% of the nation.