Most British Christmas shoppers dodge the bustle of busy high streets and opt to shop online
For some a trip out Christmas shopping, whether that be in the hustle and bustle of Oxford Street or the high street of their local town, is part of the festive season but for others it's a nightmare.
YouGov polling has revealed that most Britons have tried to dodge the high street this year in favour of online shopping. Nearly half of Britons (46%) say they have shopped either mostly or entirely online, compared to 34% who shopped mostly or completely on the in store on the high street.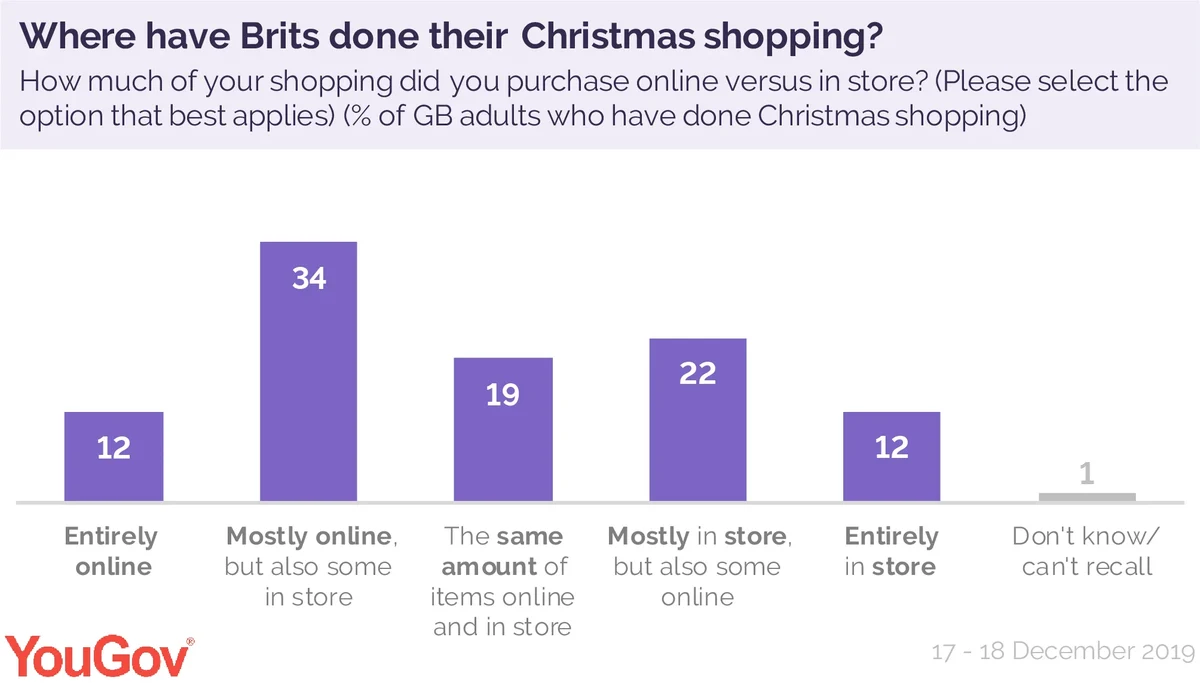 Some 12% of Britons who have done Christmas shopping said it had been done entirely online, and the same amount say they've brought all their presents in person, however a third say they did the majority of it online, compared to two in ten (20%) who have done the majority online.
Of the genders, despite their reputation for leaving the shopping to Christmas eve, men are more likely to have done their present shopping entirely online (16%) compared to women (9%).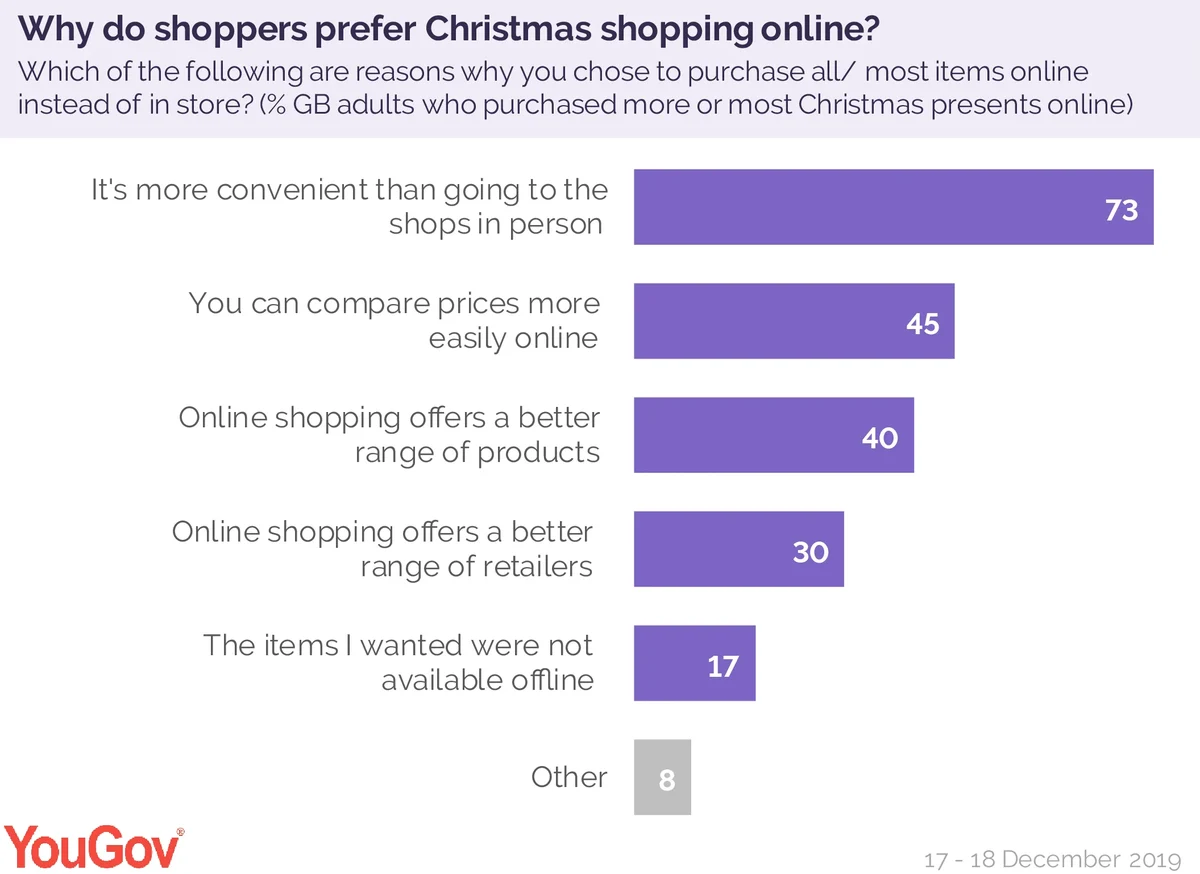 For shoppers browsing for bargains online, it's about convenience first and foremost. Seven in ten (73%) who said they'd done most of their shopping said they did so because it's more convenient than going out to the shops.
For another 45%, price was also a factor, saying they could get better prices shopping online, and 40% said they preferred the wider choice of items available from online retailers.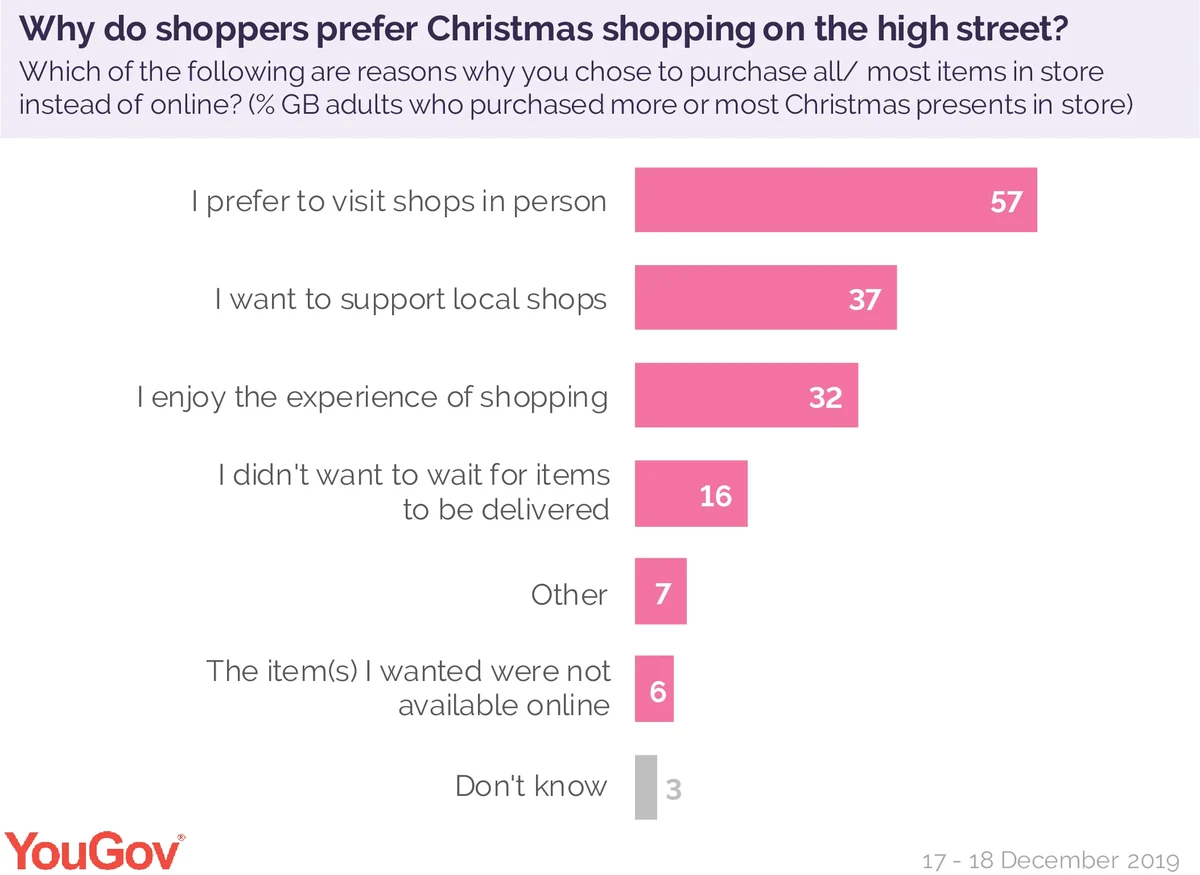 For those hitting the high street, the shopping experience and supporting local business is the driving factor – 57% of those who did their shopping either mostly or entirely in store said they prefer visiting shops to look for items in person. Over a third (37%) said they did so because they wanted to support their local businesses and for three in ten (32%) it was all about the experience of Christmas shopping. However, of the men who did shop in store, only 26% say they enjoyed the experience of shopping compared to 37% of women.
Image: Getty