John Lewis' dragon roasts Kevin the Carrot, turns the McDonald's reindeer into grilled venison, and makes chimney ash out of Nicholas the Sweep
Every year, big UK brands try to capture the Christmas spirit in their festive ad campaigns – generally using some combination of nostalgia, humour, and pure sentimental emotion. "Mascot" characters have become particularly widespread, with some companies even borrowing pop culture icons such as ET and Olaf from Frozen to promote their seasonal offerings.
But which mascot was Britain's favourite in 2019? In entirely unsurprising news, our research reveals that it's the one from the John Lewis ad: Excitable Edgar.
Another successful Christmas campaign for John Lewis
The dragon tops the festive rankings comfortably – over half of Brits say they "like" the character (52%) – and further cements John Lewis' hold on the UK's festive imagination.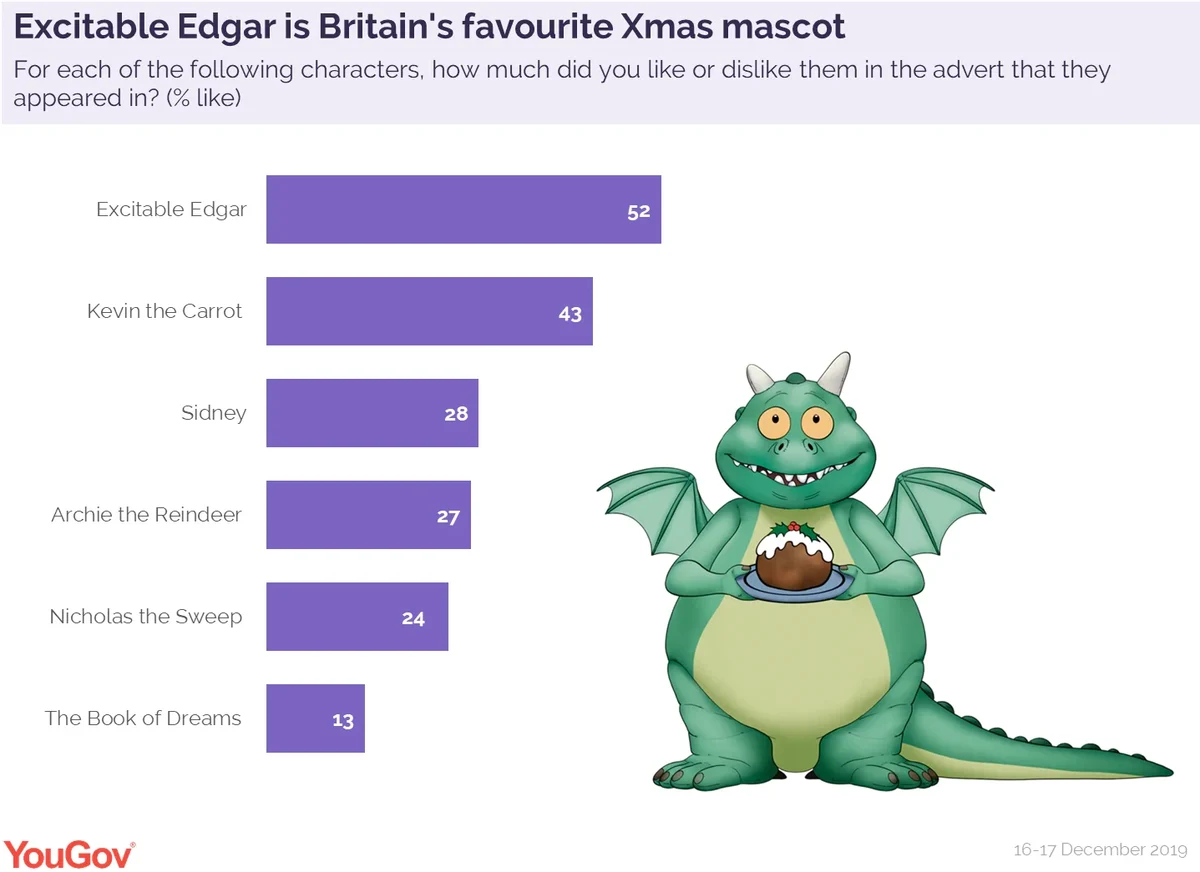 Illustration: John Lewis
As we've mentioned before, a marketing success story is by no means a commercial success story, and the brand faces challenges that its celebrated seasonal campaigns won't necessarily address. But judged solely on its merits as a Christmas mascot, the flame-incontinent reptile (and erstwhile public nuisance) represents another triumph for John Lewis' marketing team – alongside The Bear & The Hare, The Man in the Moon, and Elton John.
In second place is Aldi's Kevin the Carrot, who debuted a few Christmases ago and quickly became a festive favourite. Over four in ten (43%) Brits enjoy the madcap antics of the naive comedy vegetable.
With 28%, Sidney – from Very's Christmas ad – rounded out the top three. His commercial featured mascots from previous campaigns rallying around the solitary old man and inviting him into their celebrations and their homes. This ad may have had special resonance with certain parts of the population: YouGov research recently revealed that nearly a quarter of Brits feel lonely at Christmas.
Women appreciate festive mascots more than men
Loneliness is clearly relatable for many, and it may have played a role in the success of Archie the Reindeer, the McDonald's mascot who befriends an isolated young girl – winning over a quarter (27%) of the public in the process. Meanwhile Nicholas the Sweep, the Dickensian street urchin falsely accused of stealing an orange from Sainsbury's, actually stole the hearts of 24% of Brits.
Along gender lines, male consumers have a distinctly grinchier attitude to Christmas mascots. Most notably, six in ten (61%) female respondents appreciate Excitable Edgar compared to 44% of men – and there are similar gaps for Kevin (50% to 36%), Sidney (36% to 20%) and Archie (34% to 20%).
This may be because men are simply more sceptical about marketing in general: YouGov Profiles data reveals that 57% consider ads "a waste of time" compared to 41% of women. Nonetheless, if brands can find a way to bridge the gender gap by Christmas 2020, they could reap the seasonal rewards.
Image: John Lewis