Fashion and cosmetics were the top selling categories of 2019's female-driven sales days
YouGov's pre-sales polling revealed that four in ten Brits planned to shop on Black Friday and Cyber Monday – and our post-sales analysis reveals the same proportion (39%) followed through. Overall, consumer participation in these retail events increased 6% year-on-year.
Black Friday and Cyber Monday inspire scepticism in some quarters: over six in ten (62%) consumers agree that they're just a way for brands to get rid of old stock, while around half (51%) also believe that, as offers start earlier and earlier in the month of November, it's "not about Black Friday anymore." Some 25% of Brits also say they feel more negatively about brands that participate in sales days early.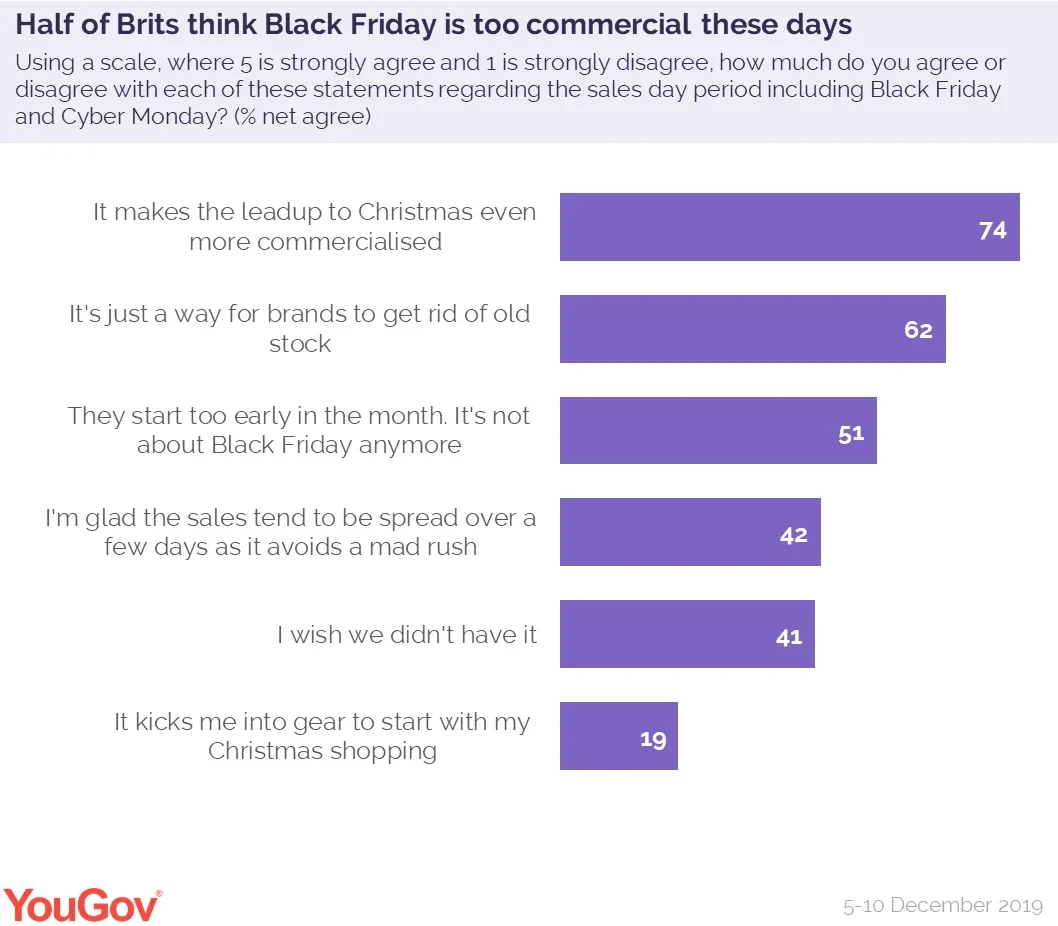 But if the public thinks Black Friday is becoming too commercial, that isn't necessarily affecting the sales themselves. In fact, the total proportion of shopping is up 6% on 2018 – and just under a quarter (24%) of those who purchased items during 2018 and 2019 events bought more this year.
Women drove 2019's sales days
Black Friday shoppers are more likely to be female than male – women account for 44% of people active during the sales, compared to a third (33%) of men. This is reflected in the categories that dominated the 2019 event.
Fashion products were the top sellers of Black Friday 2019, amounting to 36% of all sales. Cosmetics came in second (18%), and smart technology ranked third with 14%; a 7% increase on 2018.
Meanwhile, toys were relegated to third place (12%), seeing a 6% year-on-year decline. Brits were also more likely to purchase audio technology on Black Friday 2018 (5% 2018; 10% 2019).
More Brits are holding off on their purchases until sales days
Beyond the products themselves, 2019's sales days were marked by significant shifts in consumer behaviour. Most notably, over a quarter (26%) of Brits said they spent more this year than last year, and nearly three in ten Brits (28%) held off on their purchases before Black Friday – an 8% increase on 2018.
Almost a fifth (19%) also said the sales were a galvanising factor that motivated them to start their Christmas shopping – compared to just 5% who said the same in 2018. Meanwhile four in ten (39%) bought online compared to just 14% who purchased items for themselves or others in-store.
So if Brits are cynical about Black Friday, it isn't necessarily preventing them from engaging with it. Christmas can be an expensive time of year, costing £1,116 on average. The public may well feel that brands are manipulating them on sales days – but it's a price many are willing to pay if it makes the festive season a little bit cheaper.
Image: Getty