BrandIndex: All four major supermarkets see declines in public perception over 2011, Tesco suffers most
Last week I looked at how the major UK banks performed on YouGov's BrandIndex in 2011, and this week I'm turning my attention to how the supermarkets fared over the same year.
An interesting starting point is to take the Index Score (which is a composite of six key attribute measures). We see that all four of the major supermarkets are on a lower score than they were at the start of 2011, but it is Tesco that has been suffering the steepest decline.
In January, Tesco was on +32, just holding off Morrisons for second place. It is now at +23, five points below Morrisons.
Asda is now much closer to Tesco, having dropped much less steeply over the year from +24 to +21, while Sainsbury's continues to lead the way, having fallen from +45 to +41.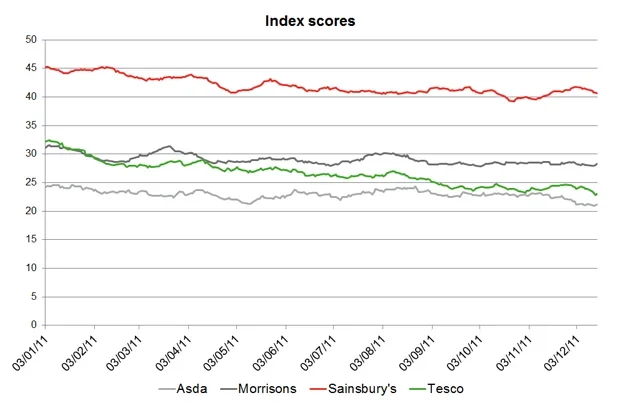 Cheaper brands thriving
Not surprisingly, given the economic situation, the two supermarkets that have improved overall perceptions in 2011 are Aldi and Lidl.
With that in mind there can be no doubting the importance of the value measure going into 2012.
Although Asda may be fourth of four on the overall index, it has managed to own this key metric and Tesco's slide in 2011 has allowed Asda to open a clear gap over their rivals.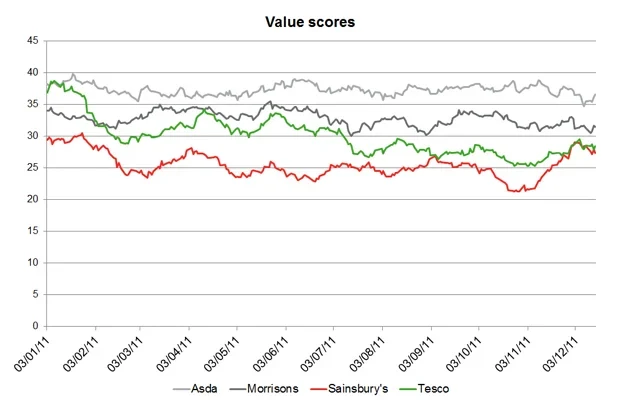 Is Tesco's star waning?
It is the Tesco decline, though, that is the biggest story. This year has seen the supermarket go from joint first on +38 in January, down to joint last with Sainsbury's on +28 now.
Sainsbury's has the more quality focused measures to fall back on and will worry less about its value perception, but for Tesco, dropping behind Morrisons and Asda on value while also losing ground in other areas presents a problem.
Could the sheen have come off the company that has dominated the UK grocery market over the past decade?
This article also appears in City AM