Just under a fifth of UK consumers plan to do the bulk of their shopping in the sales
Christmas may be the most wonderful time of the year, but for many Brits, it's also the most expensive. So it may be unsurprising that, ahead of the festive season, new YouGov research reveals that four in ten consumers plan to take advantage of sales days like Black Friday – and a fifth (18%) plan to use these days for the bulk of their shopping.
With one in ten (9%) Brits already scouring the sales, it's clear that many Brits are keen on a cut-price Christmas. But who are the UK's festive bargain hunters, and what are their plans for Black Friday this year?
Most Black Friday shopping is done online
In 2019, 89% of Brits intend to do their Black Friday shopping online or via an app, with just over a third (34%) planning to visit physical stores. What's more, of those who are going to shop in-store, two-thirds (66%) say they'll search for products online at the same time. Over eight in ten (85%) of all consumers claim they'll visit different retailers' websites to compare prices before making a final buying decision.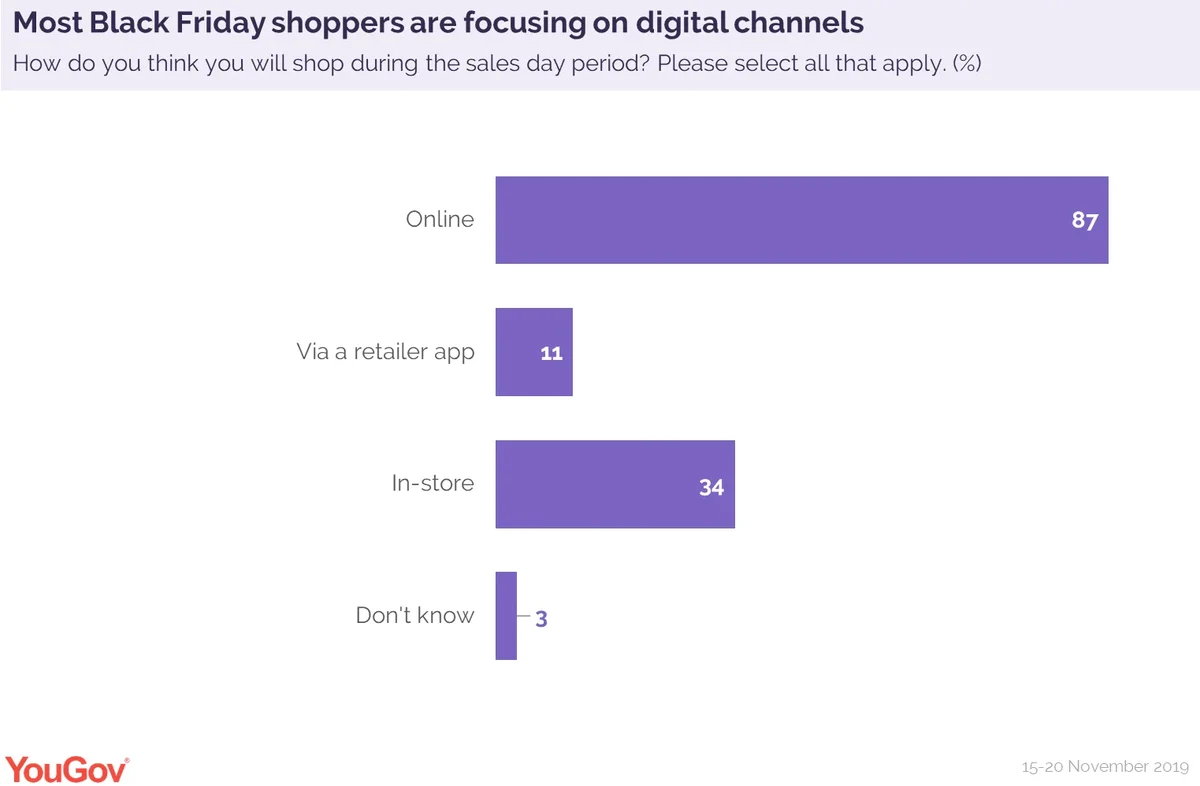 Sales days such as Black Friday and Cyber Monday may also see a boost from the uncertainty surrounding Britain's departure from the EU – a third of women (33%) and a fifth of men (19%) agree that the discounts will be especially important given Brexit's potential impact on their finances.
Black Friday may be commonly associated with mayhem, chaos, and impulse buying, but while many Brits have plans for the sales, most aren't planning to rush into a purchase. Just under four in ten (39%) of those who want to buy in the sales also say they're going to research and bookmark products before they begin shopping – and 43% claim they know which brands they're going to shop with ahead of the day itself.
The youngest Black Friday shoppers are the most active
Just because consumers are careful doesn't mean they're necessarily conservative. Half (50%) of those who shopped on Black Friday 2018 intend to spend the same amount or more in this year's sales – and a significant proportion of consumers aged 18-24 say they plan to spend more.
These Gen Z shoppers are also more likely to believe that discounts can help with their Christmas budgets (57% vs. 50% overall) and to use sales days like Black Friday for the bulk of their shopping (30% vs. 18% overall). Four in ten (41%) also believe these events help "[kick] their festive shopping into gear."
Black Friday and other sales days can be indispensable for younger Brits who have to balance their seasonal obligations against their lower-than-average salaries. Brands that target them may well reap the festive rewards.
Image: Getty