Despite the mythos surrounding the legendary battered Mars bar, fewer than half of Scots have tried one - and even fewer enjoyed it
Scotland isn't renowned for its cuisine, despite having some unique culinary offerings: haggis, rumbledthumps and cranachan. But which are popular with Scottish adults?
New YouGov research shows that the world famous Haggis comes top of the list, tied with Lorne Sausages. Haggis is a savoury pudding containing a sheep's heart, liver and lungs, while a Lorne sausage is square and typically served at breakfast time. Both are liked by 69% of Scots.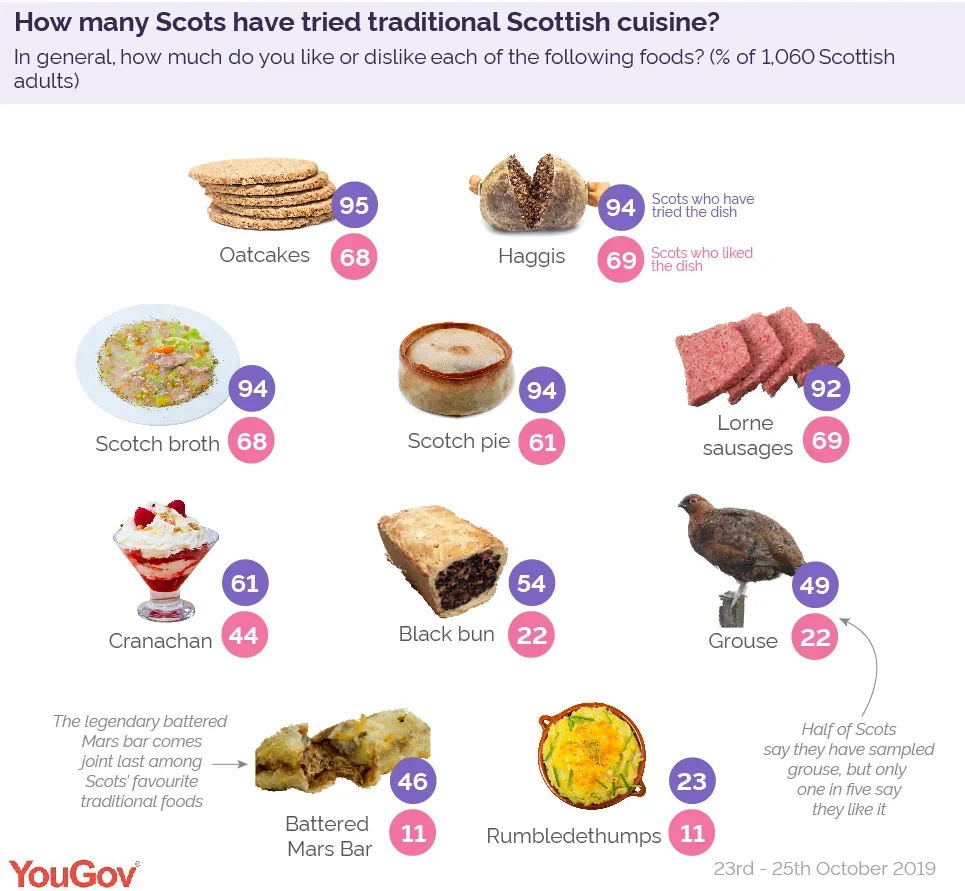 However, if we look at the proportion of Scots who have tried each food and also liked it, we see Lorne sausages edge ahead (75%) of haggis (73%).
Just over two thirds of Scots say they like oatcakes, and Scotch broth (a hearty lamb soup), leaving them tied for second place on 68%. However, oatcakes and Scotch broth are also the dishes Scots are most likely to have tried, being sampled by 95% and 94% of Scots respectively.
Scotch pie (61%) is followed by cranachan, a sweet dish of fruits, oats, cream and Scottish whisky made to celebrate harvest season, which is favoured by just under half of Scots (44%).
Black bun (a type of pastry-covered fruit cake) tied with grouse (a game bird), both being liked by a fifth (22%) of Scots.
The famous (or infamous, depending on how you see it) battered Mars bar is only liked by one in nine Scots (11%), despite being sampled by 44% of Scottish adults. Rumbledethumps, a potato and onion dish similar to Irish Colcannon, came joint last on 11%.
Battered Mars bars also had the worst score in terms of the proportion of Scots who have tried the food, and then liked it, at just 24%.
Images: All food images sourced from Getty, with the exception of; Black bun - IMBJR on Wikimedia commons, Battered Mars Bar - Xain from Lancaster on Wikimedia commons