Mothercare has revealed that it's going into administration, 58 years after it was founded. Unsuccessful efforts were made to find a buyer but some 2,500 UK jobs are now on the line.
The company's future was already in doubt, having recently admitted that in-store sales were down by 23.2% and online sales were down 12.1%.
YouGov data shows consumer perception of the brand has been dominated by negative headlines since the beginning of month. Buzz scores (a net measure of whether consumers have heard anything positive or negative about the brand in the last fortnight) for the brand have fallen from an already low +0.7 on the 1st November to -16.4. Similarly, Impression scores (whether someone has a positive or negative impression of a brand) also fell 6.1 points from +13.3 to +7.2.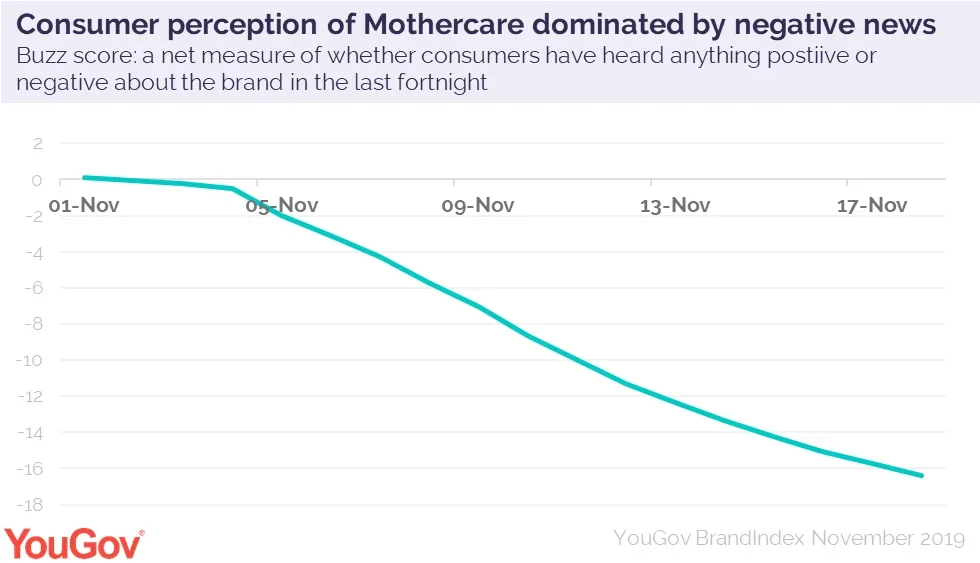 Retail analysts have linked Mothercare's issues to the rise in competition from supermarkets, fast fashion brands and the internet. Mothercare isn't the only high street retailer aimed at new parents to have suffered recently; nursery brand Mamas & Papas also called in administrators this month. This does suggest that competition is being felt across the industry from those who can provide goods quickly, en masse and delivered to the home.
Brits who are expecting a baby are 12% more likely to think that online shopping makes their life easier than the rest of the population (78% versus 66%), and much less likely to buy clothing in store in general (8% versus 25%). Surprisingly, low prices aren't the biggest pull factor for expectant parents; 16% shop online because they're purchasing through adverts and 38% because they're using online exclusives and special offers (compared to 3% and 28% of the UK respectively).
Similarly one in five expectant parents say that they purchase online because stores are too far away, a problem which would have only been exacerbated by fifty store closures in May 2018.
Almost half of Brits have a positive opinion of Mothercare (46%), which increases to almost three quarters (72%) among Brits with children aged 8 and under – the age bracket Mothercare caters for. However, a positive perception wasn't enough to keep the business going if it didn't cater to the shopping habits of its core customers.
This article previously appeared in City A.M.