What do you have for breakfast?
Health-experts will attest that breakfast is the most important meal of the day, setting you up for the tasks ahead, and kick-starting the metabolism after hours spent asleep.
During the week, in the morning blur of the getting-ready rush, time pressures may cause us to skimp on flavour for the sake of convenience. But at the weekend, there's often a bit more time to play with, so many ShoppingLab participants choose to cook-up something slightly more satisfying on Saturday or Sunday.
Putting aside the lucky few who don't have to watch what they eat, most people need to take care of what they eat to some degree, whether simply trying to eat healthily or following a definite eating plan, for whatever reason.
This week, we wanted to hear what the health-conscious among you eat for breakfast, both during the week and at the weekend.
So if you've been despairing of what's on offer for your diet, or are hankering after some inspiration in the breakfast department, why not have a read of the recommendations put forward by last week's keen breakfasters, and see – what's your chosen way to start your day?

What's your perfect breakfast? Do you keep it simple or eat like a king? Let us know using the comment box below

1. During the week
Fresh fruit, fibre and antioxidants - all mentioned by healthy ShoppingLab participants wanting to pack as much stuff as possible in to their first meal of the day.
Here are some of their suggestions.
"Every weekday morning I eat oatmeal with cinnamon, honey and soya milk. I eat oatmeal because it is filling and good for you. I add cinnamon because it helps with blood sugar levels and sugar cravings. I use honey because it doesn't cause an energy spike and I use soya milk to reduce the effects of dairy on my hormone levels"
"Fresh fruit and Activia yoghurt is my chosen breakfast - a combination of 3 hard fruits and 2 or 3 berries along with the bio yoghurt. It is a great kick-start to the day, a good detox (if needed), fills you up, is colourful and looks appetising!"
| | "My home-made cereal"by Marie, ShoppingLab participant1/2 a banana1/2 an apple4 teaspoons of porridge oats1 teaspoon ground flaxseedSmall amount dried fruitMix with water, microwave, and serve with low fat Greek yogurt |
| --- | --- |
"I enjoy a smoothie because I can pack in lots of fruit, pre-soaked nuts, seeds, yoghurt and porridge oats. It's amazing how much goodness that one glass contains and it's very easy to drink while doing other things. I make sure I get a good balance of complex carbs, protein and a good helping towards my 5 a day. Easy, nutritious, cheap if you use seasonal or frozen fruits and delicious!"
Love it or hate it?
| "I eat one or two slices of toast, variety of white and wholemeal, but always with Marmite. I have had this for breakfast since I was very small, and I am nearly 64. Marmite is my breakfast staple … I tell my students at school that Marmite is the reason I look and act so young" | |
| --- | --- |
| | "My special cereal mix"by an anonymous ShoppingLab participant2 tablespoons of bran flakes 10 mini shredded wheats 3 chopped apricots a sprinkling of craisins (dried cranberries)2 chopped prunes together with soya milk.In the summer I have it cold, in the winter I warm it up for 90 seconds. If for some reason I am not at home I really miss this mix" |
| --- | --- |
"Serve muesli with a chopped banana and skimmed milk, and a cup of green tea. A good way to start the day - Low GI, plenty of vitamins & omega 3 and 6" 
More 'slimming' options
Some of our respondents said they're currently trying to lose weight, whether through an 'official' programme such as WeightWatchers, monitoring their calorie intake, or trying the Dukan diet. Here are the breakfasts they choose to eat during the week (porridge seems to be a popular and surprisingly versatile choice).
"Every morning I have porridge oats made with skimmed milk with a chopped up banana. It is perfect for the diet I am on as it doesn't use up much of my day's points allowance." 
"Egg white and spinach omelette makes a perfect light breakfast or lunch, and it's low in cholesterol"
2. At the weekend
A sizeable chunk of our breakfasting participants do like to indulge in a rather different morning meal at the weekend. Here are some suggestions for the days when there is more time to experiment, to help "make the weekend feel like a holiday with a different type of breakfast compared to weekday," to quote one participant. See if any suit your diet...or alternatively simply your tastebuds!
"1 fresh mackerel pan-fried with wholemeal toast and a mug of tea with milk"
"I like something different at the weekend as a reward for a hard week's work. My favourites include bananas on toast, cheese scones, smoked salmon and scrambled egg. I would rather go out and eat a nice breakfast than a Sunday lunch" 
This single breakfast entry was so vast, and so very detailed, we thought it deserved a section all of its own. Many thanks goes to this unnamed breakfast enthusiast, who despite beginning his or her entry with the line, "Breakfast is a marvellous meal - but PLEASE, not first thing in the morning!" has a clear devotion for the dish. They continued, "This 'gut-buster' Brunchfast is still the ultimate 'comfort food' dish for me, that never fails to make me feel life's worth living, after all!"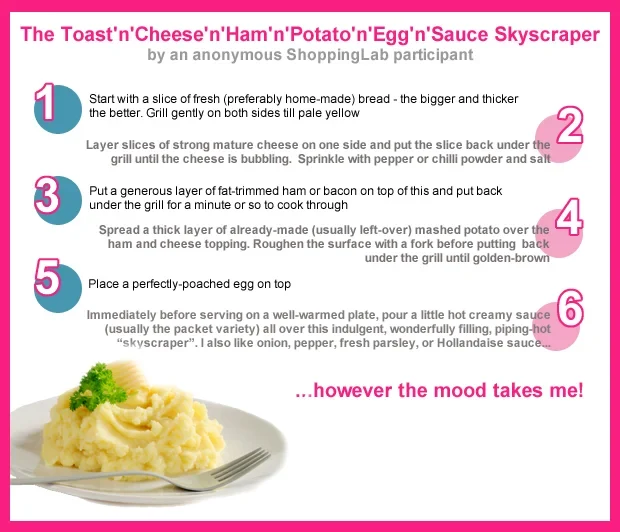 3. Special diets
A vegan suggestion
"Breakfast is usually only a couple of slices of toast, with maybe houmous, mushroom yeast pate, or marmalade on. On Sunday we have a cooked breakfast - all vegan - sausages, bacon, mushrooms, rostis or hash browns, fried bread - my husband and son have beans too"
Something gluten free?
"I have Rude Health gluten free cereal with Kara coconut milk. I drink Redbush tea with Kara coconut milk. Occasionally I will have toast made with Genius gluten free bread, spread with Vitalite dairy-free spread, and homemade jam or marmalade. To give a bit of variety I will sometimes add dried fruit, nuts or seeds to my cereal. I will also change the 'milk' to something like Rice Dream Hazelnut flavour (unfortunately supermarkets have stopped stocking this flavour) or vanilla flavour"
"Two or three eggs made into an omelette, and also mushrooms and tomatoes fried in olive oil. I have gluten intolerance and also like to follow a high protein/low carbohydrate diet" 
Lactose free food
"Either Honey Nut cornflakes, so don't need any sugar (as the honey makes a healthy alternative to sugar) -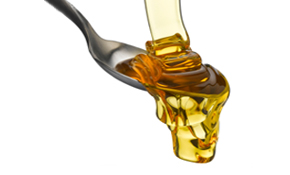 Muesli or Oaty Crunch cereal (to keep energy levels up for the day). In the winter time will try and have porridge oats – with Golden Syrup and/or brown sugar!"
Delicious for diabetics
"Every day I have two poached eggs on two slices of unbuttered toast and a cup of Earl Grey Tea with lemon juice and sweeteners. Yum! This keeps me going until lunch - important when you are a diabetic - without needing to snack"


What's your perfect breakfast? Do you keep it simple or eat like a king? Let us know using the comment box below