Bookmaker William Hill has announced that it will close roughly 700 betting shops across the UK. The company claims its hand was forced by the Government's decision to introduce a lower maximum stake for fixed-odds betting terminals – pegging it at £2 instead of £100.
This had led to a "significant fall" in revenue, according to William Hill. But Government said it was a necessary measure because concerns were growing that the machines had allowed players to lose large amounts of money in a very short space of time.
YouGov Field and Tab research shows that although the introduction of safeguards was supported by the majority (74%) of those who have placed a bet online or via a mobile device in the last year, only 8% believe the responsibility to stop people placing bets they can't afford lies with the Government. The majority of gamblers believe it's the gambler's responsibility (51%) with only a third (34%) placing responsibility with the betting company.
Now, William Hill have announced the departure of its chief executive who will be replaced by the company's chief digital officer, Ulrik Bengtsson, as part of a strategy change to become "digitally led".
This move towards an online and app-based business model could help William Hill to replace the income lost from fixed-odds betting terminals. In the past 12 months, YouGov Profiles data shows that 12% of Britons have made a bet online, while 10% have made a bet in store. Similarly, 5% have placed a bet through an online game or through an app, while 4% have gambled in a casino, implying digital gambling is gaining in popularity compared to traditional bricks-and-mortar betting shops.
Since the closures were announced in July, YouGov BrandIndex data shows that consideration of the brand among those who gamble at least once a month online or offline has increased. Consideration scores (whether someone would consider purchasing from the brand in future) increased from +25.4 to +29.5 – an increase of 4.1 points – suggesting that William Hill isn't losing its customer base, despite the store closures. In fact, it has potentially increased.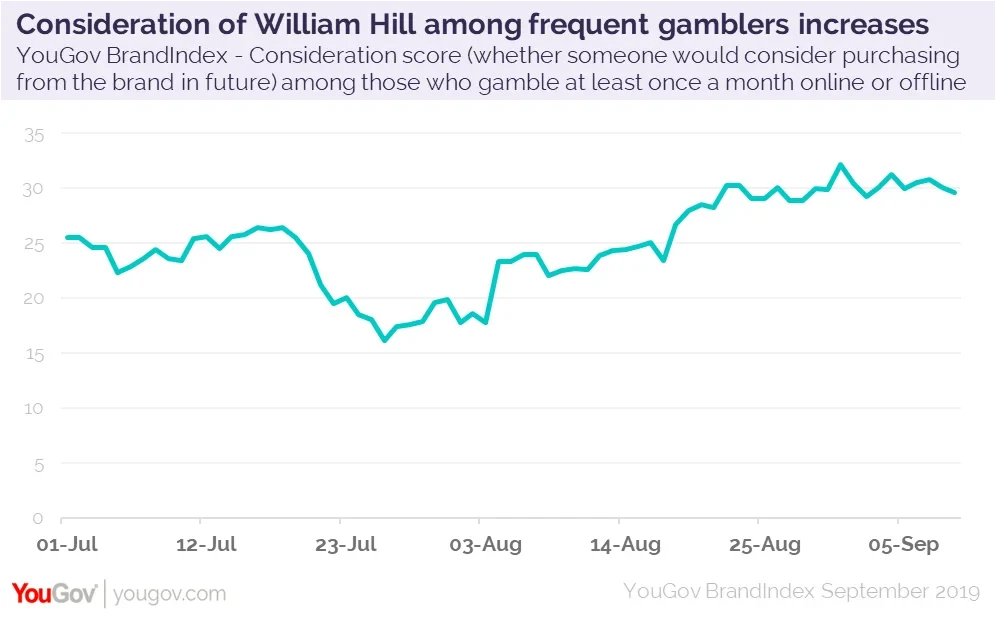 Continuing to develop the brand to reflect the changes in betting behaviour will help William Hill to retain customers even while gambling legislation is changing and safeguards are brought in.
This article previously appeared in City A.M.