The latest wave of the YouGov Smartphone Mobile Internet Experience (SMIX) report has some chilling news for Nokia, as the once dominant Finnish provider has seen its share of expected next smartphone purchase (i.e. the phone that current smartphone users expect to buy next) drop to four per cent.
This compares to Apple on 41%, BlackBerry on 10%, HTC with 13% and Samsung rating seven per cent.
Even 'consideration' is only 25%, meaning just one in four smartphone users would even think about buying a Nokia next.
Smartphones: Next expected phone/would consider this brand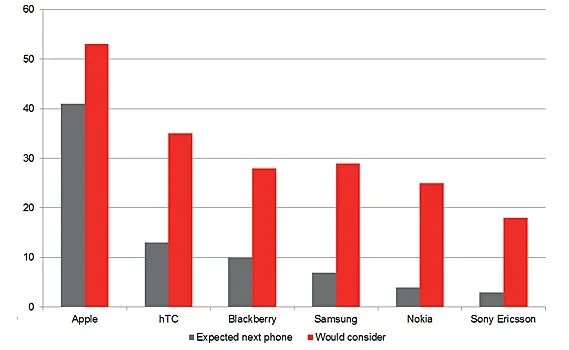 The findings come from the September wave of our quarterly report and emphasise the importance of the brand's first Windows Phone, the Nokia Lumia 800, which has since been launched.
The initial advertising campaign was encouraging in terms of generating positive noise. A BrandIndex buzz score of +5 in mid-October became +12 by mid-November and gave Nokia a solid base on which to build.
However, already there are early signs that the impact is wearing out, with buzz having started to trend back downward.
Nokia: BrandIndex Buzz and Index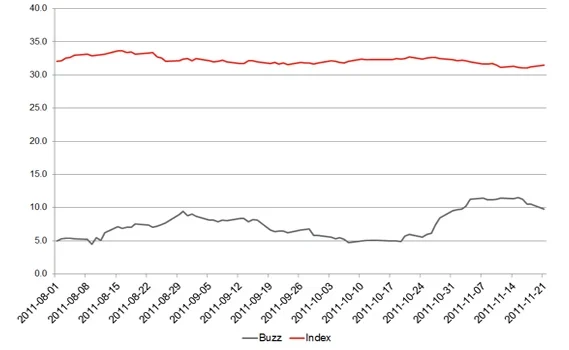 Looking at the index score gives further grounds for concern As an amalgamation of six key perception measures, it would be hoped that a successful campaign would see the score move upwards, but there has been no shift for Nokia and it has remained in the low +30s.
Windows 7 has so far failed to impact the market dramatically and this tie-up is a crucially important play for Nokia in the UK. These are early days in a new product launch but despite garnering some initial buzz, the early signs are not promising.
Just getting some extra buzz will be helpful, and how the new product is received by early users will be crucial.
But it is clear that Nokia will need to do a lot more if it is to make this launch the success that it badly requires.
This article also appears in CityAM