Fast food chain KFC launched a completely vegan "Imposter Burger" this week, which customers will be able to trial for the next month at 20 restaurants, mostly in London and Bristol.
They are far from alone: McDonald's now sells vegetable wraps, Byron Burger offers vegan options and Greggs has enjoyed great success with its meat-free sausage rolls.
Vegan food may still be a niche, but it's undoubtedly growing at pace. Our data shows that just 1% of the UK eschew meat and dairy but that there are geographic and demographic hotspots. For instance, 3% of women aged from 18 to 34 year are vegan, as are 4% of Londoners (so it seems that KFC has chosen the locations for its trial well). We've also found that 2% of current meat eaters plan to become vegan in the next 12 months.
Food brands clearly don't want to miss out on this growing market.
Using Profiles data we can see that 11% of the general population are recent customers of KFC, but that this falls to just 2% among vegans - which is perhaps unsurprising given the limited options available to them until now.
On the other hand, if we look to Greggs and their vegan sausage roll, we can see that 16% of the general population are a recent customer - but that this actually rises to 20% among vegans. So KFC is wise to follow suit and take steps to take their slice of a growing market.
The marketing campaign for Greggs' sausage rolls was dubbed a "masterclass in public relations" by PR Week, and led to a spike in the company's Buzz Score (a net measure of whether consumers have heard anything positive or negative about the brand in the last fortnight) in the weeks following launch to +8.2, its highest point for the previous 12 months. We can expect to see a similar rise for KFC if consumers enjoy the Imposter Burger, and media coverage of the launch seems to suggest that there's a large audience for them.
Looking to BrandIndex data over the last two years we can see that Consideration among vegans has remained static at around 3% for KFC, but has rocketed from 6% in the second half of 2017 to 26% in the first half of this year. Again, if their meat-free burger is a success we will see drastic change in this metric.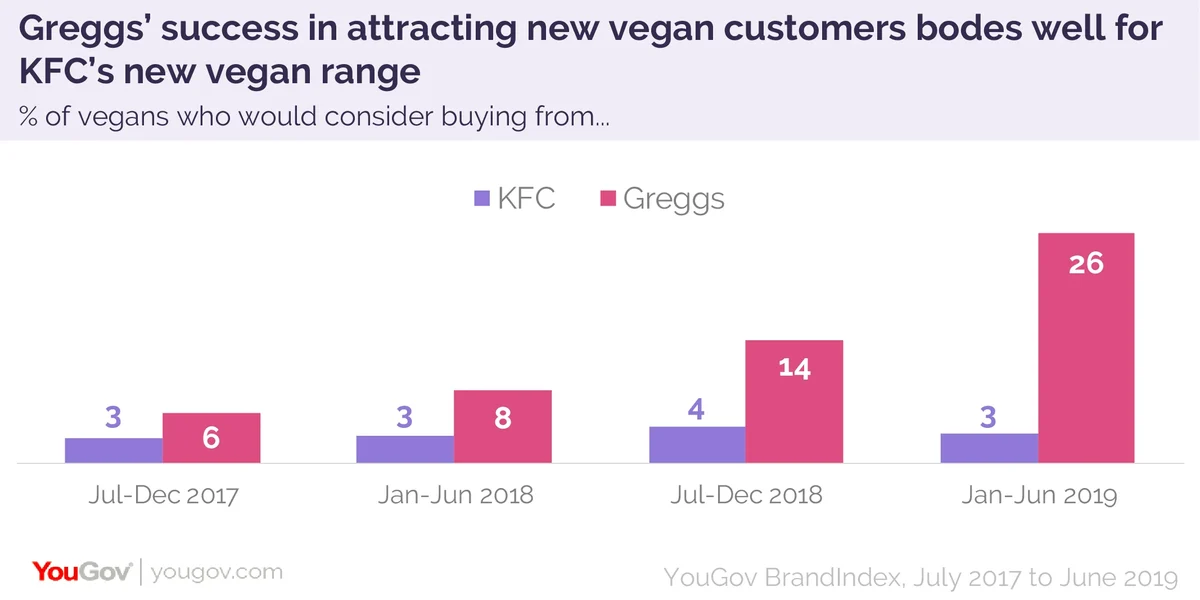 This article previously appeared in City A.M.