YouGov polls the public on 50 traditional British dishes such as Yorkshire puddings, crumpets and cottage pie
British food is stereotypically held in low regard by other countries, but a recent YouGov survey found that 91% of Britons enjoy their own national cuisine. Now, new YouGov Realtime research delves deeper into that statistic and reveals the popularity of 50 classic British foods.
Savoury
Our distressingly beige chart below shows that Yorkshire puddings top the savoury list, with 85% of Britons who have tried them saying they that like them. They are followed closely behind by Sunday roasts and fish and chips on 84% each (again, a percentage of those who have tried them).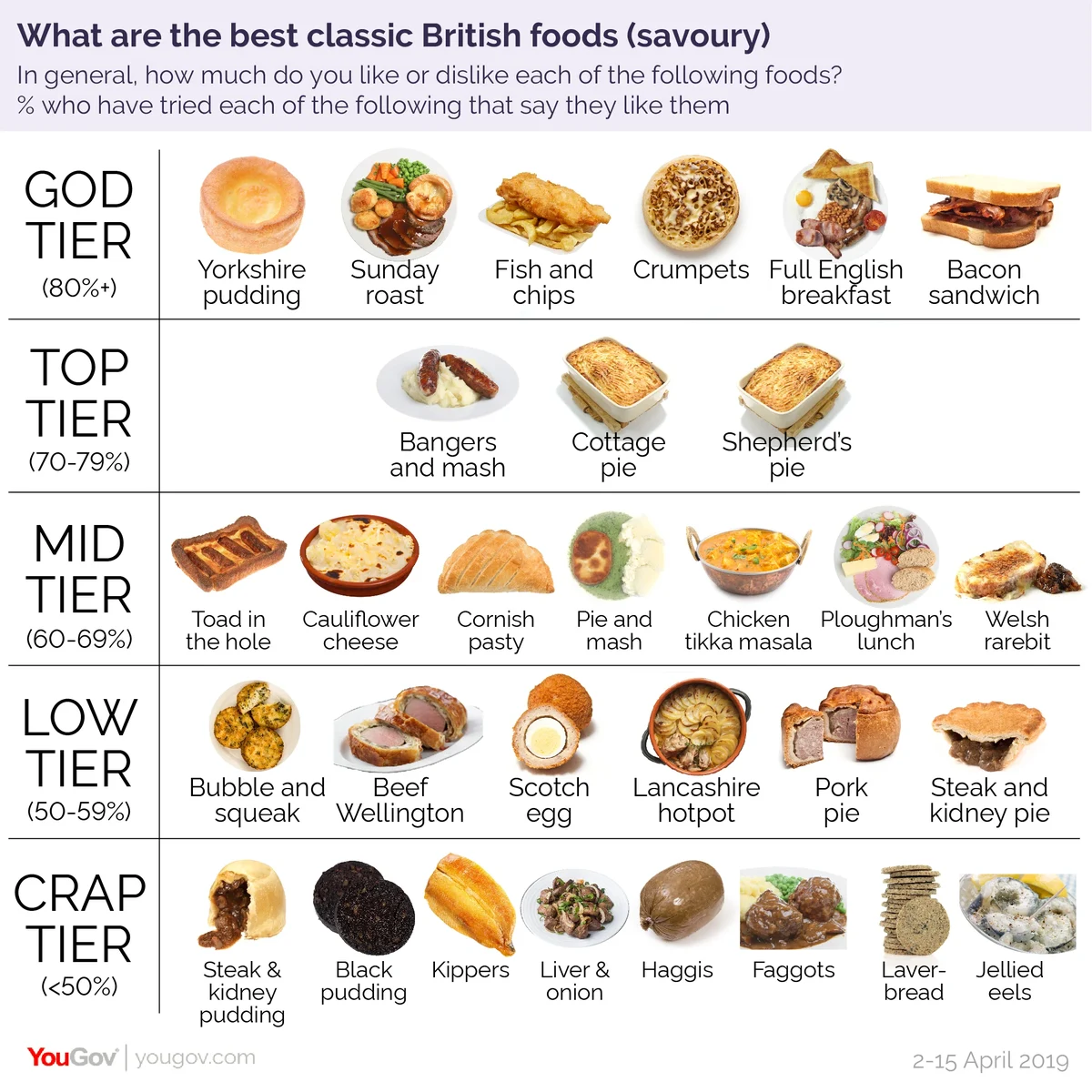 Crumpets are perhaps a surprise God Tier contestant, with 81% of Britons saying they like them – putting them level with a full English breakfast and bacon sandwiches.
Other top tuck according to the public includes bangers and mash (76%), cottage pie (76%) and shepherd's pie (75%).
Residing at the very bottom of the table are jellied eels. A mere 6% of Britons who have ever tried the gelatinous East London cuisine say that they have a taste for it.
Laverbread, a Welsh 'delicacy' made of seaweed comes second from bottom, with only 20% of those who have ever tasted a slice saying they enjoyed the experience. Unsurprisingly the dish is more popular in Wales itself, but even then only a third (35%) say they like the oceanic fare.
The results also reveal that men are noticeably more likely than women to enjoy steak and kidney pudding (63% versus 47%), black pudding (56% versus 38%) and steak and kidney pie (58% versus 40%). For their part, women are more likely to say they appreciate cauliflower cheese (76% versus 62%).
Generational differences are even bigger, although they are all one-sided with younger Britons being less likely to have enjoyed the foods than their elders. The most noticeable is the enormous 43 percentage point gap between 18 to 24 year olds and those aged 55 and over regarding liver and onion, with just 15% of the former liking it compared to 58% of the latter.
Other highly divisive foods are Welsh rarebit (44% versus 79%), steak and kidney pudding (30% versus 61%) and kippers (24% versus 54%).
Sweet
Turning to the sweet list, the results find scones sitting aloft the God Tier, with 85% of Britons saying they like them. They are joined by Victoria sponge, with 81% of people saying they enjoy the taste of our country's most patriotic cake.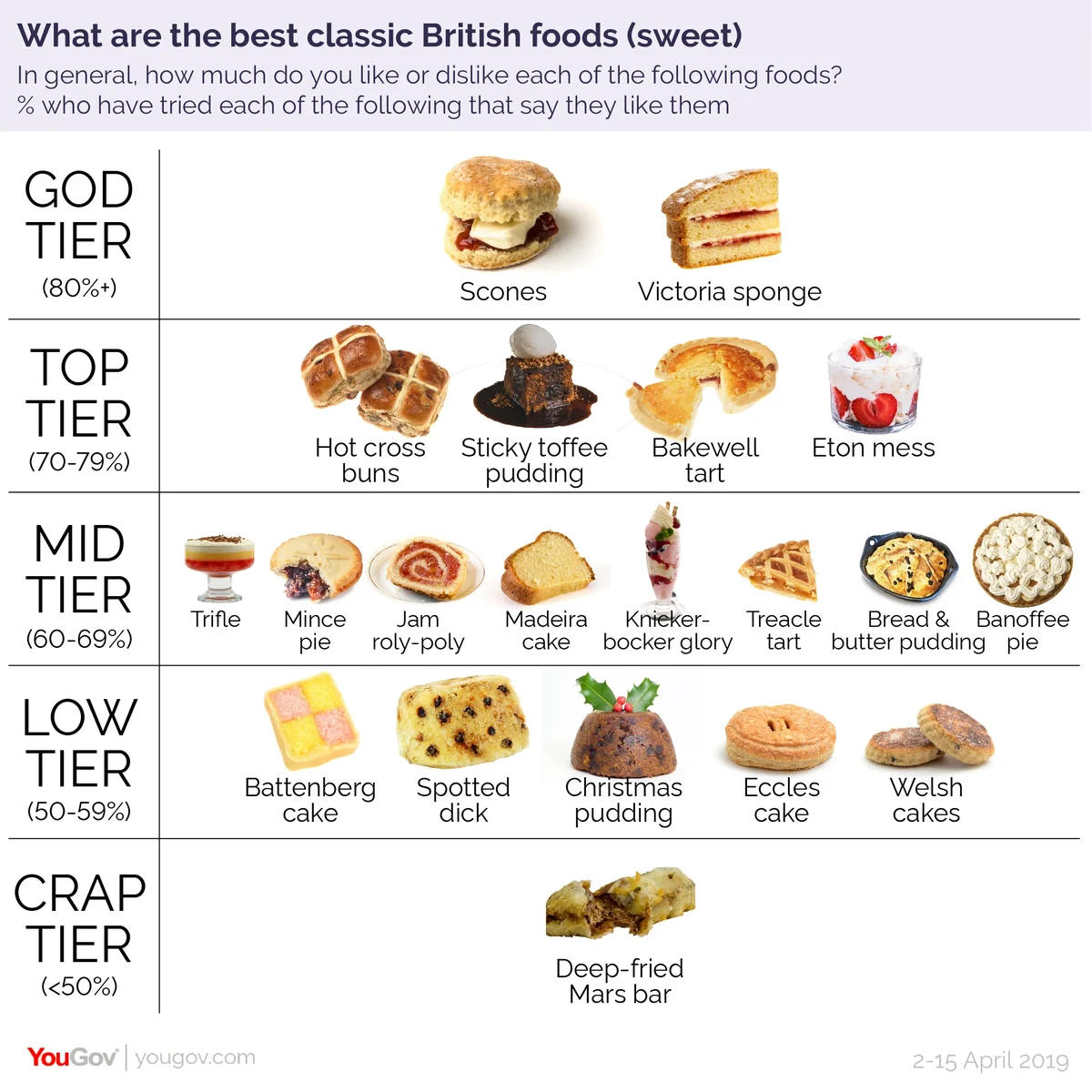 Other top desserts include hot cross buns (75%), sticky toffee pudding (73%), Bakewell tart (72%) and Eton mess (70%).
Sitting alone at the bottom of the table is Scottish invention the deep-fried Mars bar. Only 22% of those who have ever consumed the battered treat say they enjoyed the experience (a figure which rises to 30% in Scotland itself).
Male and female opinion is less divided on deserts, with the most noticeable difference being the 11 point gap on Eton mess, at 75% versus 64%.
Big generational gaps persist, however, with almost all of the big divides being young people liking classic desserts less: only 34% of 18 to 24 year olds who have ever had Christmas pudding like it, compared to 70% of the over 55s. Likewise 38% of the young folk enjoy Eccles cake compared to 64% of their elders, and spotted dick is liked by 37% of juniors compared to 62% of seniors.
There is, however, one food item that the younger generation are more likely to enjoy than their elders; the aforementioned deep fried Mars bar, which 47% of 18 to 24 year olds who have ever tried one enjoy compared to just 7% of those aged 55 and over who have done so.
Article photo: Getty. All food photos are Getty with the exception of Pie and Mash (Wikimedia Commons) and Deep Fried Mars Bar (Xian from Lancaster, Wikimedia Commons)