Danish brewers Carlsberg sparked confusion after promoting a series of tweets ridiculing the taste of their own beer, likening it to bath water among other less than favourable comparisons.
Yet this wasn't some serious error from Carlsberg's social media team, but the start of a carefully brewed marketing campaign, one amended with a tweaked version of their famous slogan: "Probably not the best beer in the world".
The brewer announced that it would be creating a new beer from scratch, with a hope to challenge drinkers to re-trial Carlsberg by acknowledging the 'truth' about the previous quality of Carlsberg.
Since the launch of the campaign in April, Carlsberg's Buzz score (a net measure of whether consumers have heard anything positive or negative about the brand in the last fortnight) has responded quickly.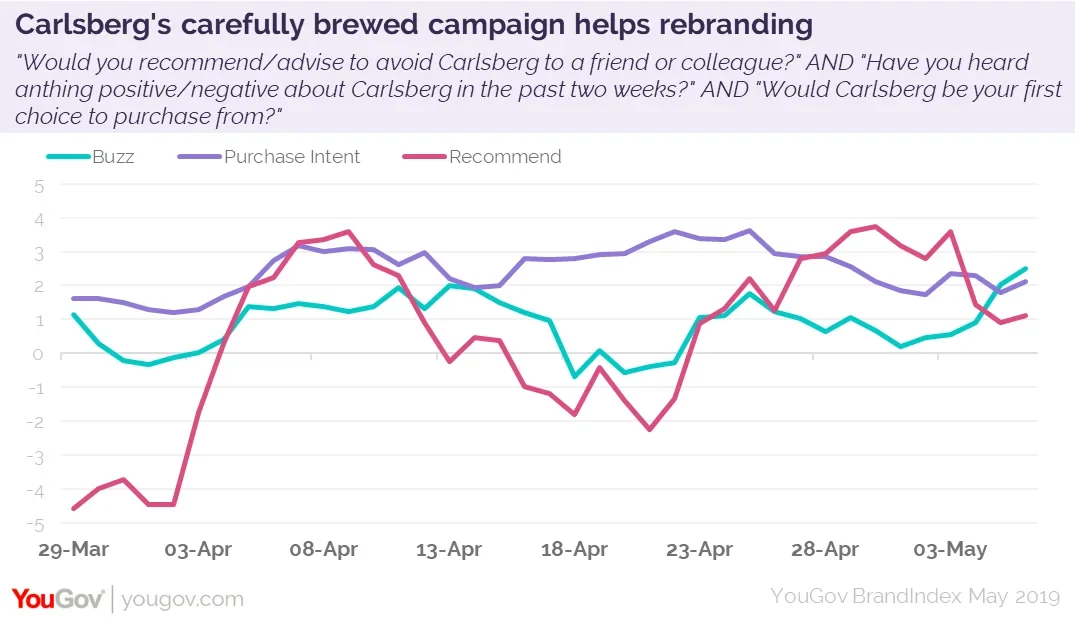 Buzz and media coverage generated by the promotion of the tweets led to scores increasing from -0.3 to +2 in the first week of April. However, these scores then declined to -0.7, perhaps as a result of the confusion this caused for some Twitter users who believed the tweets to be an error.
Once Carlsberg clarified the strategy as deliberate by releasing videos of Carlsberg staff reading aloud 'mean tweets', scores rose to +1.8 and then even further to +2.5 with the final announcement that Carlsberg would be creating a new brew and therefore a new taste.
The +2.4 point increase in Purchase Intent scores (which brand is someone's first choice to purchase from) and +8 point increase in Recommendation scores (whether someone would recommend a brand to a friend or not) suggests that Carlsberg's campaign has been largely effective in getting drinkers to re-consider the brew.
The amount that Carlsberg invested in their brand with this campaign is substantial, and promoting negative views of your product is undoubtedly a risky move. However, the improvements seen by our brand health tracking data suggests that the risk was successful. Carlsberg just have to maintain the improvements after the campaign ends, and make sure that this new beer goes down well.
Image: PR Week