John Lewis takes first place in YouGov's 2019 Worker's Choice Brand Rankings for the second year running, followed by new entrant British Airways
John Lewis is the brand that Britons would be proudest to work for, according to the latest YouGov BrandIndex research - the second year running that the retailer has taken the top spot.
The rankings are calculated using the BrandIndex Reputation score, which asks the British public every day whether they would be proud or embarrassed to work for thousands of brands across the UK.
The high-street staple tops the rankings with a Reputation score of 44.9, some 1.9 points lower than last year's 46.8 but still in first position.
John Lewis has been fabled as a great place to work with their bonus scheme and regard for employees positioned as great incentives to work for the retail giant. Despite some issues regarding cuts to bonuses after a profit slump post-Christmas, John Lewis has kept its crown at the top of the rankings.
In second place is new entry to the top ten, British Airways, at 37.1. Last year's third place, Mercedes-Benz, retains its position with 36.1.
Traditional favourite Marks and Spencer takes fourth place (36), falling from second position last year, while Samsung completes the top five (35.5).
Elsewhere in the top ten premium supermarket Waitrose is in sixth (34.8), closely followed by Jaguar (34.5) and Waterstones (34.2). Sony (33.6) and BBC iPlayer (33.5).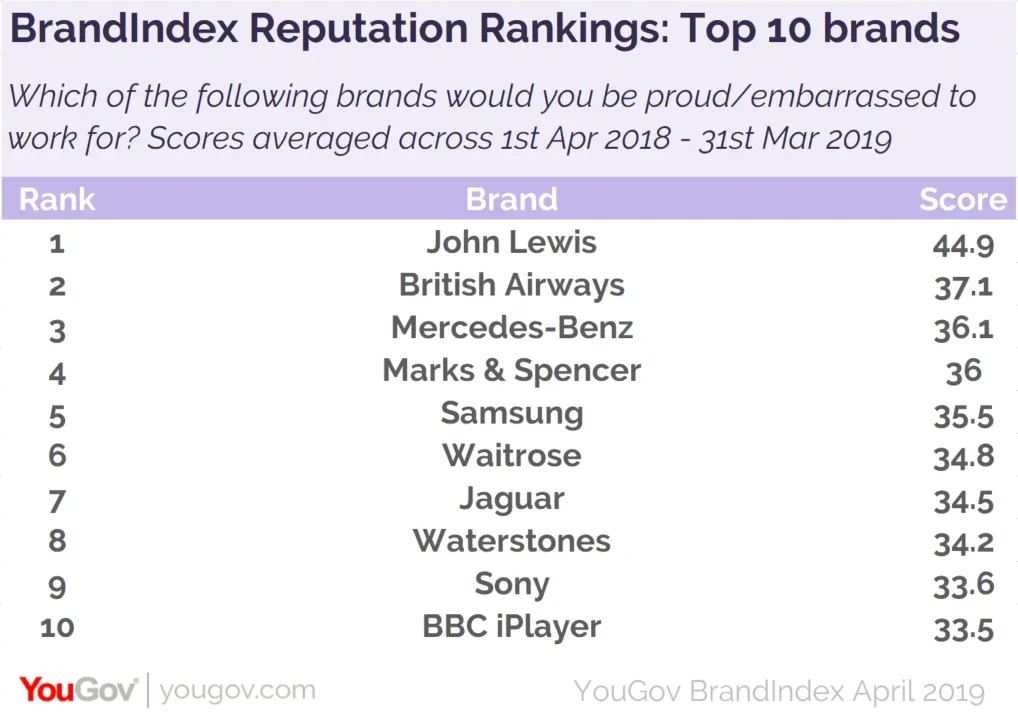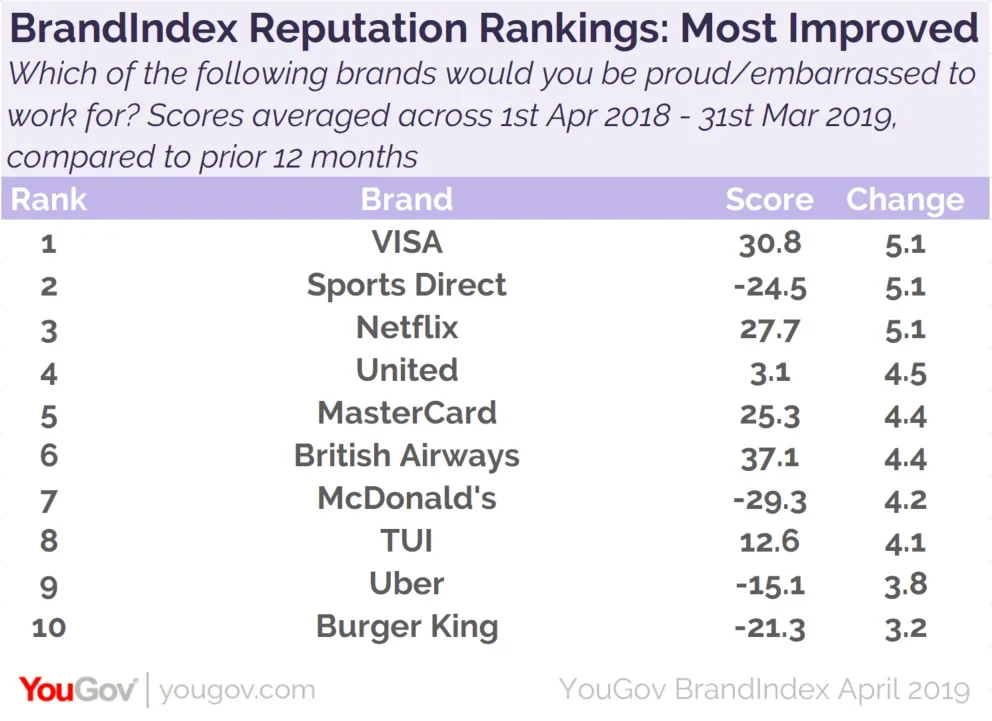 YouGov has also published its top ten improvers for this metric. Last year, Netflix had the most improved Reputation score with +5.1, however has since fallen to third place (+5.07) just being beaten to the post by VISA (+5.14) and Sports Direct (+5.10). In fourth and fifth place are airline company United (+4.5) and MasterCard (+4.4).
To find out how highly workers rank your brand in the UK, view the full rankings here.