This week meat-free food giant Quorn announced its newest product in a long line of vegetarian and vegan food offerings; a soy-free, thick-cut quarter pounder due to be released this summer dubbed the 'Ultimate Burger'.
Quorn says this comes closer to the real thing than previous products, and even sizzles and 'bleeds' – part of a bid to meet consumer demand and target the growing flexitarian market. Quorn's chief executive linked the growing interest in meat alternatives to the increasing concern surrounding the environmental impact of meat production.
Quorn was one of the first brands to offer vegetarian versions of meat-based dishes in the 1980s, and has seen a 16% growth in sales from 2017-18, indicating that diets are changing. YouGov data shows that 14% of Brits consider themselves 'flexitarians' meaning they occasionally eat meat by choice, and more than a fifth (22%) regularly enjoy meat substitutes. Considering that more than two thirds of flexitarians are actively trying to reduce their meat consumption (69%), how large is the market opportunity for meat substitute brands like Quorn?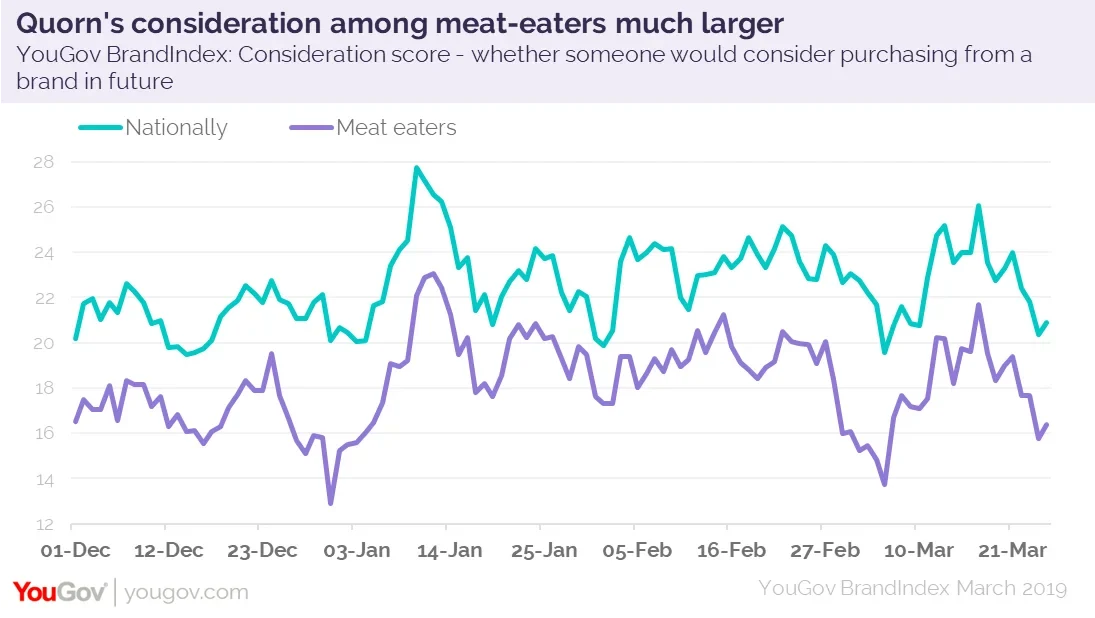 Consideration of Quorn rose from +20.7 to +28.1 at its peak, potentially due to 'Veganuary' and the success of the Greggs vegan sausage roll which contained Quorn's meat-substitute filling. However the increase in Consideration scores (whether someone would consider purchasing from a brand in future) among Brits who eat fresh meat or fish once a month is much more noticeable; from +12.9 to +23.1. This suggests that this buzz surrounding meat-free substitutes and diets may have had a more profound effect on meat-eaters, enough for regular meat-eaters to consider switching to an alternative such as Quorn.
Our research implies that the number of vegetarians, vegans and flexitarians is rising alongside the number of meat-eaters who consume substitute products. If brands can highlight the market share available to them among flexitarians then they're sure to profit from consumer's changing eating habits. Only time will tell if Quorn's 'ultimate burger' will have the same impact as Greggs' vegan sausage roll once it's released this summer.
Image: Getty
This article previously appeared in City A.M.