Budget fashion retailer Primark reported an uplift in sales this week. The latest update from owners Associated British Foods (ABF) was that sales for the first half of the year are likely to be 4% ahead of the same period last year, helped along by "encouraging" profits from early trading of the new spring/summer range.
ABF attributes this growth to continued roll-out of new high street shops and the fact that they've kept costs low, uniquely, by not offering an online store. Primark expects to open 900,000 square feet of new shops this financial year, including its largest ever store, which will occupy 160,000 square feet of Birmingham.
But when so many brands are facing difficulties on Britain's high street, how is it that Primark is not just surviving, but thriving - and expanding?
YouGov BrandIndex data shows that those retailers seen as offering both quality and value have been the ones to perform well in recent months. Offering one is easy, but providing both at once is no easy trick, and Primark seems to be heading in the right direction: its Value score has almost doubled over four years (from +15.1 in 2014 to +25.7 in 2018) and its Quality score increased from -28.7 to -21.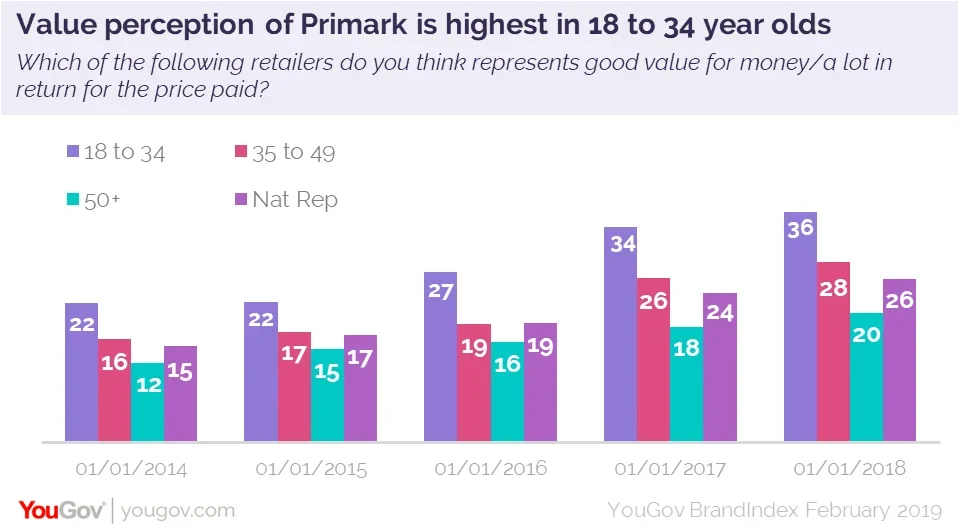 Although Primark's value score is particularly healthy for a high street brand, it's positively soaring among those aged 18 to 34, who regard the brand as offering among the best value for money on the high street. Among this demographic, Primark's value score increased from +13.1 in December to +40.1 in February. Women also tend to regard Primark as higher value for money than men.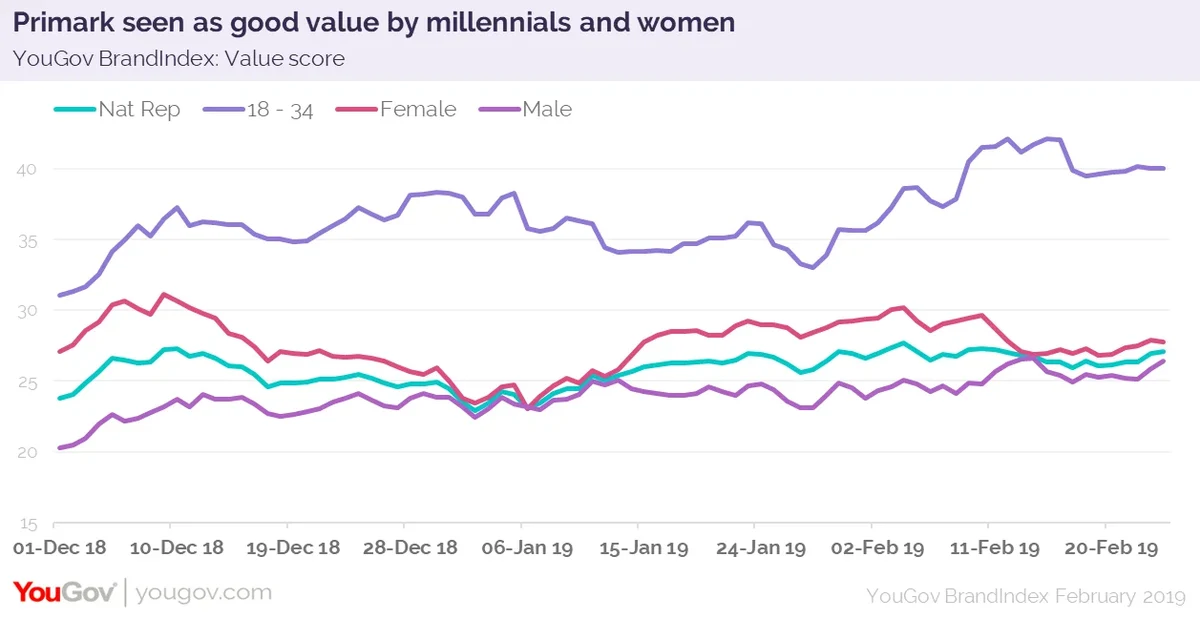 Where many retailers have relied on online sales to keep them buoyant Primark has stayed loyal to the high street and kept on opening ever larger stores to bolster sales. These recently revealed plans to open vast new outlets, including the world's largest Primark, should mean this trend continues over 2019.
Data gathered using YouGov BrandIndex
Image: Wikimedia Commons
This article previously appeared on City A.M.