Last week Paddy Power continued their shock-tactic advertising strategy following a long line of provocative stunts, including pretending to cut "C'MON ENGLAND" into the Amazon rainforest before the World Cup and delivering a 'drunk tank' to the Royal Ascot for badly behaved punters.
Their latest advert is a tongue-in-cheek exploration of loyalty in order to promote Paddy Power's reward scheme, which features Rhodri Giggs and the tagline: "Loyalty gets you nowhere, Live for rewards instead. That's why I'm the Paddy Rewards Club ambassador." The advert references the eight year affair between his ex-wife and former Manchester United player, Ryan Giggs.
General reception on Twitter has been gleeful, with football supporters enjoying the controversy and mischievous humour. But was the advert well received by all?
Looking at YouGov BrandIndex data we can see that the Buzz created by the advert (a net measure of whether consumers have heard anything positive or negative about the brand in the last fortnight) was significant, with Paddy Power's Buzz score increasing from -3.5 before the adverts release to -0.4. This 3 point increase over three days alongside the additional increase in Impression scores (whether someone has a positive or negative impression of a brand) from -19 to -16.2 indicates that the advert was well received.
However, the subject of the advert does mean its audience is limited. Many won't be aware of the Giggs scandal, particularly if they don't follow sports or sporting celebrities. This is demonstrated by the differences in Paddy Power's Ad Awareness score over the past few days (whether someone has seen or heard an advert broadcast by a company in the past two weeks). Based on a nationally representative sample, Paddy Power's Ad Awareness score stayed fairly steady, decreasing if anything. However, the Ad Awareness score of consumers who have gambled in the last 12 months was much higher and rose from +24.4 to +29.9.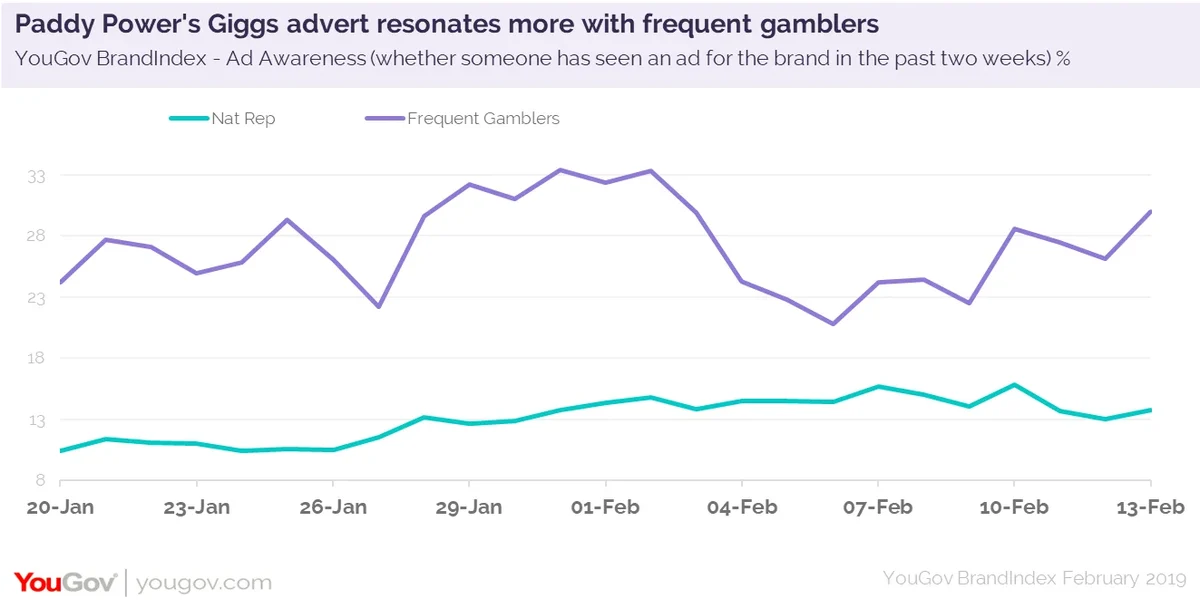 This pattern continues even if this is broken down by different types of gamblers. When looking at the Buzz generated, the advert had the greatest impact on those who have either played or visited a bingo club, visited a casino, gambled online with games, or placed a bet with a bookie online or in store. For this type of customer, Paddy Power's Buzz score increased from -11.2 to +62.5 – a huge surge of buzz compared to a nationally representative sample.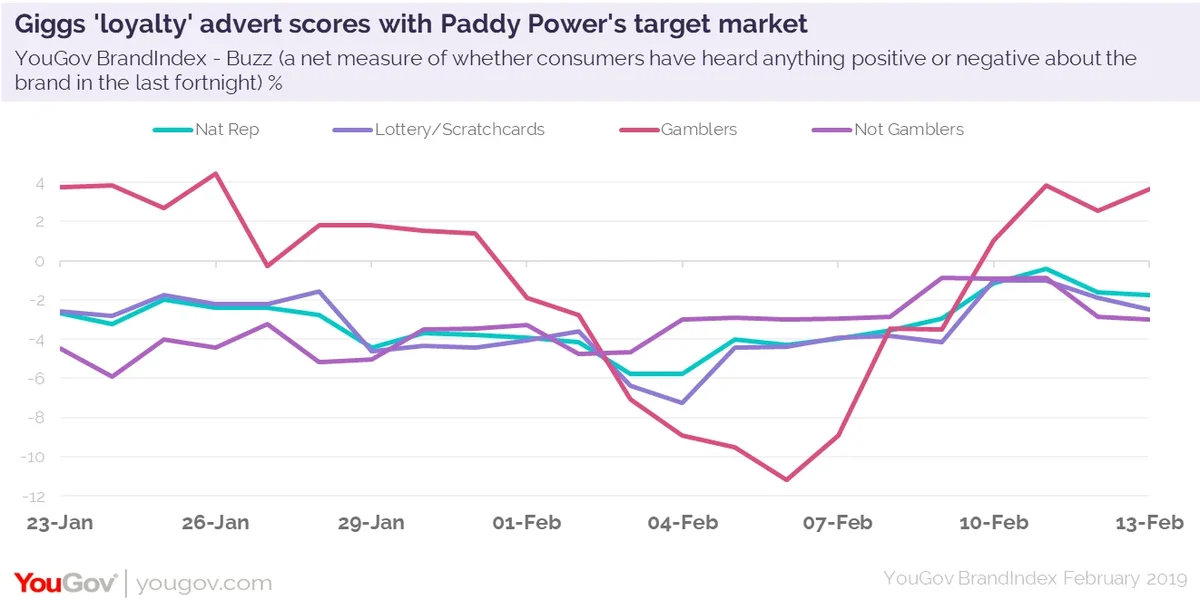 Interestingly, the Buzz score for those who bought scratch cards or lottery tickets in the last 12 months is almost identical to the nationally representative sample (increasing from -3.9 to -1.0). This highlights the variations in personality and interests between different types of gamblers; those who gamble with arguably more risk on platforms that are usually based on an interest will always be more interested in sporting humour and content, such as the Paddy Power advert. Those who gamble with scratch cards are not too different from nationally representative samples or those who do not gamble.
Paddy Power's advert definitely struck a chord with the audience it was intended for, and the pithy jokes and nudge-nudge humour won't have been lost on them. However it is worth mentioning that controversial adverts such as Rhodri's loyalty skit which are aimed at one type of audience will definitely miss the mark with others.
Data gathered using YouGov BrandIndex.
Image: Geograph