Beef is the most popular meat option
With previous YouGov Omnibus research having uncovered the ideal composition of Christmas dinners and full English breakfasts, the time has come to tackle another national staple: the Sunday roast.
Brits are heavily split on the ideal centrepiece meat for their roast. The most popular option is beef, at 33%, followed by chicken on 27% and lamb on 20%. A further 8% would prefer a vegetarian option, while only 6% would opt for pork.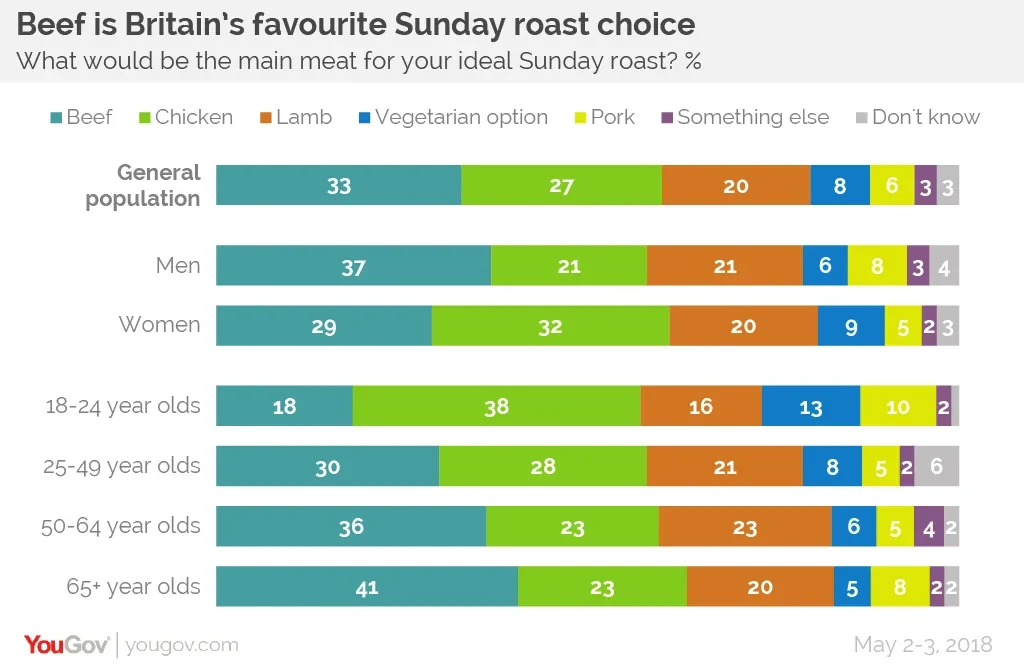 Women are more likely to opt for chicken than men (32% vs 21%), while men are more likely to choose beef (37% vs 29%).
Chicken is also favoured by younger Brits (38% of 18-24 year olds vs 23% of 65+ year olds). To a lesser extent the same is true of the "vegetarian option" (13% vs 5%). By contrast, the older Brits are the more likely they are to want beef: 41% of those aged 65 and above compared to 18% of 18-24 year olds.
All the trimmings
Roast potatoes are king of the trimmings, with 89% saying they would feature on their ideal Sunday roast. Only two other trimmings feature on the majority of Britain's ideal meals – gravy (76%) and Yorkshire pudding (69%).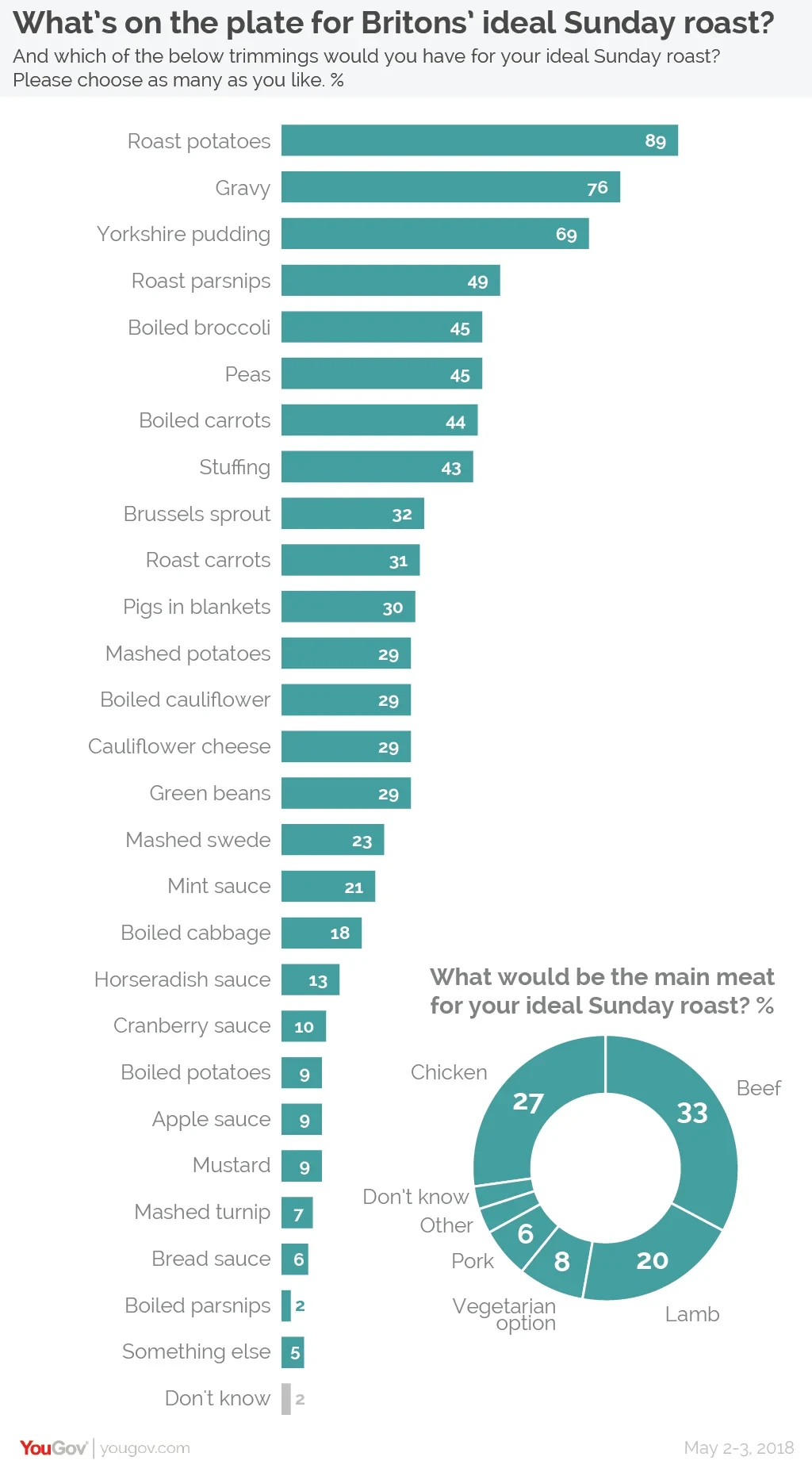 Next most popular are roast parsnips, which 49% of Brits would want to see on their plate, followed by boiled broccoli and pea, both on 45%. A further 44% want boiled carrots, and 43% stuffing.
Women are more likely to opt for vegetables than men, being especially more likely to favour boiled broccoli (51% vs 38% of men), cauliflower cheese (34% vs 23%) and green beans (34% vs 24%). Men are not especially more likely than women to favour any particular item of food.
Pigs in blankets are the cause of the largest intergenerational divide. The younger Britons are the more likely sausages wrapped in bacon are to feature in their ideal Sunday dinner, with 52% of 18-24 year olds wanting them compared to only 12% of 65+ year olds.
Young people are also much more likely to prefer stuffing (59% vs 27%) and boiled broccoli (56% vs 35%).
By contrast, the item of food that older Britons are most likely to prefer when compared to their younger counterparts is green beans, which would make an appearance on 39% of 65+ year olds' dinners but only 19% for those aged 18-24.
Photo: Getty