Last week, children's toy store Build-A-Bear found itself in the headlines following a promotional campaign that backfired.
Stores rolled out a 'pay your age' day, in which parents could buy a teddy bear for the price of the age of their child.
However, the initiative took a sour turn after keen customers were left standing in queues of over a mile long, and the company had to end the promotion early, citing 'safety concerns'.
YouGov brand tracking data shows how the misjudged campaign has affected the brand's public perception in the immediate aftermath of the offer.
Build-A-Bear Workshop's Attention score (whether people are hearing news about the brand) has rocketed from 3% to 17% since the promotion, underlining how the story garnered interest. Crucially though, the noise the public has heard isn't good – with its Buzz score dropping from +2 to -9.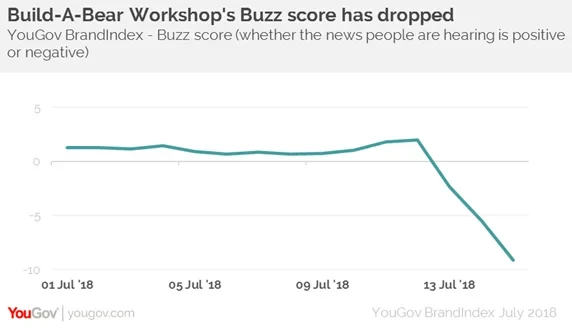 Added to this, among the general public, the toy store's Impression score (whether someone has a positive impression of the brand) has narrowly missed falling into negative territory, decreasing from +12 to 0.
YouGov Profiles data highlights how, in this particular case, Build-A-Bear may have reason for concern. Current customers of the Build-A-Bear Workshop brand are far more likely than the average person (91% vs 73%) to say that they would happily switch shops for greater speed and convenience. They also are more likely than the average (91% vs 76%) to say that online shopping makes their life easier. Those who queued in vain for a toy may now be more reluctant visit the store any time soon.
Build-A-Bear Workshop could well see its brand health metrics recover quickly as the story drifts out of the news. It's likely to be forgiven (even by disappointed parents) for its misjudged and poorly coordinated faux-pas sooner rather than later.
Despite the negative sentiment, the brand generated headlines with its seemingly well-intentioned promotion, and was certainly front-of-mind for many shoppers. Addressing frustrated consumers' concerns with its next offer will be an important step in reasserting its reputation.
Image Getty