Earlier this month, Nike released a new campaign that celebrates youth, sport and music in the capital city of London.
The three-minute-long ad, entitled 'Nothing Beats a Londoner', depicts the trials and tribulations of London's sport-loving youth, from those who have to sprint two miles to get to football training in Peckham, to those fighting for a space on the local multi-sports court in Dalston.
YouGov brand tracking data reflects the campaign's initial success. Nike's ad awareness score (whether you have seen an advert for the brand) has risen from +12 to +20 among the general public since the day of its release (9 February) to its peak (17 February).
The campaign is achieving cut through with a key target audience as well, with its score among those aged 18-29 rising from +21 to +32.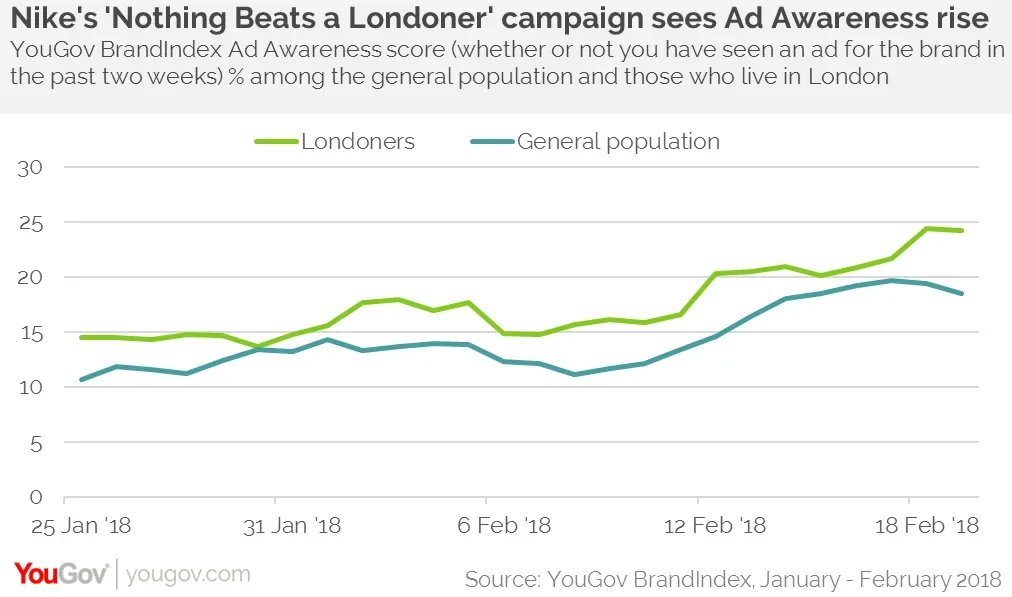 It has also had a positive effect on Nike's buzz score (whether you have heard something positive about the brand over the past two weeks), which has jumped from six to 12. Again, we see a greater rise among those in the 18-29 age group (+16 to +26).
While the campaign has been highly praised by advertising commentators, some have questioned whether it will appeal to the rest of the country, and if brands and agencies are becoming too London-centric in their marketing.
Among those who live in London, Nike's ad awareness score has moved from +16 to +25. This compares to a movement in score of four points (+12 to +16) with those living outside the capital and the south east.
YouGov Profiles data indicates that 45 per cent of people think they don't see their lifestyle represented well enough in advertising – an attitude which has greater prevalence in the north for example, than London.
So while Nike has produced an advert that is memorable, generating headlines and capable of speaking to a key age group, the risk is potential customers in other areas of the country may respond to it in a different way.
This article originally appeared in City A.M.
Image Getty