The Christmas advertising season is in full swing with most major brands now having unveiled their festive ads, with Marks & Spencer's being one of the most-closely anticipated this year.
Last year, the high street giant's advert – featuring a helicopter-piloting Mrs Claus – was rapturously received meaning the bar is set quite high for this year's.
Its 2017 ad – released last week – features Michael Bond's iconic children's book character Paddington Bear mistaking a burglar for Father Christmas and then working with him to return the gifts to people.
While it's early days, YouGov BrandIndex data shows that since the start dates of each advert, the 2017 Paddington is already marginally outperforming Mrs Claus, suggesting that this year's ad is on track to do at least as well as the last.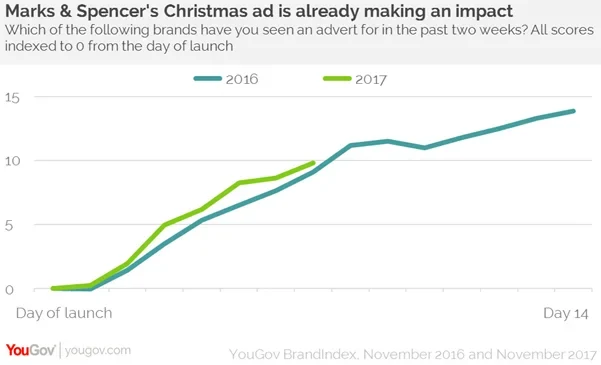 During the first week of this year's campaign, the brand's ad awareness score (whether or not someone has seen an advert for the brand in the past two weeks) across the entire Marks & Spencer brand (including retail, fashion and supermarkets) increased notably – rising by 10 points.
Additionally, the Paddington ad has sparked conversation among consumers.
Its word of mouth score (whether someone has talked about the brand in the past two weeks) has improved by four points (rising from 14 to 17) since it first aired last week.
M&S's push on TV and social should chime with its target audience. YouGov profiles data shows that consumers currently considering the brand are more likely than the general population to notice TV adverts (51 per cent versus 48 per cent).
Similarly, its social element also makes perfect sense, with profiles showing that, against the general population, M&S considerers are more likely to notice ads on social media than on regular websites (37 per cent to 34 per cent).
This article originally appeared in City A.M.
Image: Getty