Until last month's profit announcement, Domino's Pizza was one of the market success stories of recent times. In the US, it saw its share price rise from under $10 in 2010 to over $200 in the first half of 2017. In the UK it was also on the up – seeing impressive growth from its stores.
However, at the end of July, its share price fell on its second-quarter results due to weakness in some of its international markets. As well as its stock value in the US falling, it also declined in Australia. In the UK Domino's reported lower like-for-like sales than in the previous year.
But how does Domino's public perception stack up among the public? Global YouGov BrandIndex data paints a nuanced picture for the brand both within and between international markets.
In the UK, Domino's advertising is cutting through compared to Pizza Hut – one of its chief global competitors. Where as in 2013, 12% of Britons remembered the brand's advertising, by this summer it was 18%. In contrast, across the same period Pizza Hut's Ad Awareness score has improved from 7% to 9%.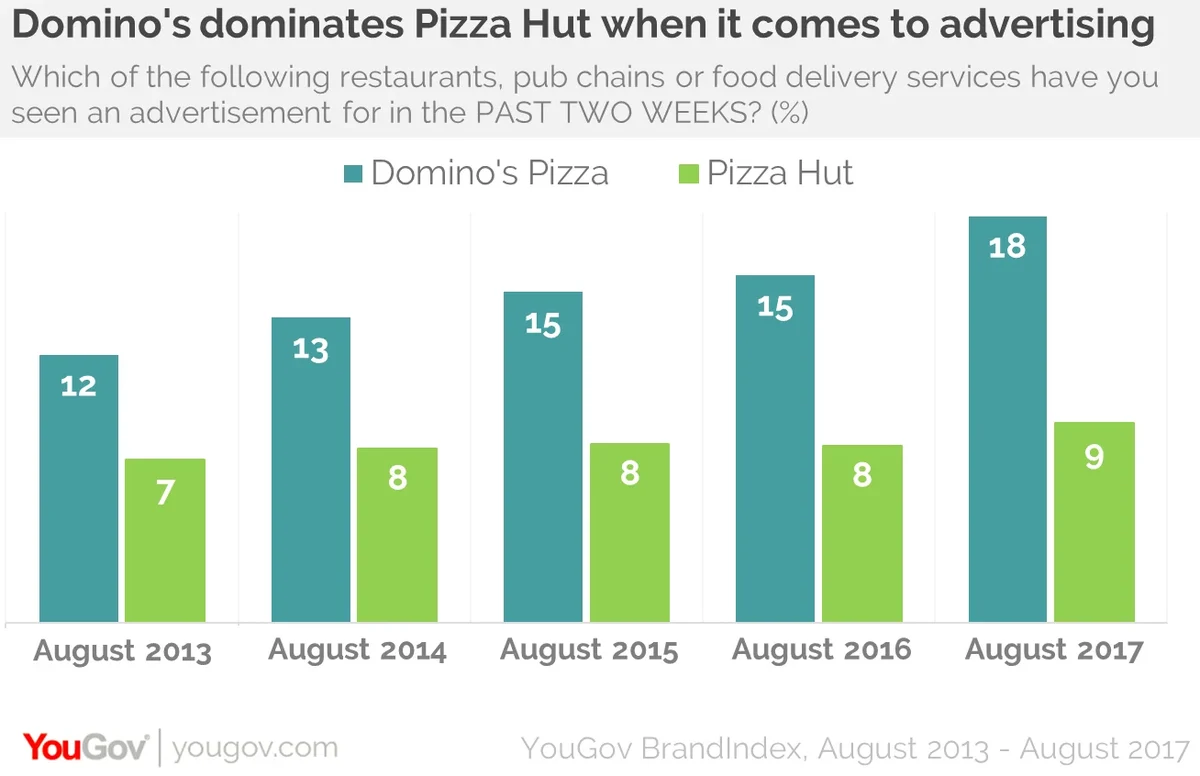 However, while it is closing the gap with Pizza Hut in terms of how the British public perceive the brand's quality, Domino's is still behind on metrics such as value, overall impression, and satisfaction. It appears that while its advertising is cutting through – it is not shifting many of the underlying perceptions of the brand.
But this is not the case in Australia, another major franchise market for Domino's. While it dominates Pizza Hut when it comes to its Ad Awareness score, it also leads Pizza Hut on any number of measures, only regularly being challenged when it comes to perceptions of quality.
In the face of these currents, Domino's is still looking to press ahead with its strategy of boosting profitability by increasing the number of outlets, announcing that it intends to open up to 90 new stores in the UK this year and adding almost 500 new outlets across Australia and New Zealand by 2025. Only time will tell if such expansion will make the public – and the brand's shareholders – happy.
This article originally appeared in City A.M.
Image: Getty