Last week, McDonalds came under fire for its latest advert. It showed a young boy and his mother discussing his late father and, while it seems they had little in common, the mother told her son that he and his deceased father shared a mutual love of a Filet-O-Fish burger.
Viewers were outraged, with parents of bereaved children reporting that they were 'very upset' after watching it. The advert ultimately proved so controversial that the fast food giant had to pull from all media platforms and apologise to anyone it had offended.
But how damaging will this error be for the brand?
YouGov's BrandIndex data shows that, following the poor publicity around McDonalds in the wake of the advert's release, a large number of people heard about the brand in a bad light. Its Buzz score (whether someone has seen or heard anything positive or negative about it in the past two weeks) fell from +1.8 to -3.0 after it first aired. Yet despite the ongoing decline, it is only slightly below where it was earlier in the year.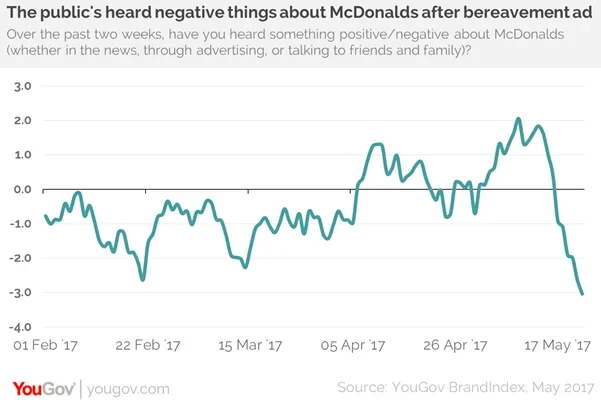 A closer look at the data shows that the controversy hasn't had too much impact on the public's overall perception of McDonalds. While its Index score (measuring overall brand health) has dipped by 2 points it has only fallen back to the same level it was at this time last month and the month before that.
Furthermore, across a range of other metrics the brand does not seem to have been unduly affected by the controversy around the advert. Its Satisfaction and Consideration scores are at around the same levels they were a month ago, as are its Value for money and its Reputation metrics.
However, despite most measure remaining steadfast, a great many of McDonalds' scores are below zero, indicating more people have poor views of McDonalds than have good opinions. Yet, with the brand announcing its tenth year of consecutive growth in the UK last year, it also has a loyal customer base, whose behaviours aren't likely to be swayed by some poor publicity.
This article originally appeared in City A.M.