A new YouGov / The Times study has found that one in three ABC1s would not be able to pay an unexpected bill of £500 or over without borrowing.
The figures indicate that economic pressure remains on the 'squeezed middle' in Britain.
The research found that 31% of ABC1s – the group which includes professional, junior managerial and administrative workers – would find it difficult to pay a sudden bill of £500 or more.
When considering the C2DEs – the group including manual workers and the unemployed – an even larger number (46%), would be unable to pay. The youngest age group, 18-24s, have the least financial cushion.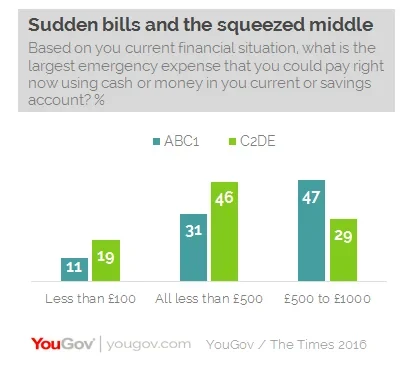 Alarmingly, 14% of all respondents would be unable to pay a sudden bill of £100. Those in Scotland are most likely to be unable to do this (21% compared to 11% in London).
Added to this, a tenth (10%) of those surveyed say that they normally earn less than they spend, and end up spending some of their savings or go further into debt, at the end of each month.
A further 37% are in a better position of earning more than they spend, while another third (33%) say they have an equal balance between the two, though they aren't able to save.
Image PA