As the government announces that it will be pressing ahead with plans to allow councils to extend trading hours on Sundays, YouGov data shows the public generally support the change but are wary about the impact upon employees and family life.
Proponents of the change have argued that as shopping habits change, so too must retailers in order to better compete for trade. Our data indicates support for the change in opening times. Just less than half (48%) believe the changes are either a fairly good or very good idea. This compares to 33% that think it is either a fairly bad or very bad proposal.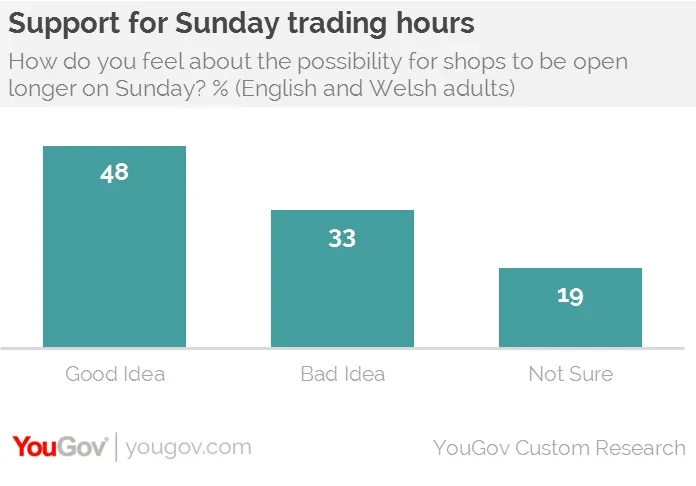 Critics have consistently argued that the changes will be damaging to workers and smaller shops, and that there will a form of erosion in the quality of family life. 58% of respondents would be concerned that smaller stores would lose out if larger stores are open longer, as against 15% that would not be.
As for the workers themselves, 54% think they would lose out, against 19% that said they wouldn't. Looking at home life specifically, a plurality (48% vs. 27%) said longer opening hours would be detrimental to family life.
And what does this all mean for retailers themselves? Our data underlines the opportunity the change provides – especially to the large supermarkets. A fifth (21%) of respondents said that they would do more shopping on a Sunday if the changes were implemented. 12% said they would shop at a different time on a Sunday. Almost four in ten (38%) said that they would like supermarkets to be open longer, ahead of large shopping malls (27%).
It's clear that consumers do see the advantages of the proposed changes from a personal perspective, but are nervous about how workers and smaller shops will be impacted. Could it be that the high street is about to undergo one its most dramatic periods of change in a generation?
Find out more about YouGov Customer Research