Negative news about the high street fashion retailer who failed to pay minimum wage to employees begins to take its toll on the brand

Monsoon and Accessorize, the High Street fashion brands, were recently named as the largest UK firms who failed to pay the national minimum wage. Monsoon topped the list of 115 companies for not paying £104,508 to 1,438 workers.
The fashion retailer failed to meet the wage requirements because of the policy of offering discounted fashion to staff to wear at work and then taking the cost out of their earnings. The company reacted by stating it has taken measures to address the issue, saying that basic wages have been raised.
YouGov BrandIndex, a daily survey of 4000 UK individuals about leading brands, reveals that the news has already reached the general public. 'Attention' (whether people have heard about the brand) has gone up sharply, reaching 16 yesterday. 'Buzz' is a measure of positivity - whether what they heard was positive or negative - and this has gone down to -12 suggesting that the significant majority of the public heard negative things about the brand.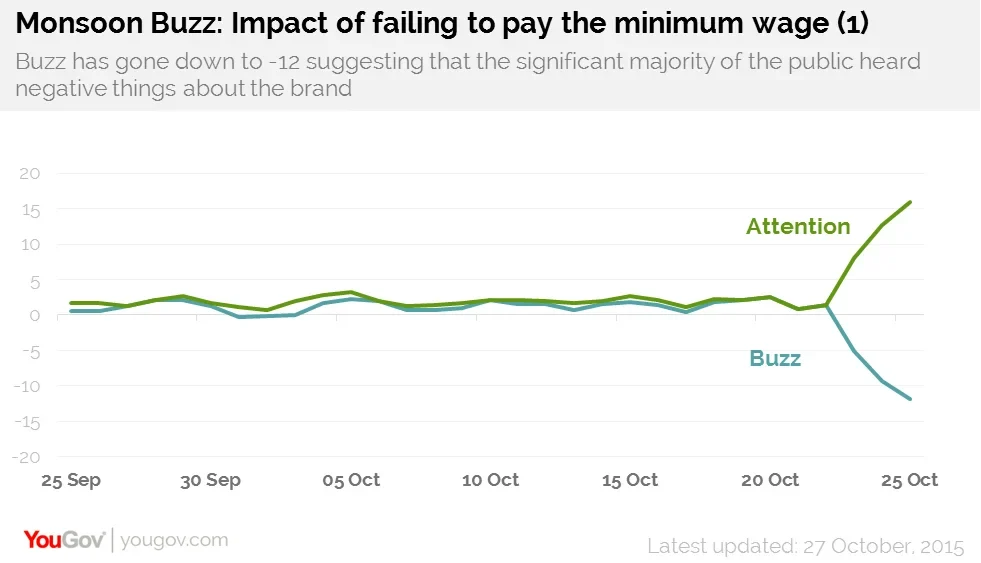 Monsoon's reputation is also suffering. Reputation is a measure of whether people would be proud to work for a particular brand, and in the case of Monsoon it dropped from 18 to 6. This means that in just two days high street retailer lost two thirds of its reputation score.
The recommender score - meaning the number of people saying they would recomend the brand to someone - also fell from 14.5 points down to 6.3.
Altogether, the overall positivity towards the Monsoon brand which was 22.6 before the minimum wage story broke is now on 6.1.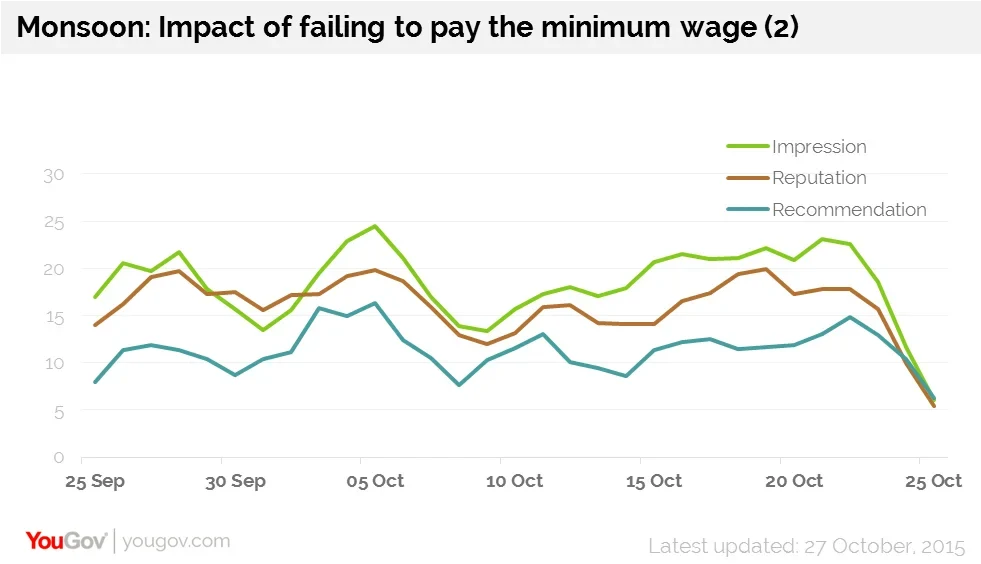 The High Street fashion company was started in London in 1973 and currently has some 1400 stores in 74 countries worldwide.
PA Image