The recent Iran nuclear deal has thrown up a myriad of reactions around the World. For the P5+1 negotiators (China, France, Russia, the US and the UK plus Germany), the agreement marks a significant step toward checking the proliferation of nuclear weapons in the Middle East. However, disquietude persists in some Gulf States, notably amongst Iran's regional rival Saudi Arabia, where there are fears the deal will herald in a new arms race. Meanwhile, Israel argues that the lifting of sanctions will see Iran use this influx of money to fund proxy conflicts, causing greater instability in the region. YouGov wanted to know what our UK Opinion Formers Panel - which draws leaders from the worlds of business, politics, the media, charities, public sector and academia among others – made of the potential ramifications.
Three-quarters (75%) of Opinion Formers feel that the nuclear deal is a precursor to improved relations between the West and Iran, which have been strained since the 1979 Iranian Revolution when the country became an Islamic Republic. The treaty is also seen as a step toward a more moderate Iran by nearly three in five (57%), with many commentators speculating that resolving the longstanding nuclear issue could be the first sign of a more open and engaging Persian State rather than a confrontational one. Only 5% of Opinion Formers think the likelihood of a more moderate Iran would decrease as a result of the deal.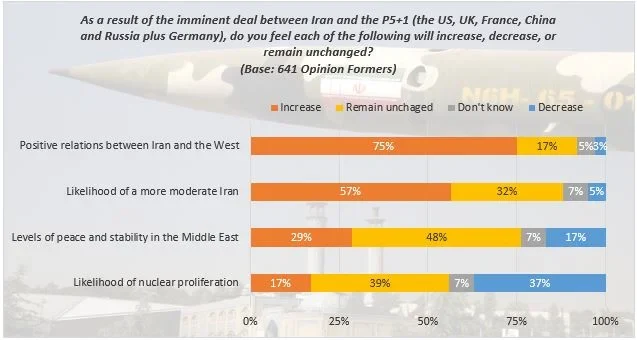 Certainly, there is a section of Opinion Formers who remain concerned about these scenarios, with 17% feeling that levels of peace and stability in the Middle East will decrease and that the likelihood of nuclear proliferation will increase. With sanctions lifted, there is a fear that the revenue generated could be used to fund a new arms race in the region. Indeed, while 37% of Opinion Formers believe that the accord will result in a decrease in the likelihood of nuclear proliferation, almost two-fifths (39%) believe the likelihood of nuclear arms proliferating in the region will remain unchanged as a result. Likewise, nearly half (48%) believe that the deal will not affect levels of peace and stability in the Middle East, perhaps echoing Foreign Secretary Phillip Hammond's sentiment that "this deal was about the nuclear file" rather than any diplomatic efforts to address Iran's regional conduct.
It is still early days and the impact the deal will have on the region in the coming years remains to be seen. However, according to our Opinion Formers the signs are encouraging that this new policy of engagement could be seen as something of a rapprochement, leading to a more positive relationship with a nation that has been at odds with the West for over three decades.
YouGov completed online interviews with 641 opinion formers from its UK Opinion Formers Panel. Opinion Formers are leaders in their field from business, media, politics, NGOs, academia and beyond. Fieldwork was undertaken between 15th and 25th July 2015. The figures have not been weighted