As Mark Carney announces a possible interest rate rise at the start of 2016, YouGov's latest data shows that the majority of British people expect them to go up over the next year
The most recent figures from YouGov's Household Economic Activity Tracker found that at the end of June 61% of people expected an interest rate increase over the next 12 months, with 36% thinking they would stay the same and 3% believing rates would fall even further.
YouGov's data suggest that the public are sensitively attuned to macroeconomic conditions. For instance, when the Governor tied interest rate rises to falls in unemployment using 'forward guidance' in August 2013 there was a marked increase in the levels expecting a rate increase, climbing from 48% that August to 66% in December. Subsequently, the public saw that unemployment levels were declining and as a result more of them expected a rate rise.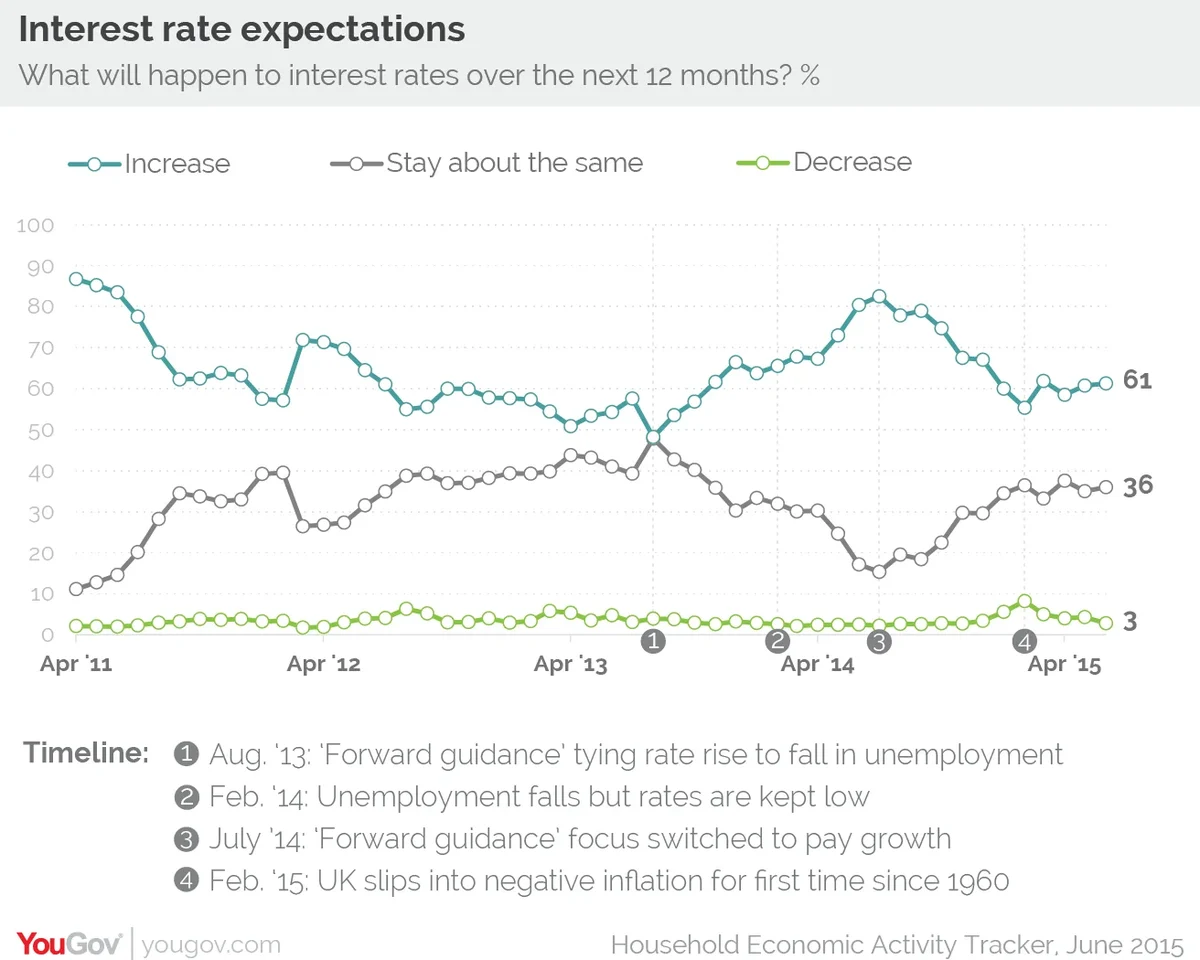 February's announcement that the UK had slipped into negative inflation saw a net fall in the percentage of people believing interest rates would be cut.
Jake Palenicek, Director of YouGov Financial Services, says: "While people might not pay attention to the minutiae of policy announcements that come out of the Treasury and Threadneedle Street they know the general direction of travel and see the economy performing with their eyes in their daily lives. Given this, following yesterday's announcement I expect that we will see a sharp increase in the number of people expecting to see an interest rate rise.
"What will be most interesting, though, will be how the prospect of a rate rise has an impact on other areas – most notably the property market and savings but also overall consumer confidence and household finances. The Governor said that things will be done gently – if the public has heard what he has said then knee jerk reactions should be avoided. However, if they haven't it could be a different story."
PA image