Nearly two fifths of British adults admit to having bought counterfeit goods, but the overwhelming majority (87%) would think again about a purchase if they knew that it could help fund organised crime such as human trafficking, drug dealing and terrorism, a survey for the charity Crimestoppers has revealed.
24% have knowingly bought a fake DVD
22% have bought a fake item of branded clothing
30% say they have bought a product which they believed to be genuine but later found out to be counterfeit.
However, when asked hypothetically if they would still buy a product knowing it was fake and thus might fund crimes such as human trafficking, drugs gangs and terrorism:
56% said they would definitely not buy the product
31% would reconsider then probably not buy it
Just 8% said they would buy it anyway.
Of those who said they would still purchase the product:
41% said that they felt that connecting counterfeit goods with organised crime was just 'scaremongering'
25% felt that 'they were just buying a product' and weren't responsible for any serious organised crime
A victimless crime?
Crimestoppers, a charity that allows members of the public to anonymously report crime, recently launched a nationwide campaign, with the support of the Home Office and the Serious Organised Crime Agency (SOCA) among others, to crack down on the sale and purchase of counterfeit products in an attempt to curb the funding of illegal activity. The campaign is divided into separate strands covering fake DVDs, fake money, fake tobacco, fake fashion and the harm they can cause.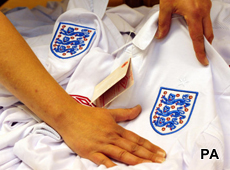 In response to the results, Dave Cording, Director of Operations at Crimestoppers, said: 'Whilst some people may be aware that counterfeited goods fund serious crime, many do not believe this, perhaps because counterfeiting is largely seen as a victimless crime and not as an international, highly organised and extremely profitable crime which impacts on individuals and has links to serious organised crime.'
Mike Barton, Deputy Chief Constable of Durham Constabulary, who heads the ACPO Crimestoppers Working Group, added: "It's easy to be tempted by the lure of cheap goods…but if something seems too good to be true then it usually is.'
A recent review indicated that criminal gain from counterfeiting in the UK was worth an overall £1.3 billion with £900 million of this accruing to organised crime.
Members of the public can report crime anonymously to Crimestoppers on 0800 555 111
www.crimestoppers-uk.org
www.fakesfundcrime.org.uk
Total sample size was 2,103 British adults. Fieldwork was undertaken between 20th - 23rd August 2010 and was carried out online. The figures have been weighted and are representative of all GB adults (aged 18+).