Britons are very supportive of measures such as forcing travellers to quarantine in hotels and even banning international flights completely
Ministers are considering increasing the restrictions on international arrivals again, after the requirement for travellers to show proof of a negative COVID test came into force last Monday. New YouGov data shows that nine in ten people (92%) support the new rules on showing a negative test.
Most people (87%) are also in favour of making arrivals quarantine in hotels for 10 days when they arrive in the UK. Government officials are currently in talks with hotels about the New Zealand-style policy and haven't ruled out making travellers foot the bill which could be as steep as £1,500 per person.
The current policy of making all arrivals quarantine at an address of their choice for 10 days is slightly less popular but still has very high backing at 79%.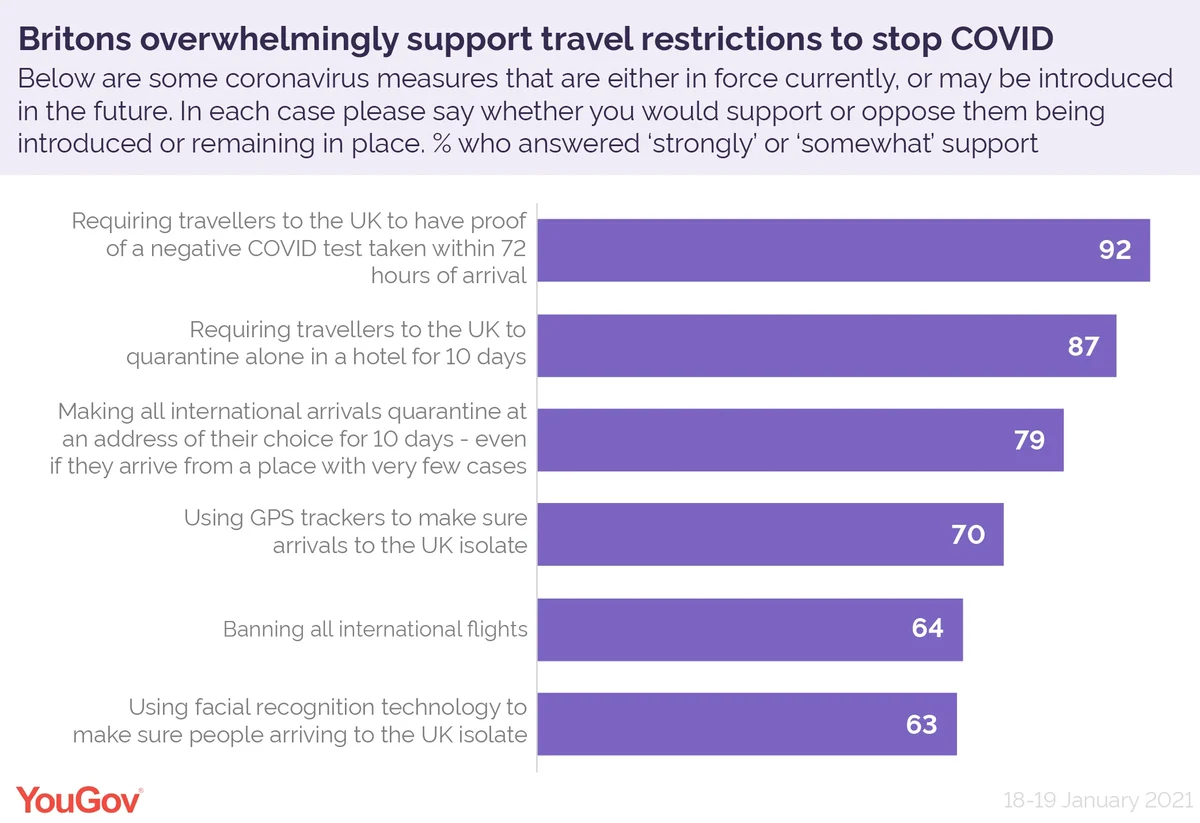 Ministers are also considering other options such as using GPS trackers to make sure people arriving to the UK isolate properly. Seven in ten people (70%) approve of this, while about three in five (63%) support using facial recognition technology for the same purpose, which is another option on the table.
Banning all international flights – a move which is reportedly on the cards – scores lowest among the policies in the survey, but nearly two thirds of Britons (64%) would back it.
Few people plan to travel in the next six months – including domestically
Most Britons have come to terms with not going abroad in the foreseeable future, with only 12% planning to do so. The figures haven't moved much from summer and autumn last year. They peaked in July when 17% of people planned to go abroad.
Despite some reports that the vaccine rollout has prompted older Britons to get booking, younger people are still more likely to say they're going on holiday abroad. One in six 18-24-year-olds (16%) say they have plans to do so, compared with 9% of those aged 65 and older.
While Health Secretary Matt Hancock has encouraged Brits to go on staycations rather than abroad, the number of people hoping to enjoy a domestic trip in the next six months is lower now (29%) compared with in July (45%) and September (34%) last year. However, news from British holiday destinations of record bookings suggests that those who are hopeful are already making their moves.