Christmas Eve looks to the busiest for outbound travel, with most planning on returning on the 27th
The government recently announced that Britons will be able to see loved ones this Christmas, with a special five-day break from the Tier-based COVID-19 restrictions beginning on the 23rd December and continuing until the 27th.
New YouGov RealTime research shows that overall, one in six (16%) people plan on travelling to spend Christmas away from their main home this year, with 14% still waiting to travel and 2% who have journeyed already.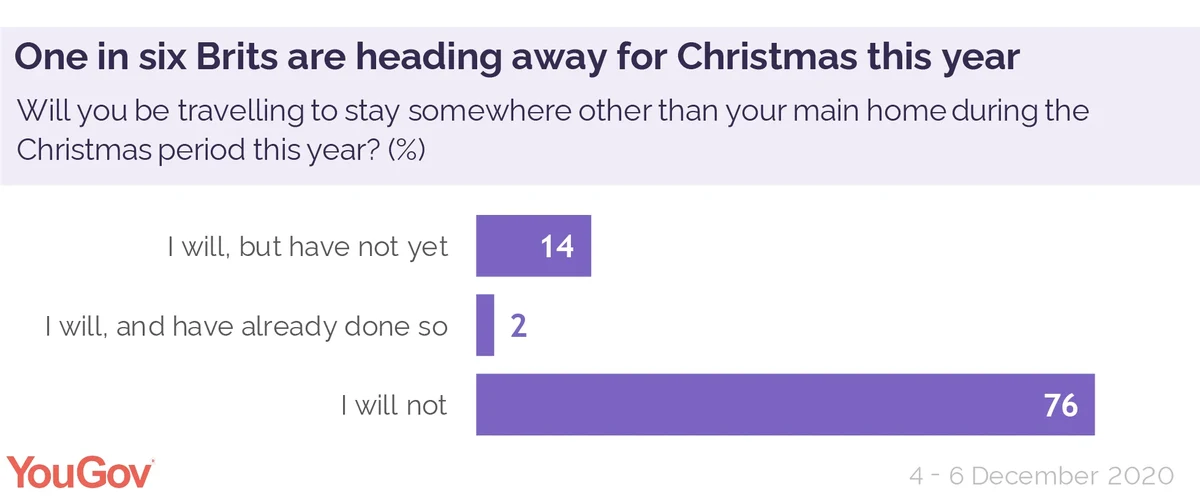 This year, the majority (76%) of Britons are not planning on travelling and will remain at their main home for Christmas Day. This time last year in a different survey 56% of people said they would be spending Christmas in their own home.
When are Britons travelling?
Despite most people remaining at home this Christmas, the small window to see family and friends coupled with social distancing rules reducing capacity on public transport could mean that travel could be as busy as ever.
The majority (67%) of those who said they would be travelling to stay somewhere that is not their main home over Christmas say they intend to make their outbound journey during the five-day window, with the most popular day being Christmas Eve (22%).
However, a total of 26% plan on traveling before the break in the COVID-19 rules begins, with 5% travelling on the 20th December and the same proportion on the 22nd.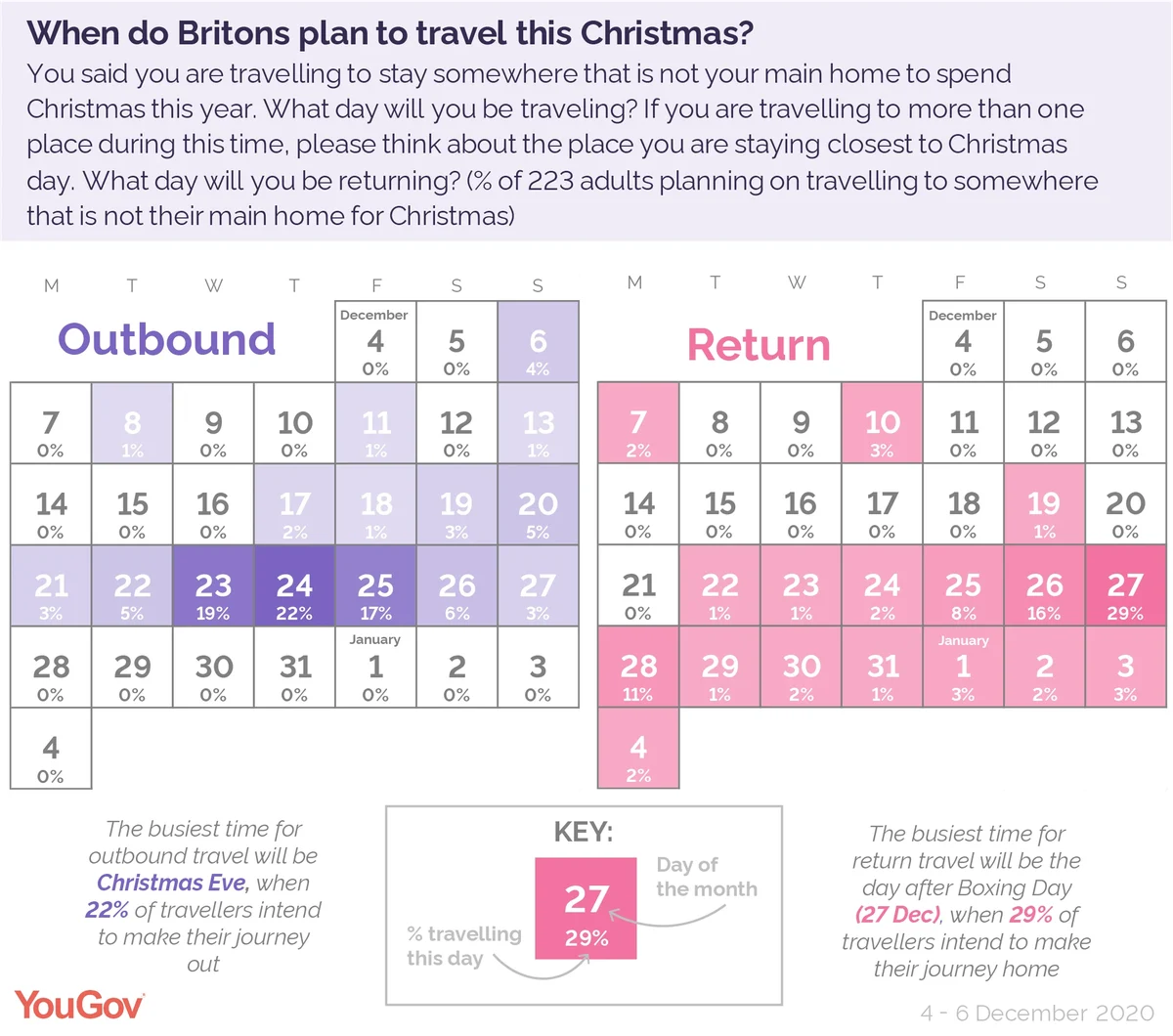 When it comes to return journeys, around half (56%) of travellers will make the trip back during the five-day window. The most popular day is the 27th December – the last day of relaxed rules – when 29% of travellers will hit the trail.
A quarter (25%) of those travelling for Christmas will hang on until after the break in COVID-19 lockdown rules to make their journey home.
How are Britons travelling?
YouGov's polling reveals that the vast majority (82%) of those travelling are opting to use private cars as part of their outbound travel over the Christmas period.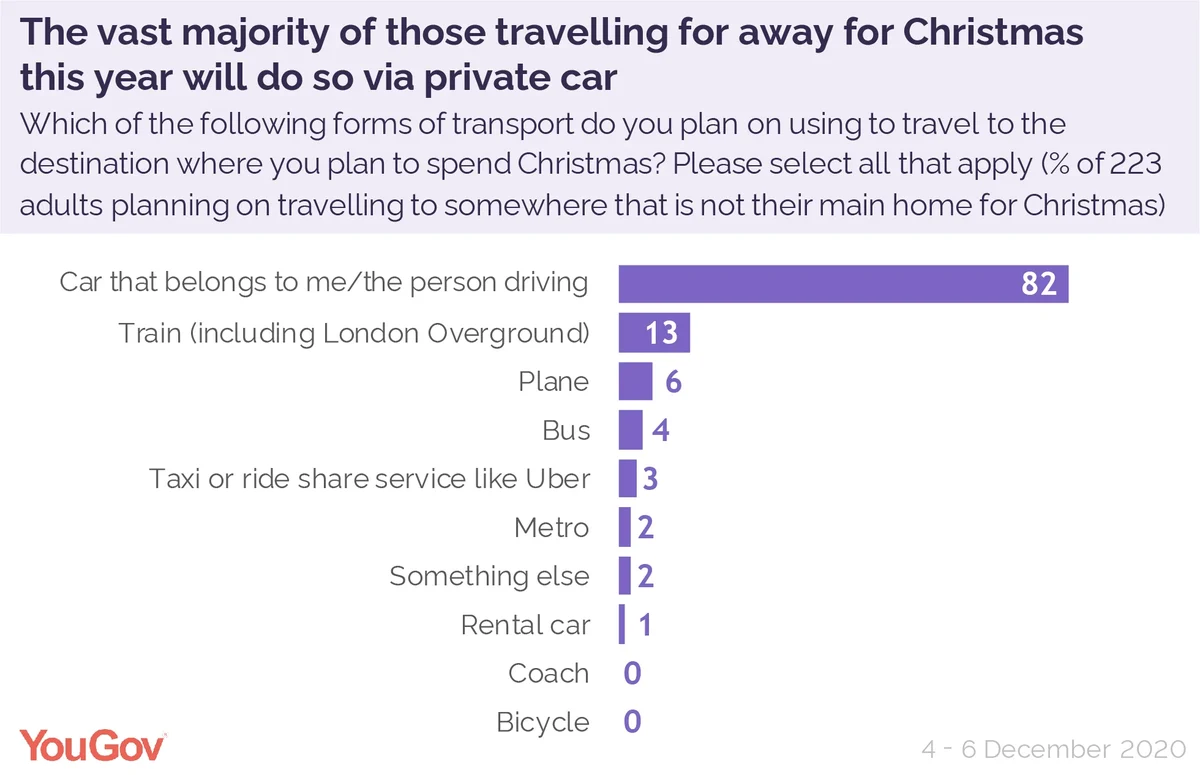 A quarter (25%) say their outward-bound journey will feature public transport, with the most popular mode being the train network (13%) while another 6% plan on catching a flight.
Figures are similar for return journeys with 78% intending to travel using private cars, and 28% making use of some form of public transport to get home after the festive break.