Purchase consideration for electric cars across the nine key European auto markets has so far been minimally impacted by Coronavirus, YouGov data shows.
YouGov's European Electric Car Market study analysed consumer appetite for the vehicles across Denmark, Finland, France, Germany, Italy, Norway, Spain, Sweden and the UK. The research surveyed over 11,000 people in both January and June to determine what effect COVID-19 has had on the European electric car market.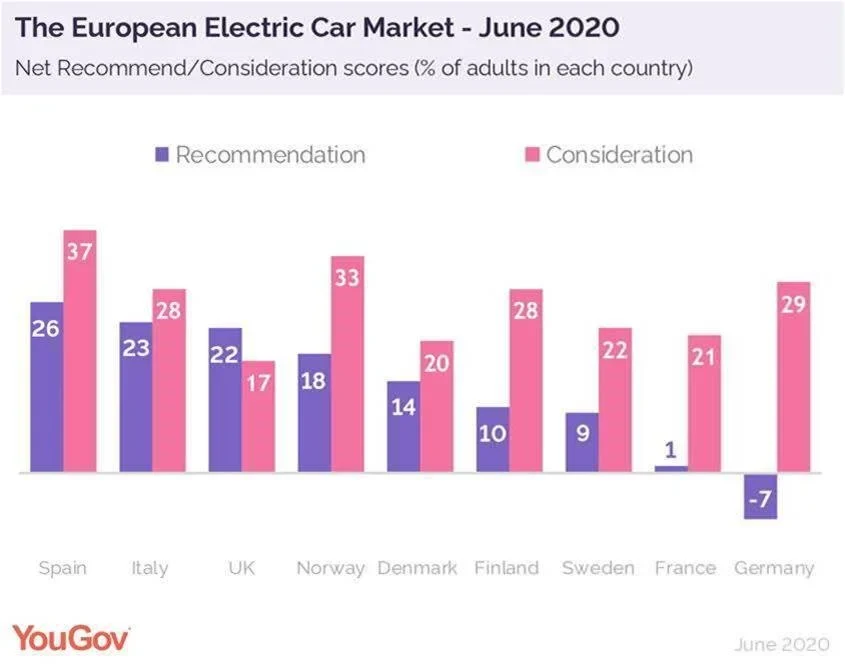 It shows that across the continent purchase consideration for the cars (whether someone is considering to buy a used or new, or lease used or new, electric car within the next 12 months) remained broadly stable between January and June 2020, with an average rise of 1 percentage point across all nine countries. It is a similar picture when it comes to recommendation (whether someone would recommend an electric car to a friend, family member or colleague or tell them to avoid it) which also stays mostly stable, again rising by 1 percentage point.
The UK in focus
At 17%, consideration for electric cars among UK consumers is the lowest of the nine countries analysed by YouGov. However, this figure represents a +3 point increase from January when it stood at 14%.
When it comes to recommending the vehicles, though, the UK now has among the highest scores across the European markets surveyed. In January, 16% of Brits recommended an electric car to friends, family or colleagues. However, by June this figure had increased by 6 points to 22%. This represents the largest increase of any country surveyed – and in terms of recommendation the UK is now only behind Italy (23%) and Spain (26%).
Other European markets
Finland saw the greatest increase in Purchase Consideration between January and June, rising +7 from 21% to 28%. The UK is second at +3, and Germany is third at +2, rising slightly from 27% who say they would consider buying an electric car in at the start of the year to 29% saying the same in June.
Italy saw a marginal decline from 29% to 28%, as did France, which saw a fall from 22% to 21%. Denmark and Sweden saw decreases, with 23% of Danes saying they'd consider purchasing an electric car in January and 20% saying the same in June, while only 22% of Swedes in June say they'd consider it compared to 24% in January.
Spain had the largest decrease in June (along with Denmark at -3) in terms of purchase consideration but the Spanish were still the most likely within the next 12 months to buy an electric car – fully 37% of Spaniards say they are considering it, down slightly from the 40% who said the same in January.