The coronavirus pandemic has been part of our lives for much of the past year, disrupting many things including jobs, income and travel plans. To understand how affluent households* around the world currently feel about these things, YouGov carried out a global survey across 23 markets. We found that while fears about the virus remain high, and economic concerns continue, the desire to travel endures – especially among younger affluents.
The data shows that concern about the spread of coronavirus remains high across the world (59%) and most respondents believe the pandemic will not be over until 2021 or later (75%). However, in the face of the pandemic, our research finds that affluent households' personal economic confidence is generally stronger than their belief in their country's economy or the global economy.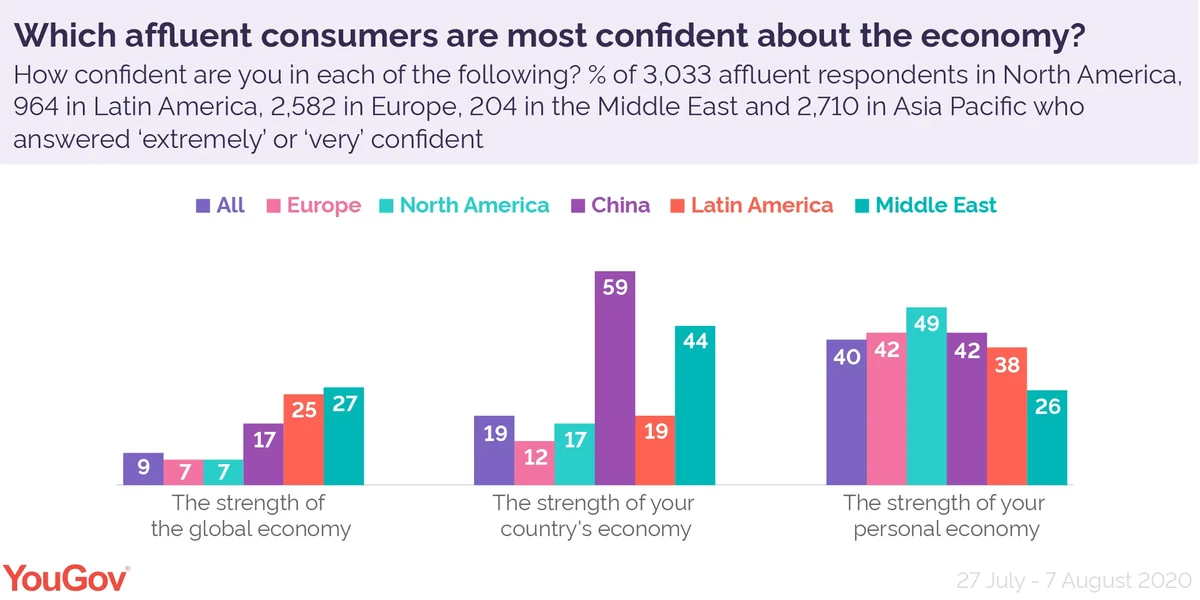 Economic concerns
Notably, there are some exceptions. Our data finds that Chinese people are generally confident about the strength of their country's economy (59%) and their own personal financial situation (42%). However, they show a more measured outlook about the performance of the global economy (only 17% are confident).
China has weathered the pandemic remarkably well and domestic travel demand was recently reported to be close to pre-pandemic levels. McKinsey reported that Hotel-occupancy rates and numbers of domestic flight passengers bounced back to around 90% of 2019 level by the end of August, and railway travel also showed a strong recovery.
Although the global economy is becoming more vulnerable to COVID-19, the majority of the global affluent think they can ride out a recession. The average confidence score of those who are very or extremely confident that they are in good shape to endure a recession is 73%, with North America most confident (86%) and Latin America the least confident (58%). This confidence is even more pronounced among Gen X (80%) and Baby Boomers (84%) worldwide.
The groups that will travel
Against the backdrop of global concerns about the economy and the pandemic, our data finds that, while some affluent households have already flown commercially and/or taken an international vacation, many will be waiting until 2021 to fly again.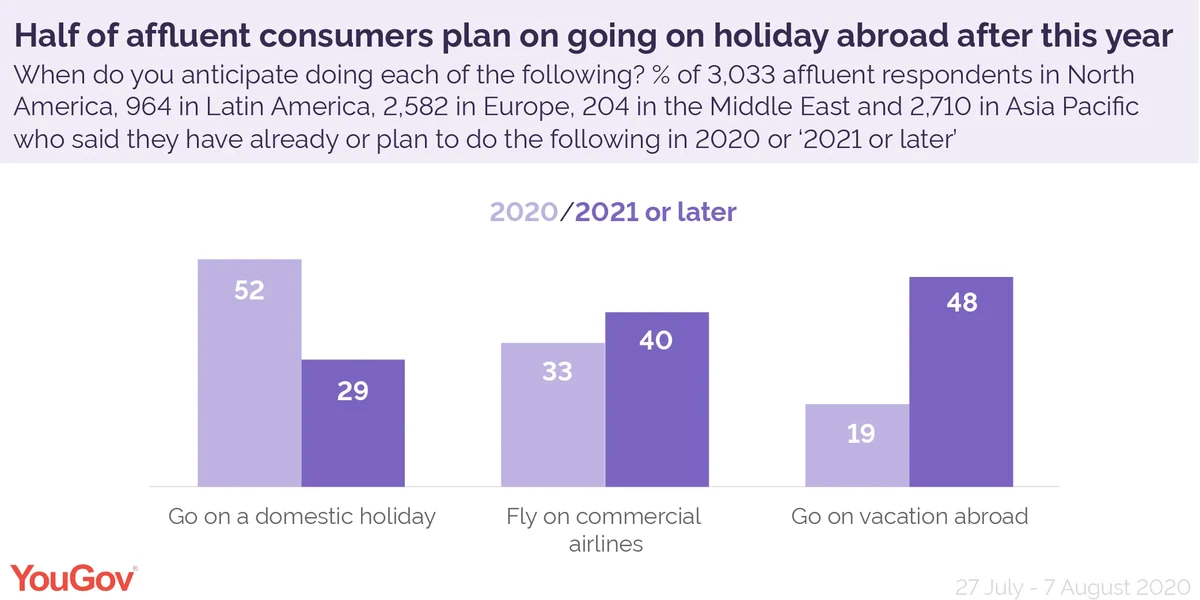 Differences in confidence when it comes to travel are most apparent between age groups. Generation Z are the most eager to travel soon, with 41% of respondents indicating that they would be confident to travel abroad this year. Millennials also have a higher comfort level than the average affluent when it comes to taking commercial airline trips within their region this year (52%) or going on holiday within their country (66%).
Younger generations are keen to travel again for the upcoming festive period or early 2021 as long as there are clear COVID-19 policies in hotels or with airlines. The most important expectation for hotels is to provide detailed information about hotel COVID-19 health and hygiene and requiring guests to complete a health screening upon entry (56%).
About this research
YouGov carried out research online among 3,033 respondents in North America, 964 in LATAM, 2,582 in Europe, 204 in the Middle East and 2,710 across APAC. Affluent households are defined as households with a minimum household income of 100k in the UK, 200K in the US, 150k in Canada, 250k in China, 100k in France, 90k in Spain, 90k in Italy and 100k in Germany (in local currencies).
Image: Getty