Ken Livingstone had previously suggested the capital could expand further into Kent, Surrey and Hertfordshire
It's often joked that everything inside the M25 counts as London, whereas everything outside the motorway ring is another country. But where do Londoners themselves put the boundaries? A new YouGov survey of Londoners tested this by asking capital citizens to say whether they consider 12 places to be part of the city.
Croydon, often seen as being its own city to the extent that it has applied for the title multiple times, is considered part of London by 68% of capital residents. In 1965 Croydon's credentials for city status were met with the reply "…whatever its past history, it is now just part of the London conurbation and almost indistinguishable from many of the other Greater London boroughs".
London's relentless march east into Essex has seen Barking (65%) fully assimilated in the popular consciousness, as well as Dagenham (50% consider it part of London vs 33% who do not).
However, London's borders have advanced faster than public opinion when it comes to Romford. Despite being within the London Borough of Havering, only 33% of Londoners think Romford is part of the capital, compared to 46% who do not.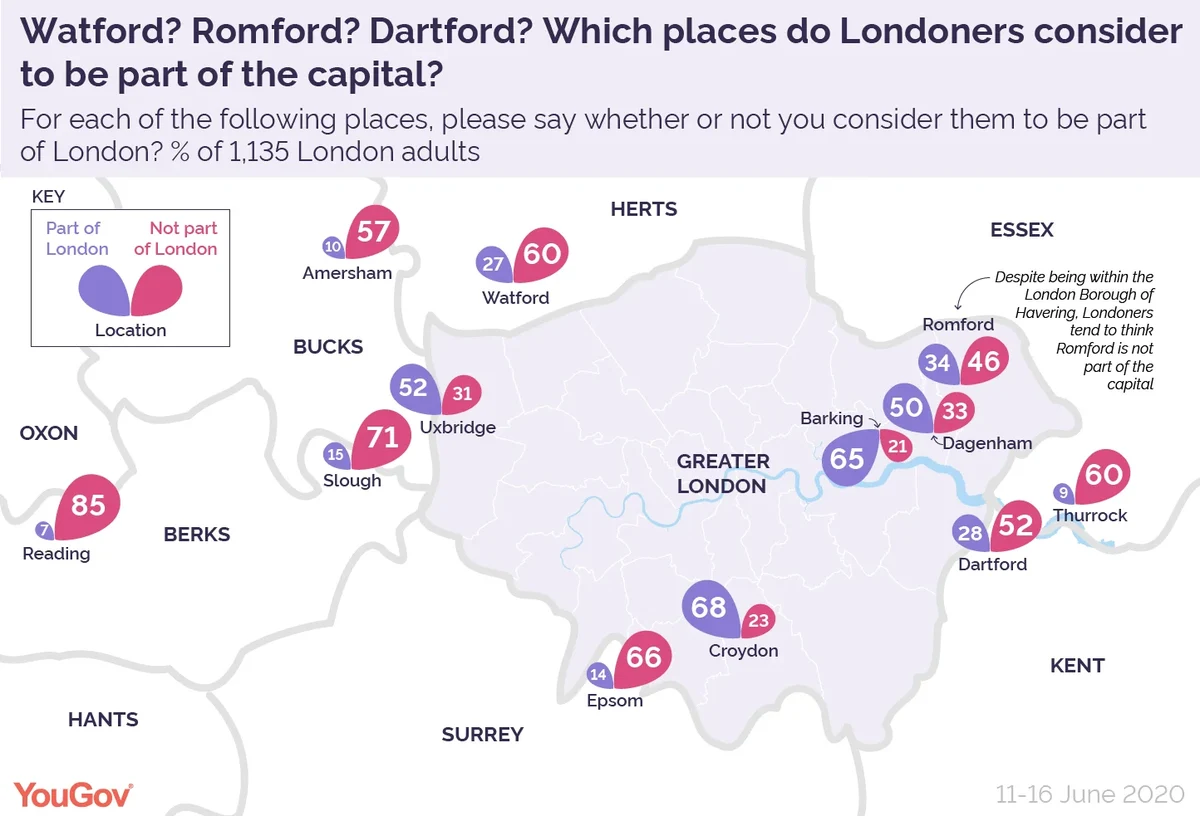 Further south, the border settlement of Dartmouth still holds its independence in the eyes of 52% of Londoners. Just 28% of Londoners think the Kent town is part of the capital.
Likewise Thurrock is also seen as outside the capital's clutches, by 60% to 9%. In 2005 then-mayor Ken Livingstone suggested that Dartford and Thurrock be allowed to vote to join the Greater London Assembly.
Asked in response about the future status of Epsom, Livingstone responded "I am happy to take large chunks of Surrey as well." For the time being, however, Epsom's status as 'not-London' seems assured – despite being surrounded by the capital on three sides just 14% of Londoners consider it part of the city.
Looking to the far-flung reaches of the Metropolitan, half of Londoners (52%) consider Uxbridge to be part of London, sitting as it does just inside of London's western boundary. The same cannot be said for Zone 7's Watford and Zone 9's Amersham, with only 27% and 10% claiming ownership of the Hertfordshire and Buckinghamshire towns for the capital.
Just a little further out than Uxbridge is the town of Slough, famous for hosting a branch of the fictional paper merchants Werner & Hogg in The Office. Just 15% of Londoners claim the settlement for the capital, with 71% saying it is not part of the city.
Deeper still into Berkshire is Reading, perhaps the largest of London's commuter towns. It is perhaps surprising that anyone at all believes the town to be part of the capital, but nonetheless 7% of Londoners say it is. Reading is set to officially join the London Underground in coming years, with the as-yet unopened Elizabeth Line set to terminate there.