A new YouGov white paper looks at the reasons why people might want to buy an electric car
For drivers who care about limiting their impact on the environment, an electric or hybrid car is a lower-emission alternative to vehicles powered solely by fossil fuels and YouGov's new white paper (The European Electric Car Market) suggests that this is a powerful motivation.
Half (51%) of consumers across nine European nations – Denmark, Finland, France, Germany, Italy, Norway, Spain, Sweden, and the UK – believe "help[ing] the environment" is a good reason to buy an electric car, while 45% say it's a good reason to buy a hybrid.
But if people aren't as motivated by helping the environment, what are the other reasons the general public would consider buying an electric car?
No non-eco reason won over a majority of Europeans, though a significant minority see certain financial benefits in owning one of these vehicles.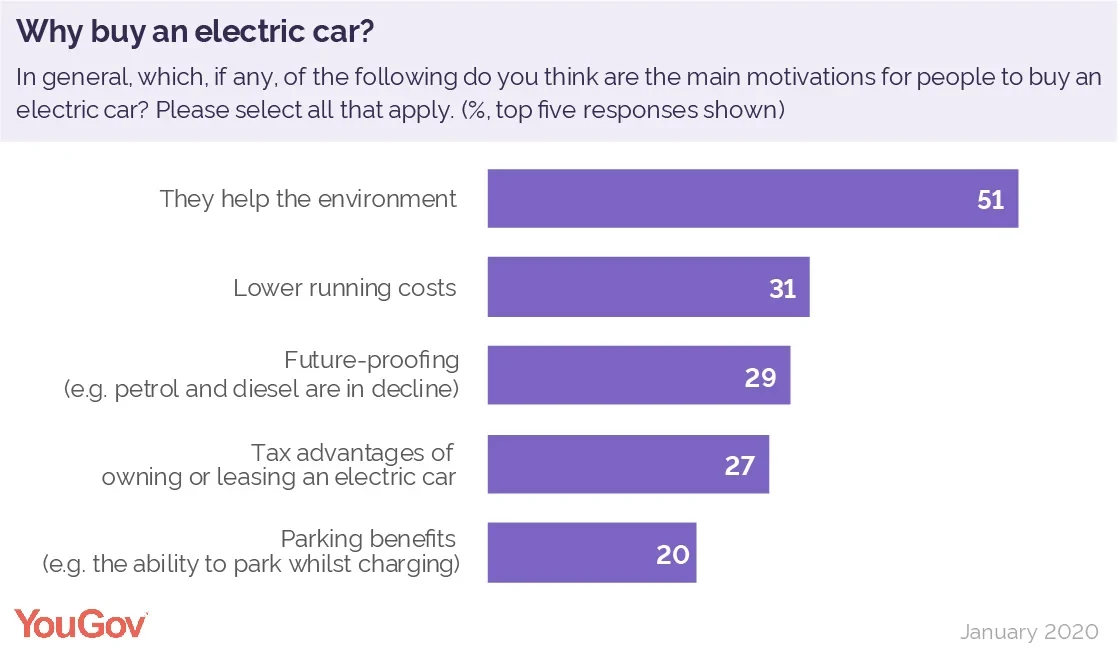 Three in ten (31%) consumers agree that lower running costs are a good reason to buy an electric car, while a quarter (27%) think the same because of tax advantages. One in nine (11%) agree that electric cars ultimately represent better value for money than petrol or diesel cars, and 7% believe they have higher resale value. A fifth (20%) of Europeans surveyed also indicate that parking benefits are a motivation to buy an electric car – which suggests that policies such as lower parking fees for electric car drivers, which have been implemented in places such as Oslo, could cut through.
Beyond financial benefits, three in ten (29%) consumers agree that "future proofing" is a powerful motivator to get an electric car – which indicates that a substantial proportion believe the future is trending towards electric cars and away from petrol/diesel vehicles.
Some 7% also think that electric cars offer better performance than petrol or diesel cars, and on a less practical note, 13% say the relative noise level of an electric car is a reason to buy one.
Electric car owners are mostly satisfied with their purchases
When consumers choose to buy electric cars, they are generally happy with their decision: 84% report that they're satisfied with their purchase, with 51% saying they are "very satisfied".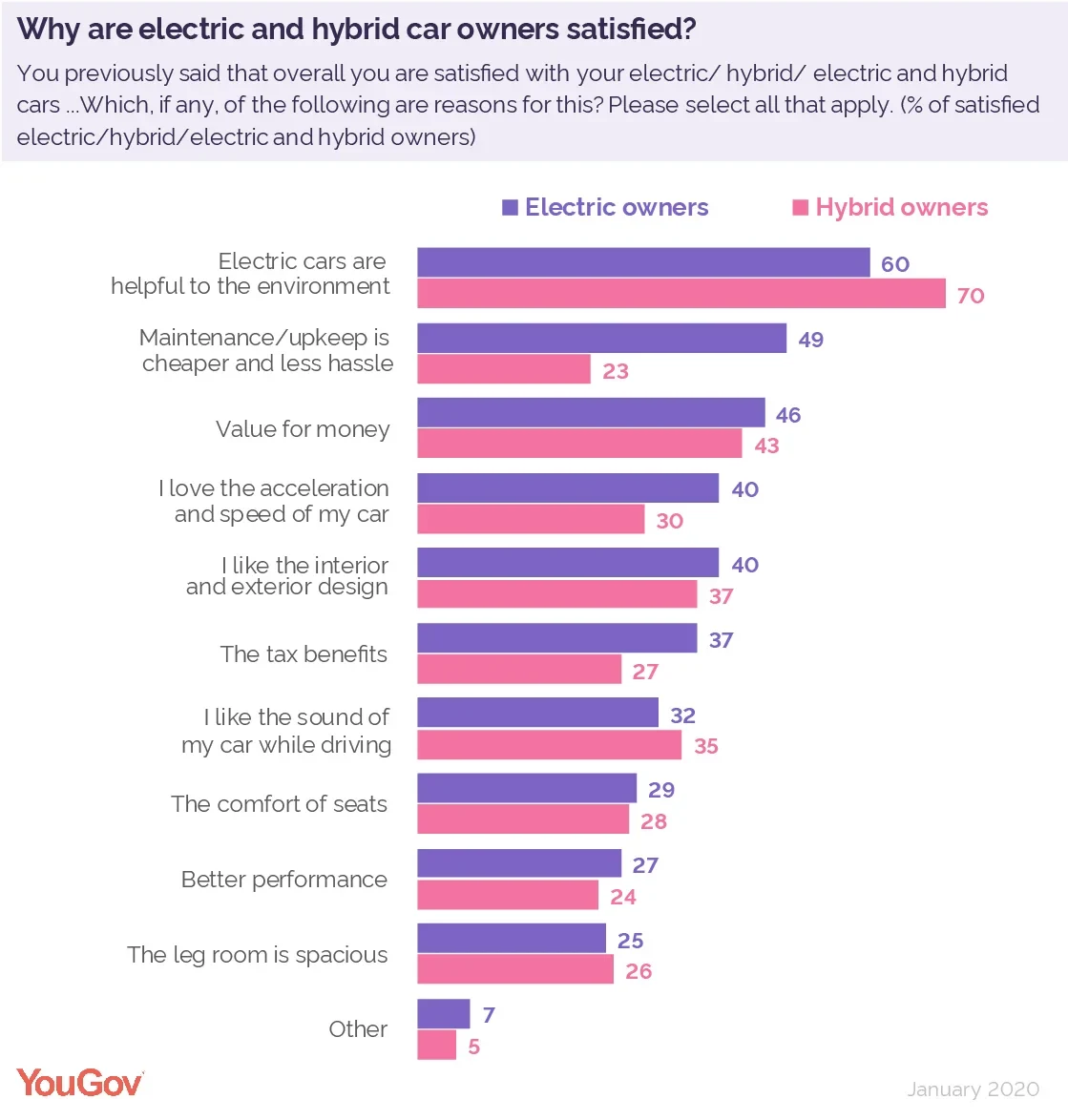 And while six in ten (60%) drivers claim they are happy with their purchase for environmental reasons, they also report a range of other benefits. Half (49%) say that maintenance/upkeep of their cars is cheaper and less hassle, while 46% say their vehicle represents better value for money. Almost two in five (37%) say they appreciate the tax benefits of their cars.
Satisfied electric owners are more likely to admire other aspects of their vehicle: four in ten (40%) enjoy the acceleration and speed of their car, while the same proportion (40%) appreciate the interior and exterior design.
Other benefits cited by current owners include the sound of the car – cited by a third (32%) – while three in ten (29%) say they enjoy the comfort of the seats. A quarter (25%) of electric owners say that they're satisfied because they have ample leg room.
So while helping the environment is clearly a powerful motivator, it is not the only reason that people with electric cars offer when asked why they're happy with their vehicles. The fact that the wider consumer group is dramatically less likely than current owners to recognise many of these benefits – to the point where 13% say they "don't know" any reasons to buy an electric car and 12% say there simply aren't any reasons to purchase one at all – may indicate that automotive manufacturers could place greater emphasis on communicating them to customers.