It has been a significant year for the electric car market, but in a different way than industry analysts might have expected. Thanks to the COVID-19 pandemic, the automotive industry is facing a period of uncertainty.
But while coronavirus may cause the sector significant disruption, it may also encourage manufacturers to think more deeply about how they market and sell electric cars: to move beyond highlighting the environmental advantages of these vehicles to emphasise their practical value.
In Q1 and Q2 2020, YouGov conducted research into electric cars spanning nine European nations – Denmark, Finland, France, Germany, Italy, Norway, Spain, Sweden and the UK. The data reveals that half (51%) of consumers think the environment is a reason to buy an electric car – but it also shows that only 6% of those polled think the ecological benefits on their own are reason enough to get one of the vehicles.
For manufacturers who are shifting towards electric vehicles, one insight to note is that a third (35%) of the public believe the cars don't perform as well as their gasoline counterparts, while just over one in five (22%) believe they do.
Petrol and diesel cars have a considerable incumbency advantage. To persuade ambivalent consumers, automakers could consider looking into what prevents and encourages electric car purchases as the industry adapts to the fallout from the crisis.
What stops Europeans from going electric?
Our research finds that price was a major barrier to purchasing an electric car. Over half (53%) of Europeans are concerned with the cost of buying an electric car, which varies based on the tax breaks and incentives available in each national market.
These incentives aren't always structured in the same way. In Sweden, owners receive a 60,000kr "climate bonus" six months after registering their vehicle – functioning more like a rebate than a VAT exemption or other discount – which may explain why many Swedes (63%) consider price a barrier to purchase. There may also be communication issues around incentives: a quarter (26%) of Europeans suggest that confusion over the financial advantages of electric cars were an obstacle.
But charging may be the most significant barrier of all. Over three-fifths (62%) cite limited availability of charging points, while three-fifths (58%) also view battery life issues as a barrier. A third (32%) also reference the cost of charging at home.
As with incentives, charging varies greatly by market. In Spain, electric consideration is higher than anywhere else in Europe (40%), but seven out of ten (71%) are concerned about insufficient charging points. ACEA data suggests that, as of 2019, fewer than 5,500 charging locations served a population of over 46 million. By contrast, Norway – which has the highest uptake of electric cars in Europe by population – had 12,000 points to serve a population of 5.5 million.
What motivates electric car purchases?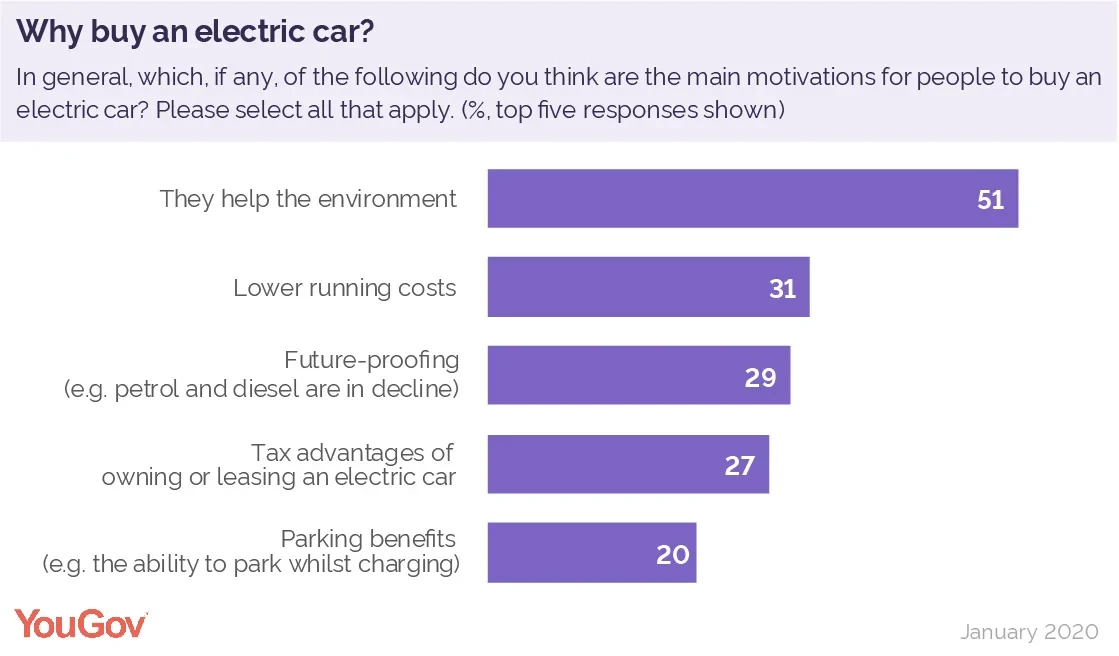 As for motivators, while half (51%) see the environment as a reason to buy an electric car, Europeans also think the vehicles have a range of practical benefits.
Three in ten (31%) cite lower maintenance, charging, insurance, and other costs, a quarter (27%) appreciate the tax advantages of buying an electric car, and 11% believe they represent good value for money. With 29% agreeing that future-proofing is a reason to buy these vehicles, some also seem to believe the automotive market is trending towards electric cars and away from petrol/diesel.
Our evidence also indicates that some of these benefits are actually felt by electric car owners.
Of those who have an electric car (and not a hybrid), 84% are satisfied, and nearly half of this group (49%) say maintenance/upkeep is cheaper and less hassle. Overall, 46% think they represent value while the tax advantages are more likely to be seen by electric car owners (37%) than hybrid owners (27%).
Our data shows that the reasons Europeans give for buying electric cars and the reasons electric car owners are satisfied often overlap – suggesting more could be done to communicate these perceived advantages.
However, while the overall picture across the continent is a balance between benefits and barriers, there is a much more nuanced picture within each market which manufacturers need to understand in order to take electric vehicles from the margins to the mainstream.