Londoners are more likely to feel comfortable on the Overground than the Underground
Transport has always been a hot topic for Londoners, but since the COVID-19 pandemic it has become an even more important issue. Transport for London has done its best to ensure that buses, trains and the Underground are as safe as possible, to keep the capital moving – but do Londoners feel comfortable using them?
Of the transport methods YouGov London Omnibus asked Londoners about, two thirds (66%) say they feel comfortable using trains, including Overground services, with one in five (21%) are very comfortable doing so.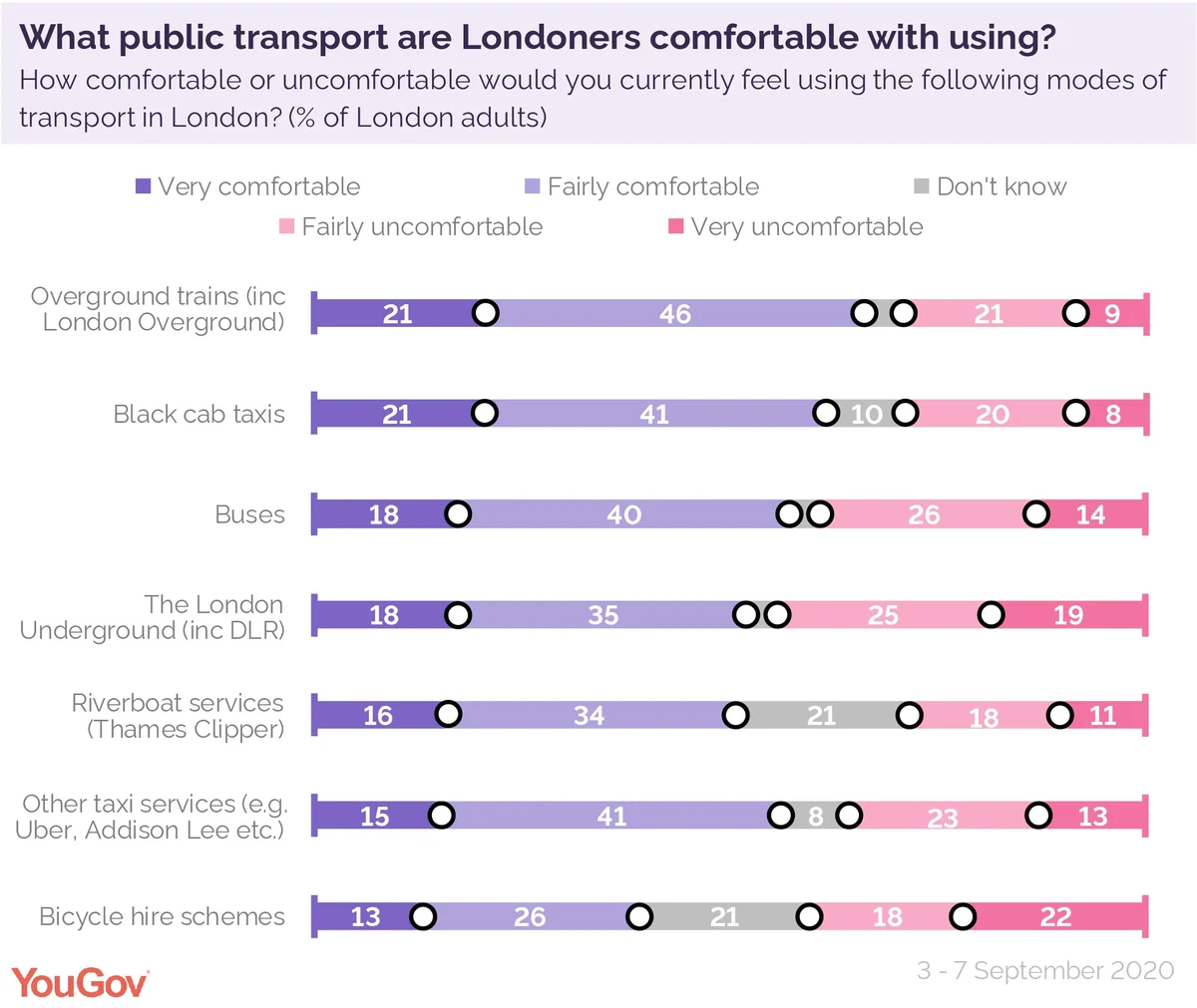 The London Underground was the focus of many headlines at the height of the pandemic, with major concerns about overcrowding. Over half (52%) of Londoners feel safe using the service, but 44% do not - the highest proportion of the transport types we asked about.
Men in the capital are more comfortable with the idea of taking the Tube (60%) than women, of whom less than half (45%) would feel comfortable doing so.
When it comes to taxis, Londoners say they would feel more comfortable in a black cab than using an app-based taxi service. Approaching two thirds (62%) say they would be comfortable using black cabs, compared to 56% who would feel comfortable in another type of taxi.
Londoners are least likely to feel comfortable using bike hire schemes, such as Boris Bikes, with only 39% happy to take one for a spin. However it is worth noting that not all Londoners will be able to ride a bike, and this answer option returned a higher "don't know" response (21%) than other options.
Learn more about YouGov London Omnibus and other CityBus Research here