The number of people who would not feel safe travelling by plane has increased significantly since early June, despite COVID-19 lockdown beginning to ease, signalling that it could be some time before travel rebounds to previous levels
Nearly two thirds of the public (64%) would not feel safe travelling by plane currently, up from 40% on 8 June. There is a similar unease about other types of international transport. Over half of Brits (55%) say they'd feel unsafe travelling by train, while 48% would not feel comfortable on a ferry. In both cases, this is a substantial jump from 31% on June 8th.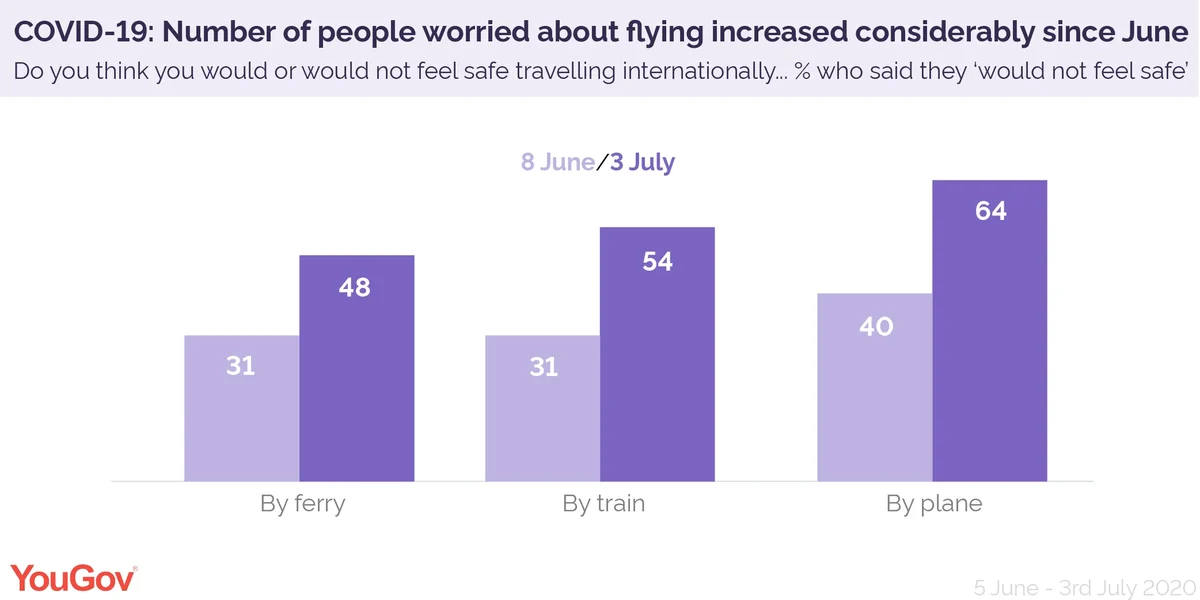 The figures suggest that even as the Government has released a list of destinations which travellers can return from without quarantining, the pandemic is still putting people off travelling.
Brits aged 65 and older are the most worried about international travel. Three quarters now say they feel uneasy about flying (75%), which is an increase from 47% on June 8th.
Similarly, two thirds feel uncomfortable about using trains abroad (64% - up from 34% on June 8th) and 58% would not feel safe travelling by ferry, up from 30%.
While younger people are less anxious, most still feel apprehensive about going abroad. A plurality of 18- to 24-year-olds say they would not feel safe on a plane (44%), while a third are uncertain and a quarter would feel okay (23%).
However, they are more relaxed about travelling internationally by train and ferry, with 41% feeling safe in both instances.
Domestic holidays much more popular than travelling abroad
About one in six people (17%) plan to travel abroad in the next six months. The number has not changed since June 8th (16%) despite the announcement that travel restrictions will ease.
The figure is in line with a snap poll by YouGov, which found that 11% of Brits expect to go on a summer holiday this year.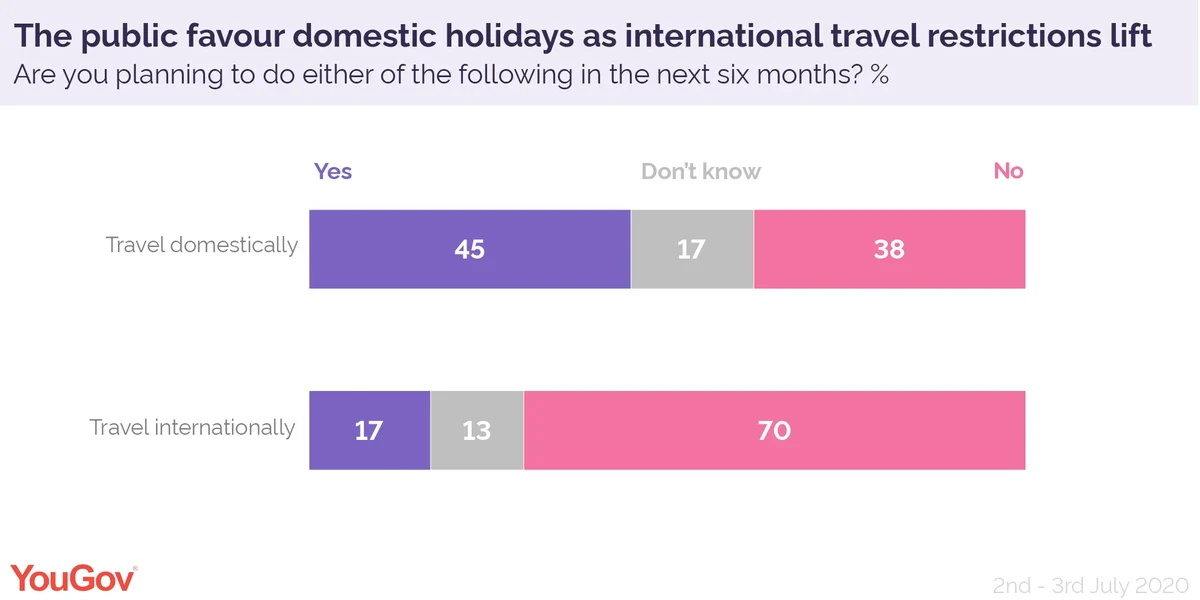 Brits are keener on domestic holidays. A plurality (45%) expect to travel in the UK in the next six months, while 17% are unsure.
Younger people aged 18 to 24 are the most likely to plan a domestic holiday (55%), while 25- to 49-year-olds are most up for going abroad (20%).
The number of Brits aged 65 and over who plan to travel in the UK is in line with the wider population (43%), but international travel has less appeal than average at 12%.