Flybe's competitors are facing increasing pressure from the coronavirus outbreak, and have a lot to gain from its collapse
Thousands of Flybe passengers received a text at 2am on Thursday morning telling them that all flights were cancelled - signalling the end of a turbulent journey for the airline.
Flybe has long been struggling with intensifying competition, Brexit uncertainty, high air passenger duty payments, and a final blow, coronavirus.
The collapse of the airline, which operated 40% of the UK's regional flights, leaves a gap in a fiercely competitive aviation market at a time where passenger numbers across the board are dwindling due to coronavirus.
People in underserved areas of the UK will feel the loss the hardest, while Flybe's competitors are likely to be looking for ways to capitalise on the sudden opening.
YouGov BrandIndex data shows that 16.9% of Flybe customers say that out of any airline they're most likely to purchase flights from EasyJet, which thereby stands to benefit the most from its downfall.
This comes as no surprise – easyJet will now have a monopoly on routes from Edinburgh, Glasgow and Inverness to Bristol. It also recently announced plans to start competing with Flybe on routes from Edinburgh and Glasgow to Birmingham.
Next up is British Airways, with 13.15% of Flybe customers citing them as their most likely airline choice. Coincidentally, the owner of British Airways, IAG, loudly objected the Government's proposed rescue package in January, calling it 'a blatant misuse of public funds'.
Budget airlines Jet2.com (7.18%) and Ryanair (5.18%) are also likely to take some of Flybe's customer base, being third and fourth in line.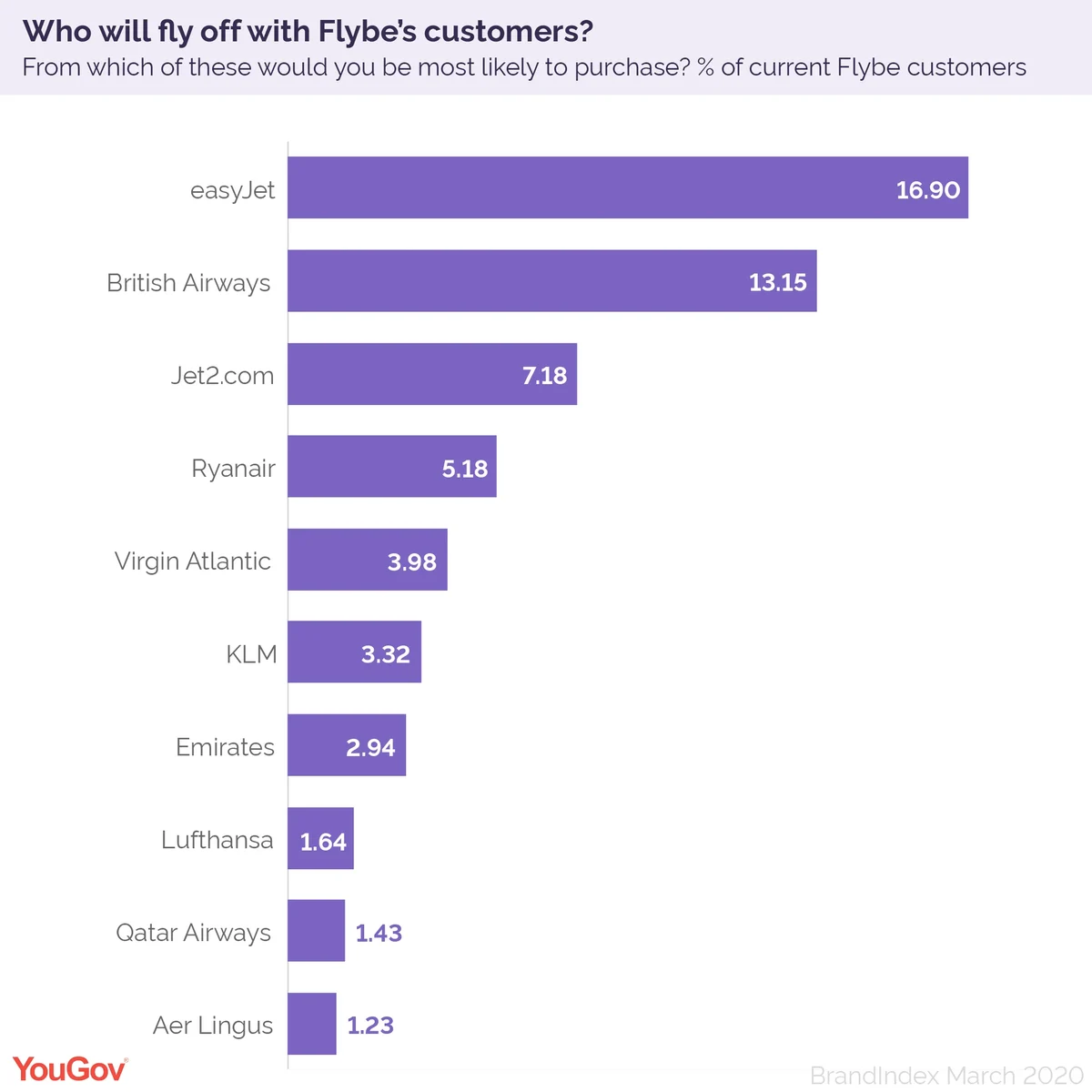 Consistent negative coverage tainted Flybe's last 18 months
YouGov BrandIndex data shows that in its last 18 months Flybe struggled to bounce back from negative headlines and failed to achieve any significant positive coverage.
When the news first broke of Flybe putting itself up for sale in November 2018, customers started paying attention. Its buzz score, which is compiled by subtracting negative feedback from positive, dipped to -7.79.
This was only the first blow. In the next months, the public's perception worsened as the Connect Airways takeover went through in February (-12.68) and Flybe had to cancel flights in April (-17.61).
Then for a bit the skies seemed to open as the negative coverage tailed off – only for matters to get worse when Flybe nearly collapsed in January 2020 (-32.86).
And only a week before the Chancellor will be delivering a budget, which the Government had promised would provide some temporary tax relief, Flybe has now gone bankrupt.