For all the moaning, most think it is better to repair the railway now than disrupt commutes
Newspaper stories on 'railway chaos' are as much a part of Christmas as mistletoe, stockings and the Queen's speech. Much railway maintenance is performed on bank holidays and in the quiet period after Christmas in order to avoid disrupting commuter journeys.
For all the moaning, however, most Britons support Network Rail's careful planning.
A new YouGov Omnibus survey finds that a majority of Britons (56%) say that ensuring commuter journeys aren't disrupted by scheduling repairs on bank holidays and the days after Christmas is the best option – even if it risks disruption for those trying to get home to see friends and family.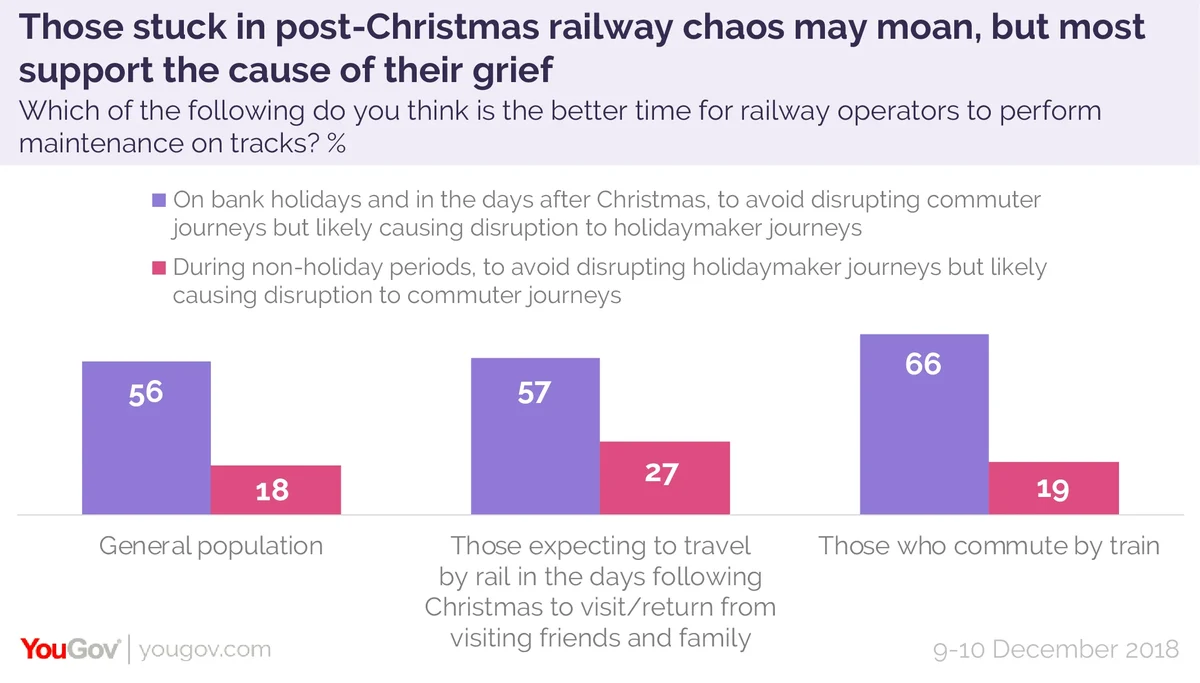 Fewer than one in five (18%) took the opposing view – that repairs should take place so as not to disrupt people during holiday periods, even if that impacts regular commuters.
Even the majority (57%) of those who will be travelling by train in the post-Christmas period back making the repairs that will likely be holding them up. That being said, this group are more likely than the public as a whole to think that commuter journeys should be disrupted instead (27%).
Rail commuters are similarly more likely to answer in their own interest. Two thirds (66%) of those who commute by rail think repairs should take place at this time of year and in bank holidays.
Photo: Getty