YouGov finds out which national parks people have been to, which is their favourite, and where they'd head on their next adventure
It's National Parks Week from the 23rd to the 27th of July, where the public is encouraged to get outside and explore the UK's natural wonders. But how do Brits feel about the country's national parks?
More than eight in ten (84%) of us have been to a national park at some point in our lives, a figure that increases to over nine in ten (94%) among retirees.
By some distance, the Lake District is Britons' top national park. Over a quarter who have been to a national park before (27%) pick it as their favourite, three times as many as choose either Loch Lomond and the Trossachs or the New Forest (both 9%). The Peak District (8%), Yorkshire Dales (7%) and Snowdonia (7%) lie slightly further back.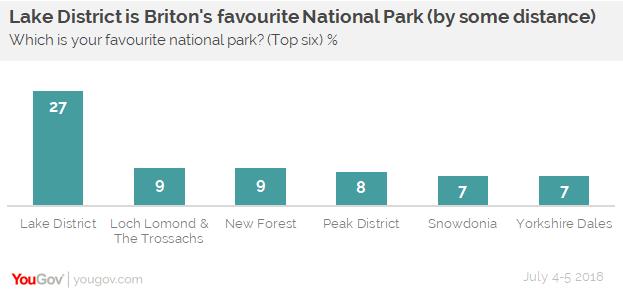 The Lake District has a wide appeal – being chosen as the nation's favourite national park in nearly every region in England. Only in one area does it miss out on top spot – in the south it comes narrowly behind the New Forest (21% vs 19%).
However, Scotland and Wales pick for their own parks as national winners. Loch Lomond and the Trossachs is the favourite for nearly half of all Scots (48%). Over a quarter (26%) of respondents in Wales picked Pembrokeshire Coast as their favourite, with just 6% siding with the nation on the Lake District as their favourite.
While the Lake District dominates in most areas of Britain, there are varying regional preferences for which national parks come second and third. Take a look at the rankings below: