New research from YouGov indicates that over four in 10 package holiday bookers aged 55 and over do not compare prices on different websites before booking.
YouGov Consumer research indicates that 42% of those aged 55 and over that booked a package holiday in the last year did not make any price comparisons using different websites before they purchased their trip. This compares to just 19% of those under 55. 
Added to this, 46% of 55+ year olds that booked independent accommodation did not compare prices online, compared to 35% of under 55s. Similarly, 27% of the older age category did not compare flight prices, against 24% of under 55s.
This may partly be explained by the fact that this group has a much more defined place in mind when booking. Three quarters (75%) of those aged 55 and over say they knew exactly where and when they wanted to go on holiday, compared to 64% of 35-54s and 58% of 18-34s.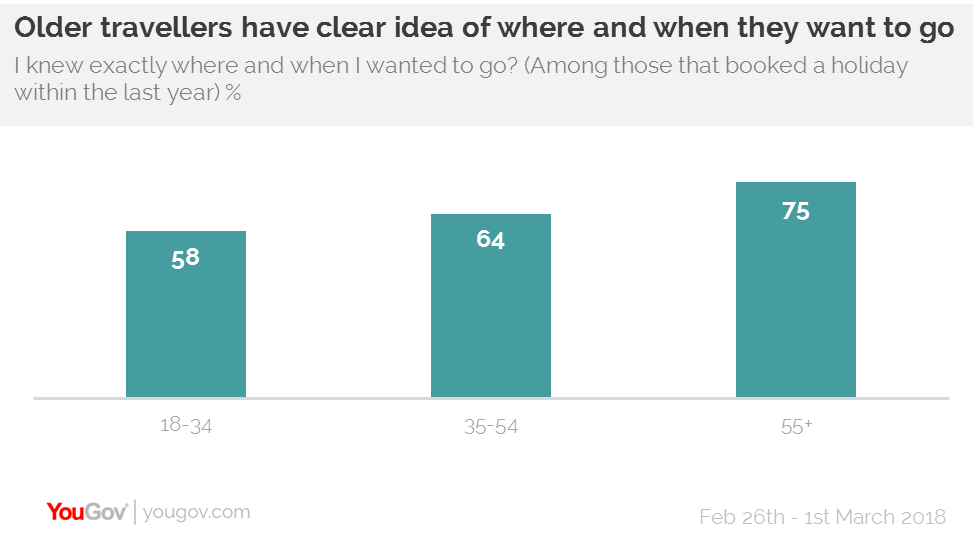 With this level of certainty, it follows that this age group finish the booking process earlier than younger holidaymakers. A fifth (21%) of those aged 55 and over who decided on a package holiday completed the booking process the same day that they started it.
Our data does suggest that older holidaymakers could be losing out on cheaper deals elsewhere. Just four in ten (37%) of this group say their package holiday was offered as part of a sale or at a special promotional price. This compares to the overall figure of 44%.
Overall, the over-55s were generally more satisfied with the booking process. Among all holidaymakers in this age group, 97% said they were satisfied, against 81% of 18-24s.
As we would expect, bookings on tablet and smartphones are way down among the over 55s, with just 3% purchasing package holidays this way, compared to 22% of 18-34s.
Although a sizable percentage of over 55s are using comparison sites, for many of this age group there is a tendency to not do so. While there may be reasons to explain the reluctance to scour the web for cheaper rates among over 55s – think of holiday homes and repeat destinations – our study indicates that this group could well be missing out on savings and better deals. The lessons for travel companies is to make sure they provide an efficient and helpful service to this group first time around, as they are satisfied with the process and like to book quickly.
Image Getty