Once every four-years the planet's biggest sporting event enthrals billions in the form of the World Cup. It is a tournament often hailed for breaking down barriers and bringing nations together, but one visiting set of fans at this year's tournament in Russia could be set for an altogether different experience.
YouGov asked its Opinion Formers panel, which draws leaders from the worlds of business, politics, the media, charities, public sector and academia among others, what their expectations for this year's World Cup in Russia are.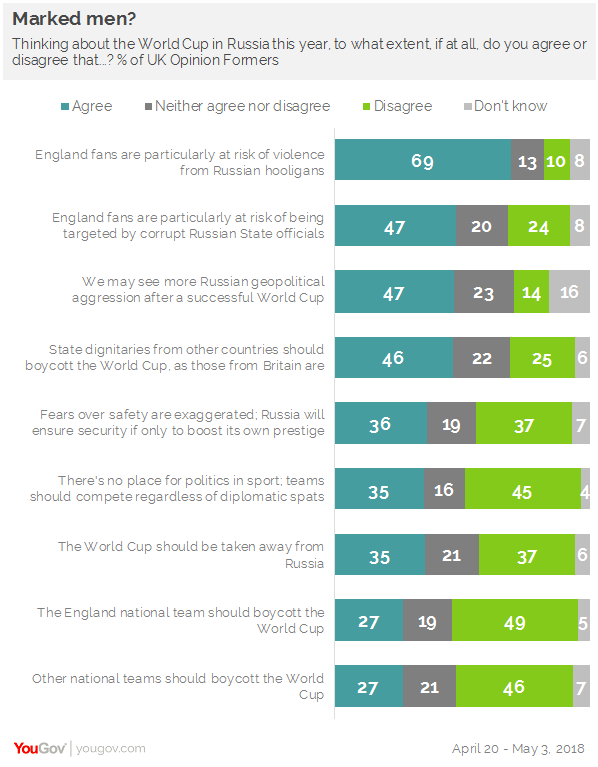 Throughout the 70s and 80s English football was tarred by hooliganism, a condition which came to be known across the globe as "The English Disease". The culmination was a 5-year ban placed upon domestic clubs in European competition, which lead to a sustained effort in the UK to eradicate hooliganism from the terraces.
Yet scenes at the European Championships in 2016 evoked images of yesteryear as England fans engaged in running street battles with Russian 'ultras' in the French port city of Marseille. Opinion Formers might recall this, as 69% believe that "England fans in particular are at risk of violence from Russian hooligans". Worse still, nearly half (47%) have no faith in Russian authorities to treat England fans fairly, going so far as to say that they will be at the mercy of corrupt State officials.
Given the current diplomatic tensions between the two countries the reasoning for such dire predictions are not wholly unwarranted, as fears that an extension of politics could manifest between opposing sets of fans. Perhaps depressingly, 45% of Opinion Formers disagree with the notion that there is "no place for politics in sport". Indeed, Theresa May was quick to announce that one of the retaliatory measures against Russia after the Skripal incident in Salisbury earlier this year was that UK ministers and Royals were to boycott the tournament. Opinion Formers also believe that State dignitaries from other countries should follow suit (46%), however stop short of saying that national teams should also boycott the tournament (46%). Only a quarter of respondents (27%) supported boycotting the World Cup altogether, be they the England team in particular or other national teams.
And yet, it would not be in the interests of Russia to oversee a tournament marred by violence and maltreatment of travelling fans from all over the globe. Russia will be in the proverbial global spotlight with the tournament representing a very real opportunity for the Kremlin to capitalise in its ongoing information war with the West. Projecting an image of a modern, stable country would certainly serve its wider geopolitical interests which might explain why over a third (36%) believe that fears over fan safety are being greatly exaggerated, as Russia will "...ensure there is no trouble as a way of boosting international prestige".
While violent confrontations in the streets of Russia's major cities are unlikely to be tolerated, it will be interesting to see how Russian authorities deal with any political protests. Certainly, they were quick to crush any civil disobedience during the Sochi Winter Olympics in 2014, when LGBT activists and pop stars alike were arrested in the Olympic Games area. However a further third (37%) disagree that fears over fan safety are exaggerated, envisaging a very real possibility of trouble occurring.
Perhaps most likely, if Putin's previous patterns are to continue, is the possibility of further Russian geopolitical aggression after a successful World Cup according to 47% of Opinion Formers. Curiously, there is a precedent for a flurry of aggressive activity emanating from Russia on the back of sporting events, starting around 2008. During the opening ceremony at the Beijing Olympics, for example, Putin invaded and occupied Georgia while the World's heads were turned. The proficient execution of the Sochi Olympics in 2014 was likewise followed by the annexation of the Crimean peninsula, when Russian forces seized the autonomous republic from the Ukraine.
As British police urge travelling England fans that they "... need to be aware that the levels of policing and military is probably going to be off the scale to what we particularly see in the UK", let's just hope that the only battles in Russia this summer are those on the pitch.
YouGov completed online interviews with 734 opinion formers from its UK Opinion Formers Panel. Opinion Formers are leaders in their field from business, media, politics, NGOs, academia and beyond. Fieldwork was undertaken between 20th April and 3rd May 2018. The figures have not been weighted.
Image Getty