YouGov Profiles reveals the actors most likely to star in the British public's biopics
On Wednesday last week it was revealed that Benedict Cumberbatch is set to portray Dominic Cummings, campaign director of Vote Leave and the man many believe to be the brains behind Britain leaving the EU, in a forthcoming Channel 4 drama about the referendum.
Now, using YouGov Profiles, we reveal which actors and actresses Britons would most like to play them in a movie about their life.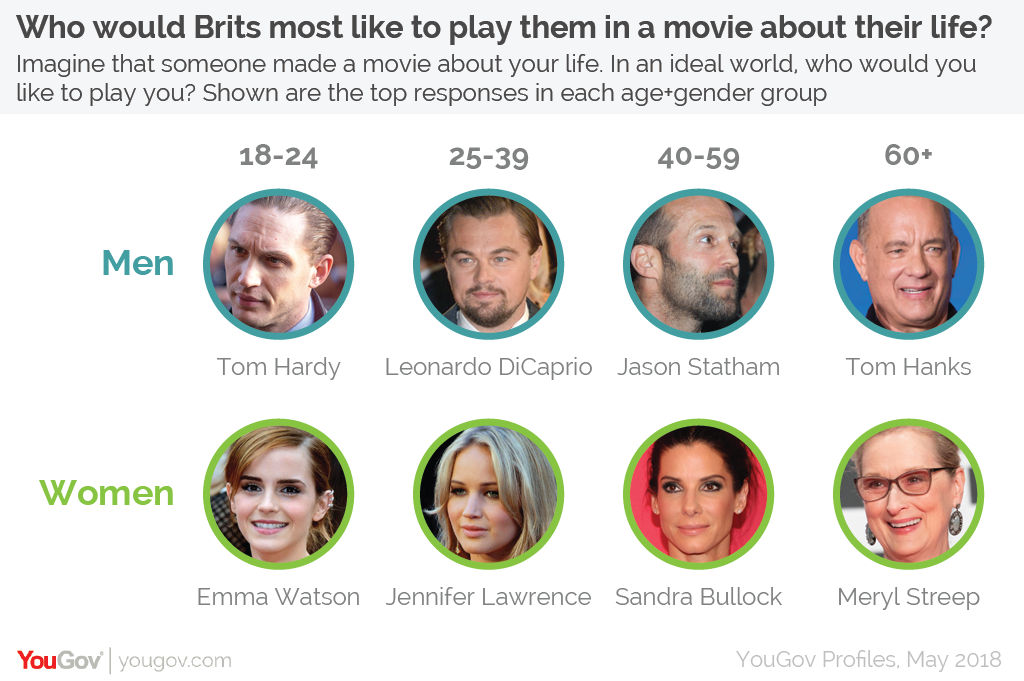 Tom Hardy is the most popular choice among 18-24 year old men (14%). However, although movies are notorious for casting much older actors in young roles – Stockard Channing was 34 years old when she played high school student Rizzo in Grease – it might be too much even for as versatile an actor as Tom Hardy to play someone in their late teens or early twenties, given he is now in his forties.
By contrast, women aged 18-24 choose someone much closer in age to them – 28 year old Emma Watson (18%).
Among women aged 25-39, the most desired actress is Jennifer Lawrence (8%, just ahead of Kate Winslet and Angelina Jolie). While Lawrence falls within the lower end of that age range at 27, she has notable experience playing older roles in both American Hustle and Silver Linings Playbook.
Meanwhile, men of the same age want to be played by the Wolf of Wall Street himself, Leonardo Dicaprio (11%)
Among those in the 40-59 year old age bracket, men would most like to be played by Hollywood hard man Jason Statham (7%, barely edging out Matt Damon for the top spot), while women opt for Sandra Bullock (10%, marginally ahead of Julia Roberts).
American national treasure Tom Hanks is the top choice for men in their sixties and older (13%).
Women aged 60+ are the most emphatic of any group in their choice of actress. Fully one in five (21%) would like to be played by Meryl Streep. For those hoping their biopic could do well at the Oscars it could be a good pick. Streep – described as "the best actress of her generation" – has a record-setting 21 Academy Award nominations.
Photo: Getty