More people opt for 'Father Christmas', but this could be dying out as the younger Brits favour 'Santa Claus'
Back in November news came to light that the National Trust had instructed all of its shops and literature to refer to 'Father Christmas' rather than 'Santa Claus', branding the latter name an Americanism.
Now YouGov Omnibus research reveals that half of Brits (51%) tend to refer to the jolly man in red as 'Father Christmas', while only 36% tend to call him 'Santa Claus'.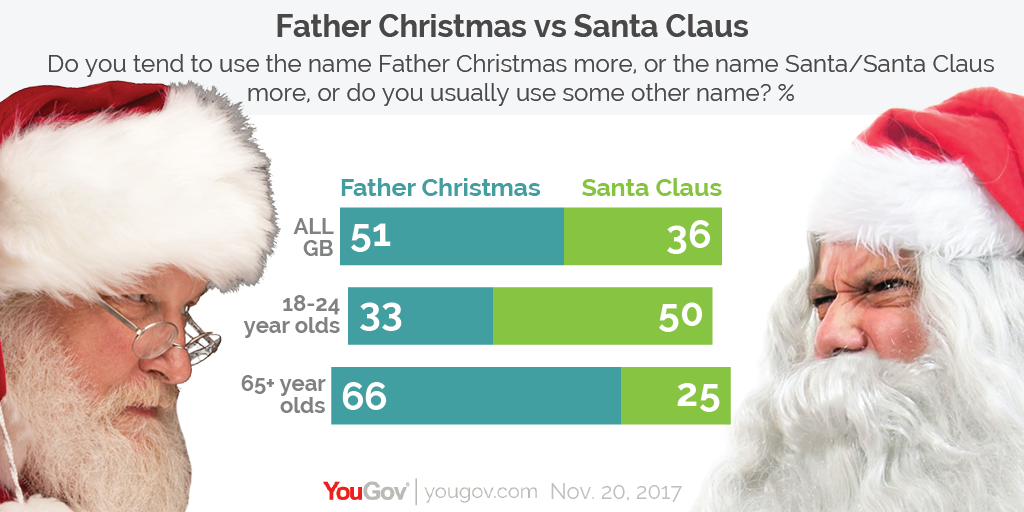 The National Trust are right to point out that 'Father Christmas' has a greater British pedigree, having first appeared in the mid 17th century, whereas the name 'Santa Claus' did not appear for another century (although it is based on the much older Dutch name 'Sinter Klaas').
While the British cultural depiction of Father Christmas has long since merged with the American concept of Santa Claus, the British use of the old name has remained strong. But this might not be the case for much longer, as the figures reveal a potential generational shift.
The younger Britons are the more likely they are to favour 'Santa Claus' over 'Father Christmas', with 18-24 year-olds tending to use the former name over the latter by 50% to 33%. By contrast, two thirds (66%) of Brits aged 65 and older tend to use 'Father Christmas'.
Photo: Getty