Only one in five would allow PC to mine Bitcoin in exchange for ad-free web access
Recently, Pirate Bay utilised the PC processing power of people who visited its website to analyse or 'mine' bitcoin data. Bitcoin then paid Pirate Bay for this analysis. CBS' Showtime website also recently tested this process as a way to raise revenue, although in this case it mined Monero instead. 
But, with publishers in the UK struggling in terms of digital ad-revenue, how comfortable would the public be about their computers being used to mine Bitcoin generally, and how would they feel about it being done in exchange for not having to see adverts online?
New data from YouGov Omnibus shows that two-thirds (68%) of Brits would be unhappy at their computer being used to mine Bitcoin in general. Only 9% would be happy to let their computer be used to 'mine' Bitcoin data, with 12% saying they would be neither happy nor unhappy and 11% not knowing. Younger people are most open to trying it, with a fifth (20%) of 18-24 year-olds being happy to give it a go, compared to just 4% of those aged 50+.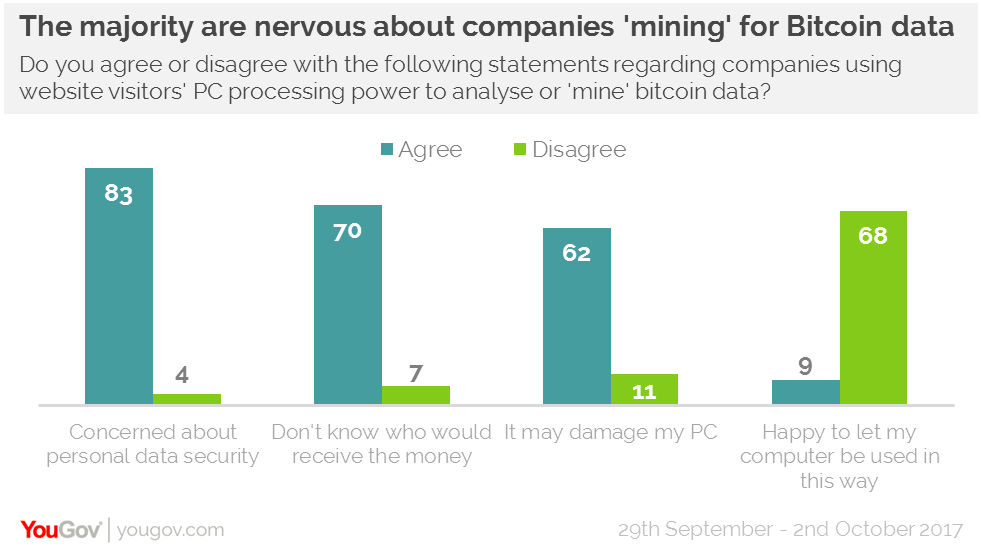 Even the opportunity to cut down on advertising would not make people any more enthusiastic. Only 20% said that they would be open to bitcoin mining should advertising be cut as a result – this compares to 48% who would prefer to have the ads.
The major barrier for personal computers being used in this way is a fear of personal data being compromised. Over eight in ten (83%) say they would be concerned about the security of their personal data. Qualitative data we collected on the subject reflected this concern – one respondent described the practice as "open to abuse - I would not like my computer used for this purpose before it was proven to be secure and not vulnerable to cyber-attack."
Similarly, over six in ten (62%) of respondents fear that the practice may damage their PC in some way, with just one in nine (11%) not thinking it was a worry.
Regulation and transparency are also making the majority of Britons apprehensive. Over seven in ten (72%) say that they would need to see a level of regulation of the practice within the UK or EU. Additionally, 70% say they would be concerned about who would get the money raised. It follows therefore, that 84% would want to be asked for permission before their PC could be used for mining bitcoin data.
As online publishers look for new ways to increase and diversify their revenue streams, we may see Pirate Bay's model being implemented on a more frequent basis. However, our data suggests that where there is comprehension of what exactly the process involves, there is a large degree of scepticism and mistrust – allaying users' fears are key in opening up this as a commercial opportunity.
Image: Getty
Find out more about YouGov Omnibus research
Find out more about YouGov's Digital, Media, and Technology research