While 46% of consumers have tried online grocery shopping, only 15% do so regularly
Doubts linger regarding freshness, delivery times – and people still like the in-store experience
But those who turn to online shopping do like it – how to get them doing more?
The online grocery market still has lots of room to grow, with doubts over freshness, delivery and an unwillingness to forgo the social side of shopping all barriers to its expansion, a new report from YouGov indicates.
The Aldi meets Amazon - Digitalisation & Discount Retailers: Disruption in Food Retail report finds that while 46% of people have tried online shopping at least once, only 15% of those do so a few times a month. This indicates that the majority are still using bricks and mortar supermarkets for the bulk of their grocery shopping.
What's more, online grocery shoppers – like those who only buy in-store – are doing smaller "top-up" purchases too. Close to nine in ten (87%) of those who have purchased groceries online are more likely to do smaller shops throughout a week, either instead of or in addition to their main visit or order.
The findings tie in with recent ONS data which shows that despite the clamour for supermarket brands to improve their web offering, only 6% of total UK grocery sales are made online. Alongside YouGov's data, this suggests that the market can grow considerably – while also pointing to a secure long-term future for physical supermarkets.
Barriers to growth
The report indicates that the biggest barrier to consumers using online grocery services is the inability to touch and feel products before buying them. Over seven in ten (71%) non-online shoppers say they are resistant to purchase from a store's website for this reason. The data shows that over four in ten (44%) who have done online grocery shopping believe it to be a negative aspect of the process.
Tied to this is a widespread uncertainty about the state in which the produce will arrive. Close to six in ten (57%) of non-online shoppers do not trust the quality and freshness of the products they could buy online, something that is, again, echoed by a significant number (31%) of people who buy groceries online.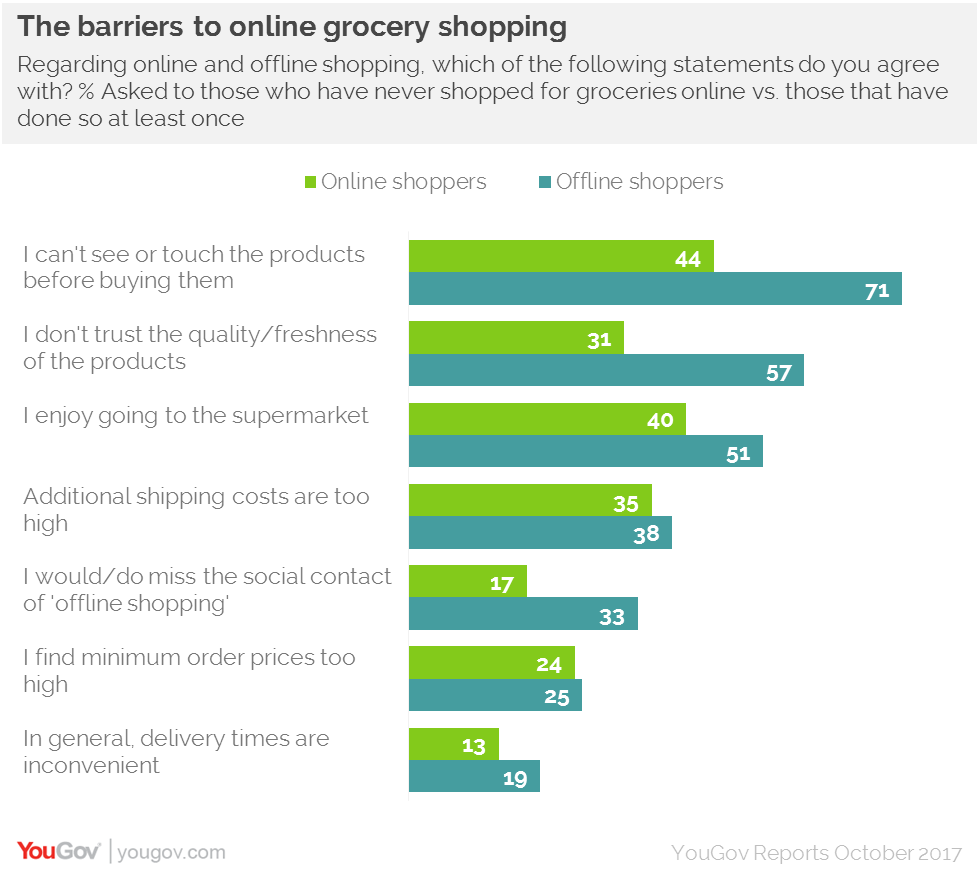 Those who buy groceries in-store also have a greater appreciation of the social side of shopping. Over half (51%) say they enjoy going to a supermarket, while a third (34%) believe that if they were to convert to shopping online, they would miss the social contact involved in a trip to the shops.
There is some alignment between online and in-store grocery shoppers on the issues of delivery costs and convenience. Approaching four in ten (38%) of bricks and mortar consumers, and over a third (35%) of those that have shopped online believe the additional delivery costs to be too high. One in five (19%) that haven't tried online grocery shopping also fear the delivery times are inconvenient – a view shared by one in eight (13%) online purchasers.
Feedback is generally positive – but the challenge is to appeal to a 'top-up shopper'
YouGov's data suggests that were these barriers overcome and perceptions changed, the online grocery market could grow exponentially. The report shows that when people do order online they tend to like it, with more than nine in ten (92%) being satisfied with the service they received. As may be expected, convenience is rated as a positive aspect by the overwhelming majority of people (82%).
However, online shoppers are split on whether ordering groceries to be delivered is cheaper than doing it in a supermarket. Three in ten (30%) say that online shopping is cheaper than doing so in-store – while 29% disagree, 41% don't know or think there is no difference.
The report also suggests that the 'top-up-shop' favoured by many consumers can be at odds with online shopping, given the 'minimum size orders' that are often required. A quarter (24%) of non-online shoppers, and a similar number of web shoppers (24%) say that they find minimum order costs too large.
Despite online grocery being around for years, we're still waiting for the 'lift off moment' that has characterised other industries such as fashion and home retail. While some barriers might be tough to overcome – wanting to go shopping for social reasons, for example – others may be easier to address.
A major one would be delivery charges. Grocery stores could look to implement top-up online delivery options throughout the week, so long as consumers commit to a minimum spend via their main shop. If traditional supermarkets aren't able to do this, it may leave the door open for a disrupter – such as the likes of Amazon – to fill that gap and capitalise on the industry's unlocked potential.
Image: Getty