In August, fast-growing craft beer brand BrewDog announced plans to give away a fifth of its overall profits every year.
Its new project will see 10% go to its thousand-strong staff, while the other 10% will be donated to charities chosen by stakeholders and team members. 
But looking generally, do consumers really care about the morals a company displays? Our new Who needs a moral message? Report explores this question.
It suggests that over six in ten (62%) consumers like it when companies have a 'moral message' and those that do are also more likely to reflect this in other areas of their consumer behaviour. They tend to say that they don't mind paying more for products that are good for the environment (57%) and try to buy from companies whose ethics they agree with (38%).
Of course, many of the largest companies in the world at some point invariably become involved in practices that leave them open to criticism from consumers, the media, and other organisations. But consumers still want to use their services regardless of occasional adverse headlines as these brands are well-established, and play a part in consumers' everyday lives, somewhat negating the need to appear 'moral'.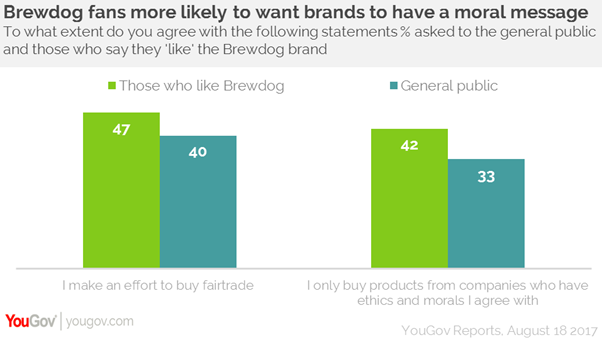 In Brewdog's case, it was a start-up – and is able to appeal to drinkers as an alternative to big business, while showcasing ideals that they approved of. YouGov Profiles data indicates that since its inception, it has resonated with people looking for something extra when choosing a brand. Almost half (47%) of those who say they 'like' the BrewDog brand say they make an effort to buy Fairtrade, while 42% say they only buy products from companies that have ethics and morals that they agree with.
Only time will tell if Brewdog's moral approach chimes with consumers and whether they set a trend towards more businesses implementing similar policies.  
Image: Brewdog.com